Modern vs Contemporary Design: Is there a difference?
Pop the word 'contemporary' into any generic synonym provider and the adjective 'modern' will be offered as a suitable alternative. But our trusty online thesaurus doesn't understand the intricacies of design. When it comes to furniture and interior aesthetics, modern and contemporary are two very different concepts and can't be used interchangeably. So, what's the difference?
What's the difference between modern and contemporary styles?
In terms of design, 'contemporary' harnesses the zeitgeist of the moment. It's characterised by the design trends that are happening right now. As such, it's not a specific design movement, but rather a fluid concept that's constantly changing, focusing exclusively on the present. By contrast, 'modern' describes the Modernist design movement that emerged at the start of the 20th century, shunning the ornate in favour of clean lines and simple forms. 
What is modern design?
Modern design was a kneejerk response to the ornate embellishments and complex forms that adorned pieces of furniture from the 19th century and earlier. As a new century beckoned, so did a new design movement – one that embraced uncluttered detailing, architectural lines, ergonomic form, and straightforward functionality.
Mid-century modern design took this aesthetic one step further and harnessed the edict, 'less is more.' Common features of this movement include:
The use of accessible, industrial materials, such as plywood, steel, and fibreglass

Solid wood with natural grains, like teak

Sculptural tapered legs

Aesthetically pleasing symmetry

Rigid structure

Unfussy slab doors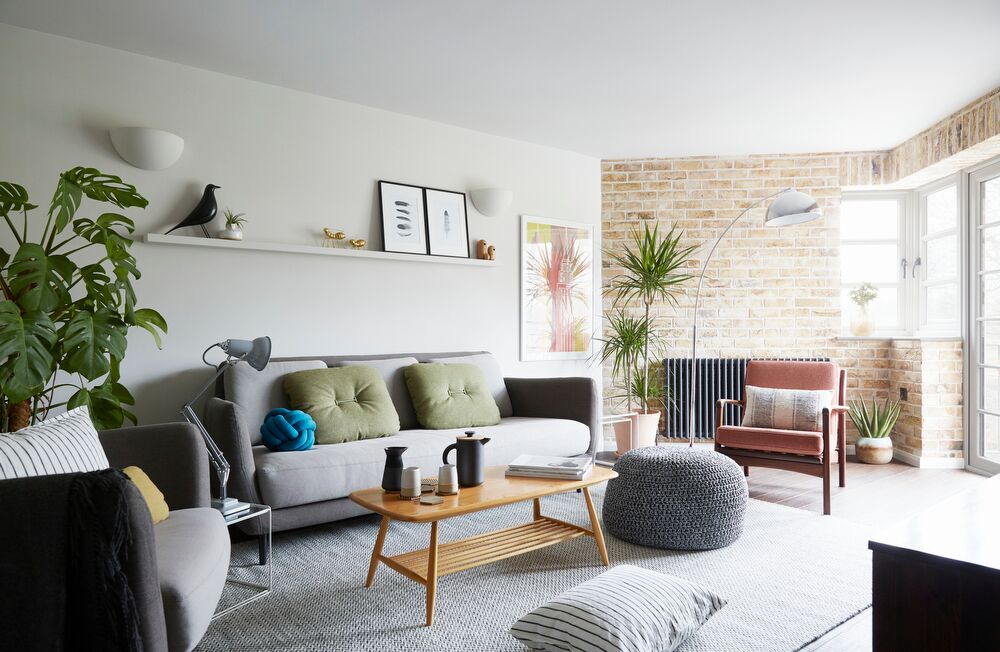 What is contemporary design?
Because contemporary design isn't static, it's tricky to pin down a distinct definition. What was contemporary in the 1980s wouldn't be considered contemporary today. Every passing decade is accompanied by a whole host of different contemporary characteristics as design shifts to reflect the culture, attitudes, and trends of the time. 
Contemporary design, by its definition, is a magpie concept that borrows features of mid-century modern, art deco, minimalist, and other design movements before morphing into a contemporary aesthetic. Today's contemporary design is characterised by the intentional use of texture, and maximising the use of natural light, clean lines and organic materials, with the addition of mid-century modern and Scandinavian modern furniture.
Modern vs contemporary: the similarities
Currently, contemporary design embraces a range of specific design movements, blending different features, styles and pieces of furniture to create an aesthetic that reflects the desire for utilitarian function and simple forms with a dash of artistic individuality. The crossover between the modernist movement and contemporary design is evident as today's trends demonstrate. 
But, because contemporary design is a continually evolving concept, this may not always be the case. No one knows what will be deemed contemporary in ten, twenty or thirty years' time, so why not embrace the mid-century modern inspiration now to create your own contemporary living space? 
Styling a contemporary home
For the ultimate in contemporary styling, follow these four simple steps.
1. Declutter your space and embrace clean lines
Clutter is the enemy of all things contemporary. Welcome an iconic mid-century Scandinavian sideboard into your home and embrace the clean lines and simplicity that both contemporary and modern styling evokes. Inspired by 1960s Danish design, G Plan pieces, with teak-fuelled functional storage ooze archetypal vintage vibes and can foster a sense of space after you've squirrelled away your knick-knacks. Modernist furniture, with its sleek form, can be a stylish way to keep your interior fuss-free and contemporary.
2. Be deliberate with your lighting choices
If you're not blessed with sumptuous period sash windows that let in an abundance of natural light, it's important to make deliberate lighting choices to create a contemporary aesthetic. Industrial anglepoise lamps can provide much-needed focused lighting in a study or reading nook, while effortless mid-century pendant lamps cascade light from above to foster a warm glow. Stainless steel, natural wood, and opaline glass can add a smattering of panache while keeping that contemporary functionality you crave.
3. Learn that wood is good
Teak, rosewood, beech, elm, bentwood, and cane. The abundance of wood in all its beautiful forms is a stalwart of modern and contemporary design. With their timeless appeal and iconic shaping, mid-century modern armchairs radiate artisan craftsmanship with their bentwood armrests, rosewood-hued tapered legs, and unpretentious solid wood back supports. Add a beautiful bamboo coffee table or an elegant teak-framed wall mirror to provide a sprinkling of warming honey-hued accents to your home.
4. Add texture for interest
Contemporary styling, with its simple forms and gentle nods to minimalism, runs the risk of a stark aesthetic developing. The addition of texture with luxurious drapes, tactile cushions, and plush throws can soften a modern look to make it feel more contemporary. Mix up the texture profile to create deliberate layers of decor. Vintage cushions with jolts of colour can add a more bespoke feel to your living space and help your interior to express your personality a little more. Chunky knit throws, tightly woven rugs, and velvet cushions intentionally curated within the home add warmth, uniqueness and an easy-going contemporary feel.
*****
Having a firm grasp of the differences between modern and contemporary design will help you make informed choices when renovating, decorating, and furnishing your home. For a bespoke blend of contemporary styling with mid-century modern touches, a few select Scandinavian-inspired flourishes, or some industrial flair, get inspired and explore Vinterior's curated furniture, lighting, and textile collections.
Shop mid-century modern furniture
Create your bespoke contemporary home
SHOP NOW