A Comprehensive Guide to Furniture Styles
Are you drowning in interiors magazines, Instagram feeds, and Pinterest mood boards full of sideboards, armchairs, pendant lamps, and pouffes? Renovating your home should be an exciting time, but all too often it can become overwhelming. The sheer number of furniture styles to choose from can be mind-boggling. 
If the mere mention of mixing and matching different looks sparks too much confusion, Vinterior can lend a helping hand. Our comprehensive guide to different styles of furniture will empower you to move the perfect pieces that you've unearthed from your wishlist into your home. From antique to art deco to mid-century modern and space age, you'll discover the furniture styles that you want to surround yourself with to create your dream space.
Antique
Investing money in a piece of furniture that's over a hundred years old could be a wise financial decision. But chances are that's not your motivation for seeking out that 19th century gothic apothecary cabinet that would do a great job at keeping your living room clutter-free. 
Antique furniture can be split into distinct periods, each with different characteristics. Look out for:
Queen Anne (1702 – 1714): Think walnut, cabriole legs, ornate curves, and more embellishments than you can shake a stick at. This furniture looks right at home in a period setting with high ceilings, cornice, ceiling roses and grand fireplaces.
Georgian (mid 18th century – mid 19th century): Throughout the Georgian period, furniture evolved from elaborate to Greek-inspired neoclassical before settling on a more refined style. Often called the 'golden age of furniture', Chippendale and Hepplewhite emerged in the 1800s to revolutionise furniture design with ball and claw feet, brass hardware, and lion's head adornments.
William IV (1830 – 1837): Short but sweet, this period saw emblems and motifs aplenty. If you spy an elegant mahogany piece with a griffin, centaur or laurel leaf carved into it somewhere, chances are it's a William IV piece.
Victorian (1837 – 1901): Looking at home in a period drama or Dickens novel, Victorian furniture was the dawn of the veneer era. Mahogany was used on larger pieces whereas more amber-hued walnut was favoured for smaller furniture like side tables and writing slopes. 
Whether you've got your eye on a classic Georgian chest of drawers or the gilt grandeur of a William IV teardrop chandelier, you can find your dream antique piece to fit seamlessly into your home.
Art Deco
This is the era of Gatsby, flapper dresses, feathers, and the golden age of Hollywood. Exuding the glitz and glamour of the roaring twenties and lasting until World War II, art deco furniture can add a touch of opulence to a living space. Bold geometrics, linear forms, and metallic detailing juxtapose an air of nostalgia with a sense of forward-thinking optimism. Perfectly blending functionality and elegance, an evocative art deco cocktail cabinet or chrome aviator chair will help your home exude modernity and luxury.
French-Style
French-style furniture will add a little je ne sais quoi to your interior aesthetic. Many of the continental pieces you'll find online have been sourced at flea markets in quaint French villages and towns. From the pomp of Louis XVI chairs to rustic French farmhouse tables, this furniture style is as varied as it is vast. And, best of all, you don't need a French chateau to pull off the chic French provincial look.
Italian-Style
Italy isn't all pizzas, the Colosseum and quaint Italian Riviera cobbled streets. Dating from the 18th and 19th centuries, classical Italian furniture is the epitome of elegance. Chaise longues upholstered in luxury velvet or silk can provide a focal point for a bedroom or living space. Elaborate dining room tables with gilded intricate carvings can elevate your eating area. And glorious Murano glass chandeliers, that wouldn't look out of place in an Umbrian castle, could take centre stage in your living room.
Vintage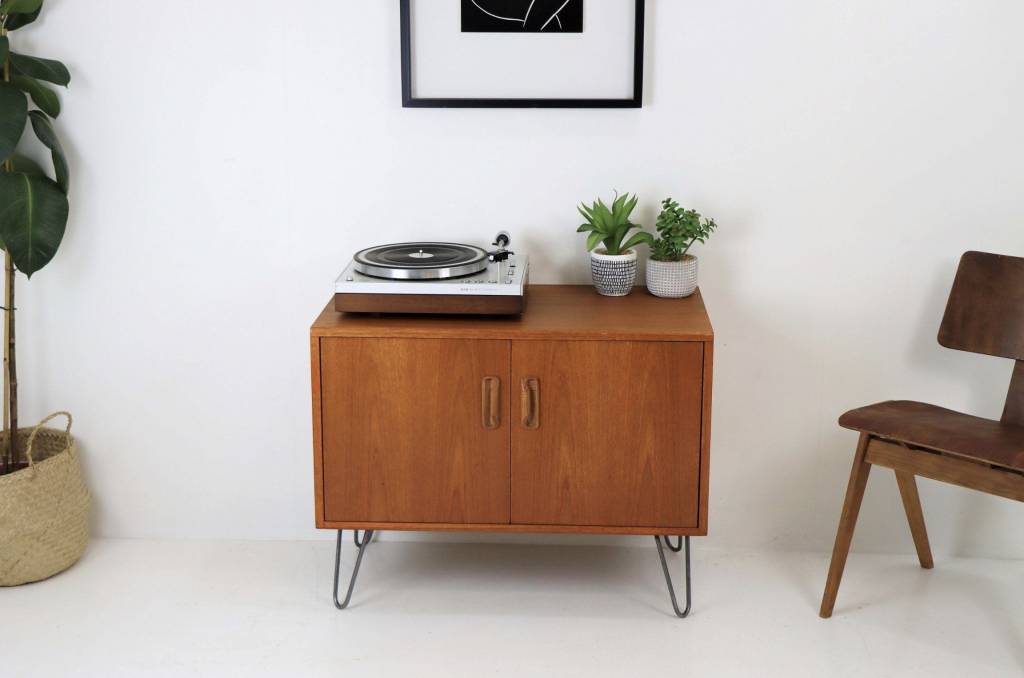 An umbrella term for furniture made from the 1950s all the way up to the 1980s, vintage encapsulates a heady mix of mid-century utilitarianism, 1970s shag pile rugs, and retro cotton candy pastel upholstery. Eclectic and affordable, vintage furniture can be carefully used within your home to bring flashes of individuality and an air of nostalgia. 
Mid-Century Modern
Have mid-century modern interiors been hogging your Instagram feed recently? Dominated by the rich honey hues of teak, the mid-century modern or MCM furniture style is a stalwart of the contemporary aesthetic today. Born out of the Modernist movement of the early 20th century, MCM furniture shunned the decadence of previous eras in favour of sleek lines, effortless simplicity, and highly coveted functionality. Perfect for mixing with other contrasting furniture styles, statement pieces abound with Eames chairs, G Plan sofas, Schreiber shelving units, and Anglepoise desk lamps. 
Scandinavian
Similar in style to mid-century modern furniture, Scandinavian design originated in Denmark, Norway and Sweden. Teak, rosewood, and elm were embraced by designers such as Alvar Aalto, Arne Jacobsen and Kai Kristiansen to produce functional pieces that harnessed a minimalist aesthetic, muted colours, and clean lines. Teak-fuelled sideboards, nests of tables, and tile-topped coffee tables ooze 1950s and 60s Nordic vibes that you can introduce into your home.
Minimalist
The clue is in the name. Not a furniture style for the faint-hearted, minimalist pieces are sparse and simple. True minimalist interior aesthetics are becoming rarer as they are less conducive to busy modern homes. However, a minimalist statement armchair, table, or cabinet will focus your interior vision.
Space-Age
While Neil Armstrong was getting ready to set foot on the moon, furniture designers of the 1950s and 60s were paying homage to the Sputnik era. Inspired by the optimism of the space race, futuristic experimental designs were embraced by consumers. Fibreglass, plastics and chrome were favoured over more traditional materials to create planet-like spherical lighting and orbit-inspired curved lines. Egg chair, anyone? 
Industrial
Reclaimed pieces of furniture from 19th and 20th century factories, warehouses, schools, and other workplaces allow you to add splashes of social history into your home. Durable and resilient, these pieces of furniture – once repurposed – make exceptional utilitarian pieces for the busiest of modern homes. Go all out and strip back a wall or two to bare brick to evoke a loft warehouse feel. Swap your bedside tables for medical trolleys, coffee table for a scaffolding pallet, and wardrobes for vintage factory lockers. And why not illuminate your industrial treasures with an achingly cool theatre spotlight? 
How to mix furniture styles
It's all too easy to fall in love with a furniture style and furnish your home with authentic pieces only to end up monopolising your interior into a pastiche rather than a homage. 
To combat this, it's important to mix up furniture styles. Do this with confidence by following the steps below:
Forge material links

: Creating common threads of continuity between your furniture is vital to create a cohesive and comfortable space. If you have a chrome Italian arc lamp to create a cosy reading nook in your living room, ensure there's something else chrome in the room. It can be something subtle like an art deco candlestick, 1960s mantle clock, or even a kitsch 1970s ashtray.

Mid-century modern armchairs are timeless

: A mid-century modern armchair will look as fantastic next to a minimalist glass coffee table as it would paired with an Edwardian bureau bookcase. It's not fussy when it comes to its furniture friends, making it easier for you to put some versatile seating into your home.

Limit your colour palette

: Putting a neon orange 1970s globe lamp and floral decoupage sideboard in the same room could induce a medical emergency, so don't risk it. Instead, select one piece and base your room's colour palette around it. This will help you to focus your interior aesthetic and organically marry suitable pieces of furniture together. 

Take your time

: It's very rare that people furnish their homes in one go. Even if you're renovating, chances are you'll have well-loved pieces that you want to keep from your interior's previous incarnation. So, keep them! And over time, add to your decor as you find those dream pieces that you fall in love with and simply can't do without.
*****
Whether you're a bona fide Francophile, a vintage enthusiast, a lover of all things art deco, or a fan of a little bit of everything, we hope you feel empowered to create your dream interior using Vinterior's comprehensive guide. Ready to take the plunge and refresh that mood board? 
Explore all furniture styles at Vinterior
Out with the new, in with the old
SHOP NOW