A Beginner's Guide to Upholstery
Do you adore your 1970s Danish armchair but the velour is looking a little tired? Does the thought of saying goodbye to your Ercol daybed fill you with dread? Then, why not revamp them instead? With our beginner's guide to upholstery, you can rescue your well-loved seating and give it a new lease of life. 
Whether you're keen to learn how to upholster a simple chair or you just want to find out a little more about it before paying a professional, Vinterior's got you covered. We've teamed up with upholstering masters and sustainable living advocates Melissa Totten and Anthony Tiernan at angleANDpoise to help you get started on your upholstering journey.
Melissa Totten and Anthony Tiernan – angleANDpoise
Thrift isn't stingy. It's a cure for overconsumption." angleANDpoise 
Buying new is expensive and can lead to your old beloved armchair heading to landfill. Opt for the more sustainable option and get upholstering the furniture that you love. In this beginner's guide, we'll go over everything you need to know to get started.
Why reupholster your furniture rather than buying new?
For angleANDpoise, the answer is simple. 
From a sustainability angle, it's clearly the best way to go. Upholstery is like clothing for furniture, with unlimited choices of colour, pattern, texture. As long as the frame is sound, a fresh new fabric can bring a whole new look. Deciding is the hardest part. You have so much more to choose from when you reupholster." 
One study states that an IKEA Billy bookcase is produced by robotic machinery every three seconds. That's mass production in overdrive. While this Swedish stalwart piece of furniture has shaved a third of its price since its launch in 1978, it also means that many homes are no longer full of artisan-crafted pieces that have been passed down generations.
Reupholstered Vintage Ercol Two-Seater Sofa – Colour Me KT
Good quality seating and storage that is good for the planet needn't be discarded once the springs have failed or the button tufts are waning. Instead, utilise the durability and uniqueness of vintage and antique pieces of furniture, reupholster, and give them a new lease of life. Follow the ethos of angleANDpoise and "invest in this type of furniture so you can recover it to your heart's content."
Can you teach yourself upholstery?
Taking a DIY approach to upholstery can bring you buckets of satisfaction. From padding your own dining chair seat pads to adding tassel detailing to a favourite footstool, you can bring one-of-a-kind flair to your furniture.
While taking classes or finding a mentor can certainly help, there are plenty of resources available to teach yourself upholstery. With dedication and practice, you can master the skills needed to reupholster any piece of furniture.
An armchair stripped back and ready for reupholstering
Developing basic upholstery skills
Upholstery requires a variety of skills, including sewing, measuring, cutting, and stapling. But don't assume you need to be the craftiest of individuals to master these. With our guide to upholstery, you'll be transforming your gran's old-fashioned ottoman into a characterful storage solution in no time.
It's important to hone your upholstery skills by starting small. Consider these simple projects to build your upholstery confidence.
1. Sew a cushion cover
Not quite upholstery, but the key to developing basic sewing and fabric matching skills, sewing a cushion cover is a wonderful skill to master. Hand sew or whip out the old Singer classic to rustle up cushion covers to adorn your favourite sofa.
2. Reupholster a drop-in seat pad
Generally square with pleasing straight lines, there aren't any weird and wonderful curves to navigate when upholstering a standard dining chair seat pad. 
Melissa at angleANDpoise advises, "Just pay attention to how it was upholstered in the first place. Avoid pulling too hard on the fabric, but make it snug and keep it consistent.  You can use the old cover as a template and see how the corners were folded. It's like wrapping a gift." 
You can learn basic stripping skills, foam pad cutting, and stapling as you get to grips with the perfect tension for fabric and pattern matching. From luxury velvet to yielding leather, there are plenty of options to explore and techniques to master.
3. Move onto small pieces of furniture
As you feel more confident with basic upholstery skills, it's time to tackle simple furniture. Reupholstering a footstool gives you the chance to focus on stuffing and padding. You can also replace hinges if your footstool is ottoman-style and go wild with your choice of fabric.
Get the right equipment and tools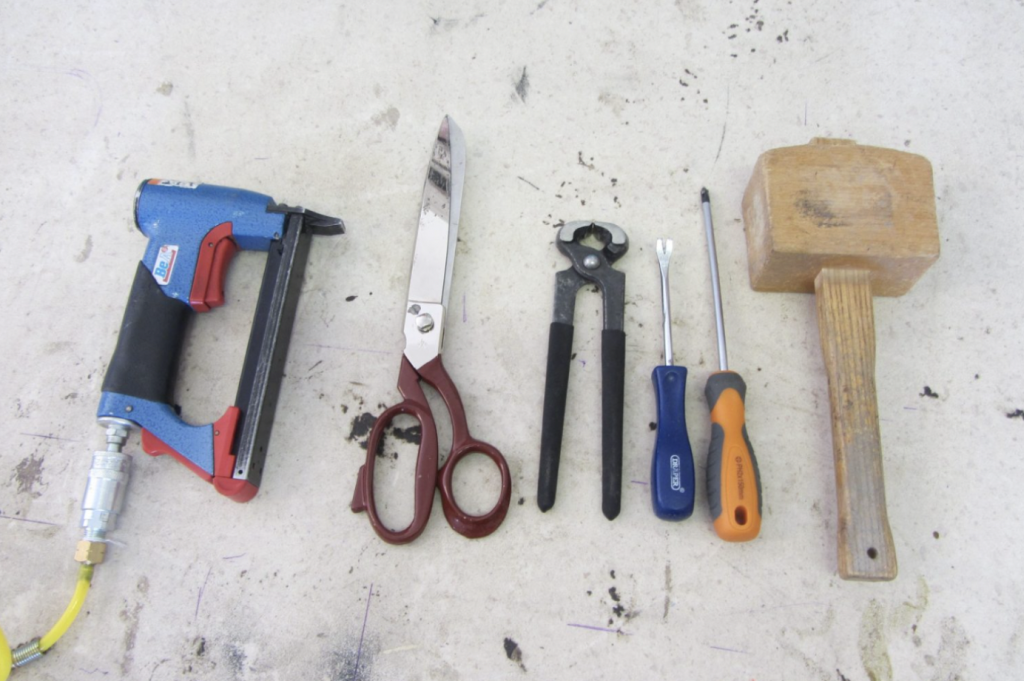 A small sample of essential upholstery tools
Before you start your first upholstery project, you'll need to make sure you have the right equipment. Opt for the essentials first and as you progress, you can add more specialist tools. Here are the items you'll need before learning upholstery:
– Staple gun: This is a must-have bit of kit to help you fix fabric to furniture frames with ease.
– Scissors: Ensure you purchase fabric scissors. These are much larger than the average kitchen scissors and cut through fabric without any fraying occurring.
– Pliers: A 'Jack-of-all-trades' tool, pliers can remove old nails and staples from frames.
– Webbing stretcher: Before stapling anything to a frame, a webbing stretcher will pull fabric taut for a neat finish.
– Upholstery foam: Ideal for seating like dining or accent chairs, upholstery foam can create a cushioned seat for ultimate comfort.
– Soft tape measure: The perfect measuring tool for accurate upholstery.
– Fabric: Choosing the fabric for upholstery is the most fun part of a project. Ensure you source fabric in person. Velvet, leather, velour, cotton, and other fabrics are suited to different uses, so ensure whatever you choose can withstand wear and tear.
Learn more about upholstery
No guide to upholstery would be complete without a nod to its rich heritage, the resources you can explore to learn more, and the techniques you could choose to master. 
Vintage round footstool reupholstered in velvet – angleANDpoise
The history of upholstery
Since the Middle Ages, upholstery has been utilised as an artisan craft to provide the most wealthy with seating comfort, plush wall hangings, and luxury bedding. What may be considered soft furnishings now was once the height of upholstery innovation. 
In 1465, the Worshipful Company of Upholders became the first official guild of upholsterers. Best practices and regulations emerged that all skilled craftspeople had to adhere to. As furniture design became more complex and sophisticated, so did the upholstery techniques. Explore our comprehensive History of Upholstery article to find out more.
Read an upholstery book
Upholstery books are a goldmine to hone your skills and build your confidence. Reading expert advice and following step-by-step projects will help you master padding, tufting and webbing techniques while giving you ideas for your own projects.
One of the most comprehensive books to delve into is The Upholsterer's Step-by-Step Handbook by Alex Law. You'll find plenty of illustrations and diagrams – perfect for the visual learner. And, you won't just have projects to follow, but a guide on how to estimate the cost and plan your own forays into reupholstery.
And for a book that you'll refer to time and time again, The Upholstery Bible by Cherry Dobson explores a range of fundamental upholstery techniques in detail from covering buttons to selecting the right sewing stitches for a project. The illustrations are swoon-worthy and inspirational, and there's a handy equipment list to get you started.
Reupholstered vintage cinema seats – Unseen Icons
Watch upholstery videos on YouTube
While YouTube can be full of mediocre content, there are plenty of free tutorials by experts to get you started on your upholstery journey. Talented upholsterers share their knowledge and experience through instructional videos. Some popular channels include:
Artisan Upholstery Studio

– Great visual 'how to' guides using a range of different materials and fabrics when upholstering.

Kim's Upholstery

– As you work through projects together, you can get some great tips and hands-on advice.

Micaela Sharp

– Learn upholstery techniques with easy-to-follow clips.
Watching these channels, you'll soon realise how individual upholstery can be. A technique that works for one person might not work for another. There are no hard and fast rules. Fun experimentation is key.
Upholstery is a skill that can be learned by anyone with dedication and practice. Whether you're looking to refresh your old furniture, be more sustainable with your furniture choices or simply want to learn a new hobby, upholstering could be the answer. 
And, angleANDpoise sum up the joy of upholstery perfectly when they say:
Here in the UK, we are truly blessed with an abundance of remarkable, beautifully crafted antiques. The vintage and retro designs from minimalist to funky are all here for the taking. You don't have to be an eco-warrior to appreciate the simple value for money when you invest in something well made."
So, what are you waiting for? Use our beginner's guide to upholstery to bring one-of-a-kind character to your space.
For ultimate upholstery inspiration
Explore our upcycled seating collection
Shop Now