A guide on how to reupholster a sofa
When the sofa begins to look a bit grey, most of us assume that buying a brand new model is the best way to address the problem. However, an alternative approach is becoming more popular: sofa reupholstery. Have you ever considered reupholstering a sofa? Not a mainstream skill, reupholstery might strike you as a daunting prospect – particularly on larger items like sofas and armchairs. 
Seeking advice, we reached out to furniture dealer Mary Hossack who, with her husband, has accrued years of experience in the area of reupholstery. 
Shop Mary Hossack's collection
How much does it cost to reupholster a sofa?
Each sofa is unique and the cost of re-upholstering depends on the individual model, according to its size and form. If you are seeking professional help, Mary advises that the price of sofa reupholstery will start around £550. 
So, is it cheaper to reupholster an old sofa or to buy new? Mary says, 'It's about what you value.  Is it necessary to buy new (and create landfill) if you can breathe new life into a piece using your own fabric?' Arguably, reupholstering allows you to tailor the sofa to fit your existing home and lifestyle. You have full control over the quality and style – there is much more scope for fun.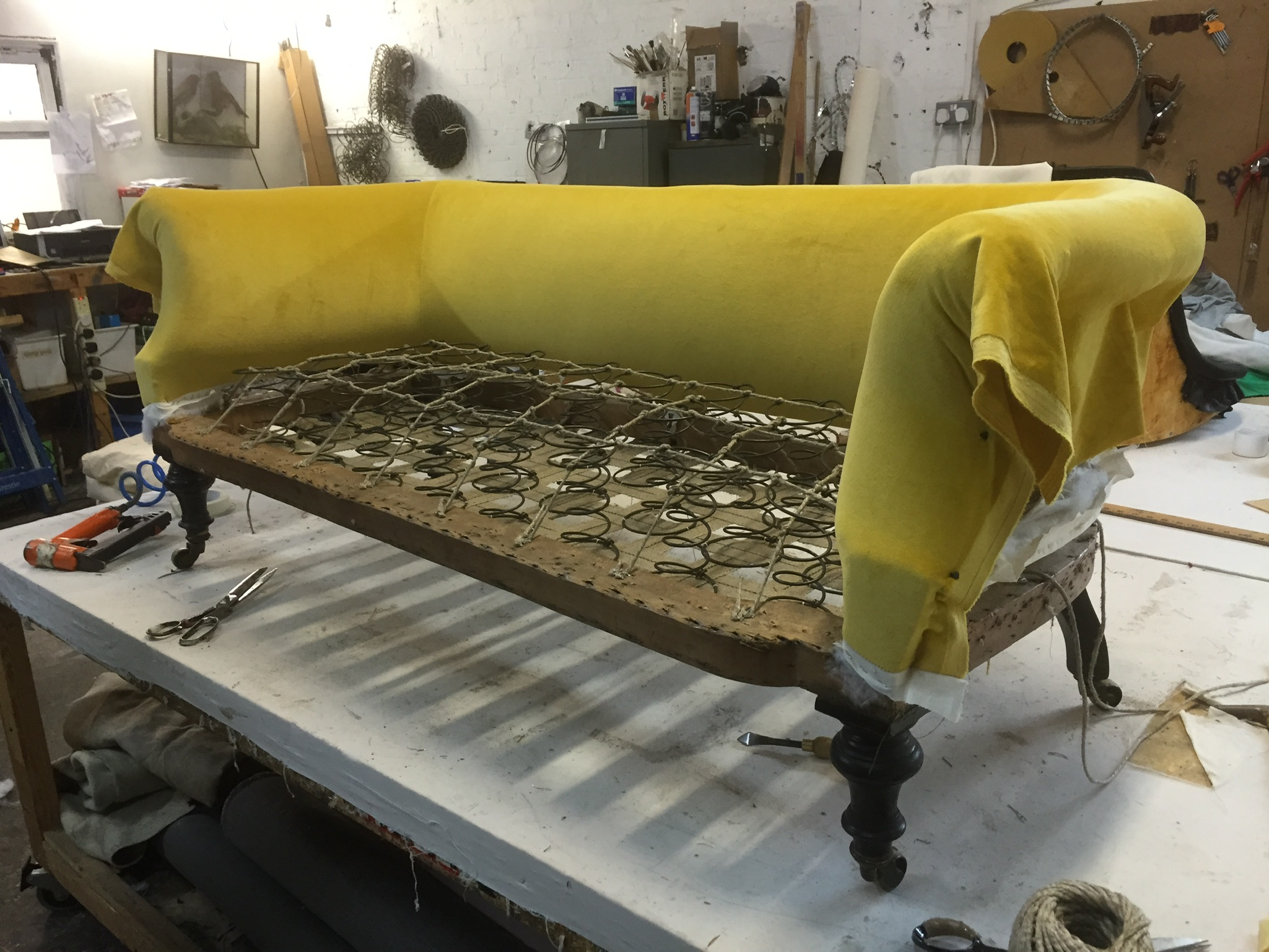 A sofa reupholstery project underway in the Hossack studio
Is it hard to reupholster a sofa? Part one. 
In short, reupholstering a sofa can be challenging. DIY sofa upholstery is quite a physical task and requires technical know-how. However, this is not impossible to learn. Let's start with a simple approach: using one single sheet of fabric to reupholster a sofa. Mary shows us how she and her husband recover sofas and other seating with just one piece: 
We start by pinning on the fabric and setting it in place to fit the chair
Next, we staple and tack the fabric to the frame
We will then hand sew up any areas that need it 
If needed, we finish by polishing up the legs 
Sounds doable! Why not invest in a staple gun and give it a go? 
Is it hard to reupholster a sofa? Part two. 
For more complicated forms, Mary recommends reaching out to your local upholstery service. 
We remove all parts that are no longer serviceable and inspect for use of dangerous materials. 
Sometimes we must re-build the frame or re-glue wobbly parts 
Following this stage, we cut the fabric to pattern (sometimes we must create a new pattern) 
We pay close attention to pattern matching and directional fabrics, taking into account the movement and natural give of a fabric. If needed, we will line with FR liner. 
We sew in the pieces of fabric according to the pattern 
A beautiful Belle Époque French antique sofa c. 1880 upholstered in a rose pink velvet
What is the best fabric to use for reupholstering a sofa?
The most suitable fabric for sofa reupholstery will depend on the end use. Is this sofa a decorative loveseat in a gable window? Or is it going to be a high traffic piece in the living room? If the latter, the fabric will need to withstand the demands of everyday life. Any fabric that is upholstery weight should suffice – if in doubt, consult your local haberdashery. Interior designers will judge the durability of a fabric based on its Martindale 'rub score'. This is a long-standing test, using oscillation, which fabric houses employ to measure how long it takes for a fabric to wear down. A score, between 10,000-100,000, is awarded based on its durability. For heavy use furniture, experts recommend opting for fabric that scores at least 25,000 on the Martindale test.
Mary and her husband reupholster a wide variety of vintage and antique pieces
Did you know?
Long viewed as high maintenance, velvet is surprisingly a very tough fabric, deemed highly suitable for use on high traffic furniture. It is also easy to clean, so you need not break out in a cold sweat every time someone spills coffee or gets crumbs everywhere. 
Tip: Haberdashery shops sell fabric by the metre. If using a re-upholstery service, ask your reupholsterer to advise on the quantity of fabric needed for your sofa. 
Can you reupholster over existing fabric?
Many people ask if it is possible to reupholster over existing fabric or if they should remove old material. We turned to Mary: 'Reupholstering over fabric is not a problem, provided that the frame is structurally sound. However, in my own practice as an upholsterer, I prefer to be thorough and take everything off before starting again.'
Should you also reupholster your cushions? Why not! If other soft furnishings could do with a new lease of life, roll out the sewing machine and fashion up new covers. The good news? After reupholstering the sofa, this project will seem like a breeze! 
A chair undergoes a reupholstery transformation
Like any new skill, sofa reupholstery will not be mastered overnight. However, with some practice, we suspect that you will reap the rewards of going that extra mile. DIY reupholstery ticks so many boxes. In just one project, you will combat throwaway culture, save money by repurposing an existing piece, and add a unique flair to your home. If your sofa is still in good condition but you want to try your hand at reupholstery, why not breathe new life into a vintage or antique find?
More Vintage Sofas in our Marketplace
Discover our curated collection
Shop now