Iconic Mid-Century Modern Chair Designs
From lofty thrones to the humble footstool, chairs have long commanded the attention of designers. A piece of furniture central to our living and working, chairs embody imagination as much as practicality and engineering. So, what is it about mid-century chairs that sets them apart within the vast canon of seating design? Read our guide to mid-century modern chairs to explore the legendary styles and designers that emerged from the 1950s onwards.
The mid-century was a pivotal period in which design made a radical move away from earlier aesthetics. Similarly, creatives were motivated more by a set of ideals than an authoritarian style. Mid-century architects relished the chair as a hybrid of function that meets beauty. The era presented a welcome opportunity to experiment with both purpose and decorative form. As a result, designers pursued a more tactile experience, issuing furniture from a greater array of materials than ever before. This veered between natural and synthetic substances, combining leather, wood, and cane with chrome, steel, and plastic.
The unrelenting popularity of mid-century modern chairs is also due in part to their wonderful versatility. They sit perfectly within vastly different environments, complementing the historical interior just as well as the ultra-modern. Where to start with this epochal collection of chairs? Here is a lineup of world-leading mid-century chair designers, the who-what-why (and their famous creations).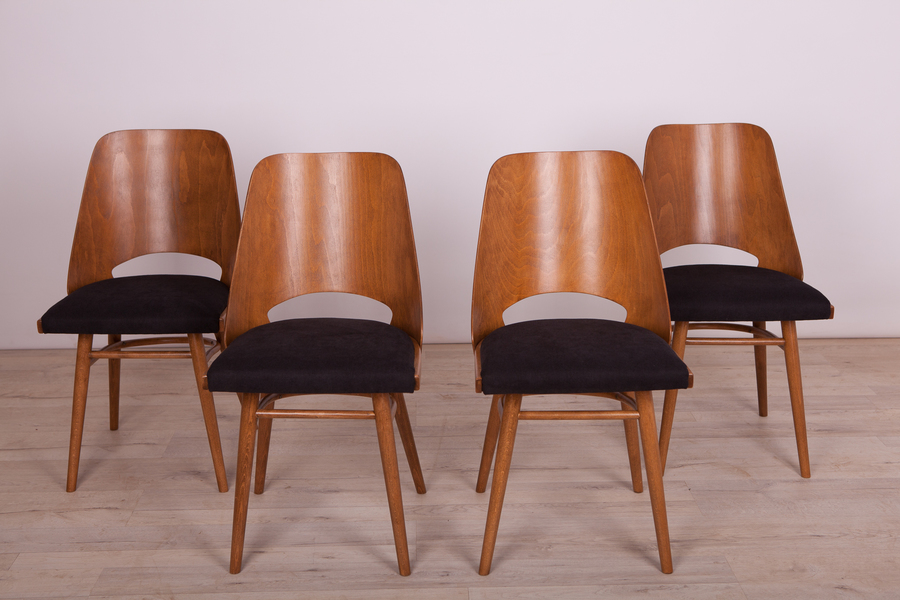 Tatra Lollipop Chairs. Vinterior Seller: Our Blast From the Past
Meet the biggest names in mid-century chair design
Charles and Ray Eames 
Imprinted in our psyches as the epitome of California cool, power design couple Charles and Ray Eames married in 1941 after a whirlwind courtship and worked together for the next 37 years. We frequently refer to the Eames in light of their contribution to furniture design but they demonstrated a multi-faceted skillset. Together the pair made groundbreaking contributions across an array of creative fields including furniture, architecture, industrial and textile design.
Four mantras underline their creativity: notice the ordinary, preserve the ephemeral, don't delegate understanding, and explain it to a child. This emphasis on simplicity enabled Charles and Ray Eames to foster a fun approach to design, experimenting with playful fluid shapes. Charles once said that the role of a designer is that of, "a very good, thoughtful host, all of whose energy goes into anticipating the needs of his guests".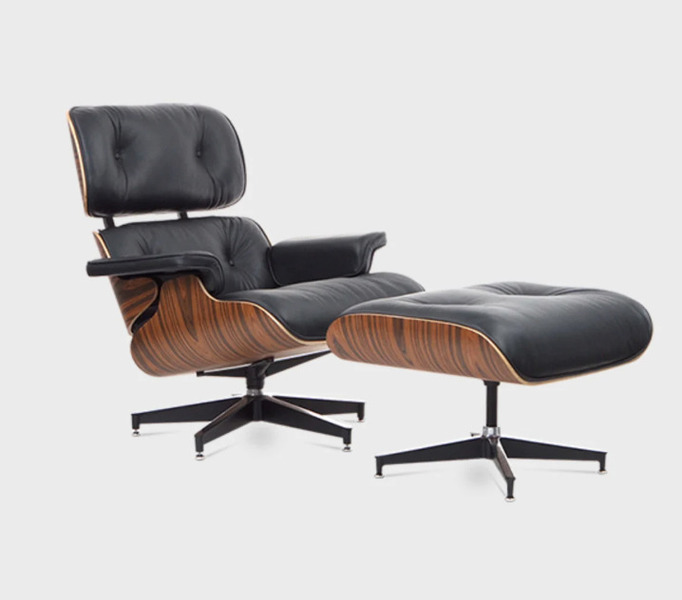 Eames Lounge Chair. Vinterior Sellers: Unique Home: UK
Eames chairs
One noteworthy design that encapsulates this is the iconic Lounge Chair, designed for Herman Miller. Comfort-defined, this handsome chair pairs elegant rosewood with dark leather. It comes with an ottoman, suitable both for inspiring office space and kicking back at home with a paper on Sunday afternoons. The creative couple brainstormed homeware for children as well as adults. Eames toys and furniture coloured many homes throughout the 20th century. Their buoyant joie de vivre is visible in the Elephant chair, a design that actually never went into production during either of the Eames' lifetimes. Characterised by curving plywood sheets moulded into the whimsical shape of an elephant, it forms a fun seat for a child. Luckily for us, a number of furniture makers now count it among their productions.
Arne Jacobsen
From a young age, it was clear that Danish architect and furniture designer Arne Jacobsen had creative talent. Jacobsen's ambition to become a painter faced his father's opposition. Deeming architecture a more practical pursuit, the young creative pursued this instead. Jacobsen lived an eclectic life and travelled all around the world to expand his creative horizons, voyaging to New York as a sailor, working as a bricklayer in Germany and escaping the Nazis in Denmark by rowing a boat across to Sweden. Italy became a place that Jacobsen visited frequently to paint beautiful, atmospheric watercolours.
By contrast to his painterly efforts, Jacobsen's career as an ultra-modern architect and designer has produced some of the most iconic designs of the last century. His work has not always been so popular though! Jacobsen's embrace of brutalism was often met with great protest. The reveal of Gammeltorv's Stelling House even prompted a newspaper to print that the young Dane should be banned from architecture for life.
Arne Jacobsen's Swan Chair. Vinterior Seller: Joseph Berry Interiors
'Gesamtkunst'
Nevertheless, he continued to foster and grow a radically new aesthetic. In everything he did, Jacobsen embodied the concept of Gesamtkunst, which means seeing everything as a work of art. In Great Britain, he designed St. Catherine's College, Oxford. This involved landscaping the garden and design details such as the chairs, silverware, china, lamps and door handles. He even chose the fish for the pond!
When looking back through the canon of Jacobsen's designs, it is his chairs which really assume the limelight. Viewed as state-of-the-art pieces, the sleek curved contours of the Egg, Swan and Drop chairs are unlike much achieved in furniture design previously. The Swan chair, with its graceful folds, is still a favourite mid-century office chair which regularly appears in stylish workspaces. Furthermore, designers often grace corners of galleries or home offices with the striking Egg chair. To this day, Jacobsen's far-reaching influence can be detected in many aspects of modern chair design. 
Egg Chair. Vinterior Seller: Osted Antique & Design
Eileen Gray
Irish artist and designer Eileen Gray was born into a creative family in the 19th century; her father was a Scottish landscape painter who encouraged her creative endeavours. Despite a turbulent childhood which saw her father up sticks to Europe to paint, Gray succeeded in winning a place at the prestigious Slade School of Art in London. The bohemian circles she moved in as a student introduced her to many creative disciplines from painting to architecture. A close friend of Le Corbusier, one of Gray's most famous designs is the E-1207 modernist villa in south-eastern France. Apparently jealous of her enterprise, Le Corbusier painted murals over her walls, something Gray deemed as vandalism. Not content with just building the villa, the designer wanted to furnish it with her own work. It was this same modernist villa that inspired some of her most well-known chairs.
Bauhaus meets Art Deco
Unlike her Bauhaus contemporaries, Gray abandoned the rigidity of functionalism and sanded down its angular edges with opulent touches of Art Deco. Gray's particular interest in the Dutch De Stijl movement informed the Transat chair, with its elevation of simple, geometric shapes. A play on the traditional deckchair, the Transat's layered structure represents a fusion of Bauhaus and De Stijl's functional influence with a nod to Art Deco scalloping. Similarly, the exaggerated cylindrical curves of Grey's 1925 Bibendum chair evoke a sophisticated playfulness. Today, Gray remains a celebrated Irish furniture designer and architect with a discerning portfolio of mid-century chairs, and table lamps, to her name.
The Bibendum Armchair by Eileen Gray. Vinterior Seller: Ibon Studija
Hans J Wegner
Hans J Wegner is another name that should be on the radar of anyone interested in mid-century chair design. Wegner was yet another creative brainchild behind a very diverse array of seating which changed the course of design history and contributed to the international popularity of Danish furniture. 
Wegner's sculptural Peacock chair. Vinterior Seller: Timeless Art
It is little known that Wegner designed his first chair at the tender age of just 15. He didn't stop there: over the course of his lifetime, Wegner masterminded over 500 chairs. Working with scale models, he became very involved in the manufacturing process. After completing a design, Wegner would spend a long time collaborating with the craftsmen to build prototypes. Through this, he acquired a deeply nuanced understanding of the nature of wood. However, despite an ardent following, Wegner's work did not always achieve immediate success. For instance, the exquisite Peacock chair only found fame almost half a century after its initial release. His international breakthrough came in 1949 when The American Interiors Magazine toted the Round chair as the 'world's most beautiful chair'. Consequently, it gained further recognition via its presence during the televised presidential debates between Nixon and Kennedy. 
The Round Chair. Vinterior Seller: Dagmar
Exotic influences
Wegner described the design as 'a continuous process of purification and simplification'. Guided by an east-meets-west fusion, this quote speaks in particular to the clean lines of the Wishbone chair. It might surprise some to learn that the wide high-backed structure of a Ming dynasty throne was the original seed of inspiration from which sprang this most famous chair. Still produced today, each Wishbone model takes almost three weeks to build. The chair is compiled of 14 separate components. Incredibly, at least 100 processes lie behind the carving, chiselling, sanding and shaping of these pieces before the chair can be assembled. Wegner, who died in 2007, left a legacy of outstanding craftsmanship and creative ingenuity in his wake. 
Wishbone Chair. Vinterior Seller: Future Antiques
Jindrich Halabala
Mid-century designer Jindrich Halabala was responsible for initiating the mass market production of furniture in Czechoslovakia. He is the pioneer behind two fundamental series of modular furniture, the H and E style chairs. Halabala's unique work has influenced and inspired a generation of designers, among them Harry Bertoia and Peter Protzman. Like other mid-century designers, his innovative approach employed the use of tubular steel. Born in 1903 in Koryčany, Halabala grew up in training to become a cabinet maker in his father's joinery workshop. In 1920, he gained a place at the woodworking school in Valašské Meziříčí. Halabala completed his practical studies at the United Wood, later becoming the company's chief designer. 
Jindrich Halabala Armchairs. Vinterior Seller: Mayfly Vintage
Steam-bent armchairs
Today, Halabala's stunning mid-century armchairs are in high demand by interior designers all over the world. Characterised by their curving linearity, the chairs take on an organic, sculptural appearance with an impressive steam-bent frame. Available mostly in pairs, they make for an arresting design statement. The Czech Republic now issues an annual award in Halabala's name for excellence in furniture and interior design. 
H91 Armchairs. Vinterior Seller: DesignCore
Antonin Suman
Another Czech designer to watch out for is Antonin Suman, whose work has risen to prominence over recent years. Although he remains an elusive figure, Suman is the name behind a popular series of mid-century dining chairs. The Tatra chairs are characterised by a simple yet beautiful curved sheet of oak. Additionally, these mid-century seats also have a clever twist in that they are reversible, maximising the durability of the upholstery. Famous Austrian furniture maker Thonet has produced the majority of Suman chairs. 
Charlotte Perriand
Charlotte Perriand was a leading French furniture designer under Le Corbusier. She held an inherent belief that interacting with better design leads to a healthier society. This fuelled the eventual move from working as a seamstress to design. Perriand famously built a bar – 'Le Bar Sous le Toit' (Bar Under the Roof) – in her own apartment. This was made out of aluminium, glass and chrome. The bar caused a press sensation and landed Perriand firmly on the radar of the design community. However, when she applied to work in Le Corbusier's studio, he famously rejected her. His callous reply? 'We don't embroider cushions here.' A few months later, Le Corbusier rocked up to her show at the prestigious Salon d'Automne. Shortly afterwards, he swiftly hired Perriand to work for his studio!
Le Corbussier, Pierre Jeanerret and Charlotte Perriand Lounge Chair. Vinterior Seller: Andevost
Perriand seating
One of the most famous pieces she designed for Le Corbusier was the sculptural chaise lounge. Some collectors are fortunate to have obtained a rare version upholstered in an eye-catching cowhide. Among a myriad of seating designs, Perriand also masterminded a popular series of mid-century dining chairs: Les Arcs. This paired tan leather with the tubular structure popularised by her contemporary Marcel Breuer. Tempered by the luxurious leather-clad seats, the industrial chairs represented a daring collision of aesthetics which still remains a popular choice in dining furniture. 
Charlotte Perriand Les Arcs Dining Chairs. Vinterior Seller: K + G Curated Space 
Marcel Breuer 
Marcel Breuer was a Hungarian-born modernist architect. His mid-century chairs stand among the '10 most important chairs of the 20th century' – no mean feat! Named after Breuer's adopted daughter, Francesca, the Cesca chair is one such design. Most importantly, it is notable for its 'cantilevered' structure (not traditionally supported by four legs). Consequently, the Cesca remains a popular mid-century office chair. Paired with cane seating, its tubular steel frame is a long single piece. This unconventional combination was remarkably different from anything else available at the time. The Cesca chair paved the way for other cantilevered seating which appeared over the 20th century.  
Cesca Chairs. Vinterior Seller: Andevost
The Wassily chair
Another recognisable design by Breuer is the Wassily chair. This iconic angular armchair is notable for its signature frame and sloping seat. The chair came to life when Breuer served as head of the cabinet-making workshop at Bauhaus. Contrary to popular belief, Breuer did not intentionally design the chair for the artist Wassily Kandinsky. As a frequent visitor to the Bauhaus faculty, the painter had admired the chair when it first made an appearance. However, it was not until later that Breuer made a duplicate for Kandinsky's own studio.
Wassily Chair. Vinterior Seller: Punch the Clock
It is Breuer's revolutionary use of the materials which cemented his name in the annals of design history. In 1925, Breuer purchased his first bicycle, the steely lightness of which sparked his imagination. As a result, Breuer embarked on the path to designing furniture which embraced the same agile quality. Until this point, steel tubing had a welded seam which would collapse when bent. Meanwhile, a German steel manufacturer was developing a more seamless approach. Fortunately, the concomitant production made it possible for Breuer to continue along this avenue of design. Subsequently, Breuer issued a number of tubular chairs revered as leading mid-century designs to this day. 
More mid-century chair styles to discover 
The mid-century modern period asserted a new public relevance within the realm of furniture design. Its chairs, practical yet visually commanding, are among the most celebrated pieces. Mid-century chair designers provided creatives with a compelling visual vocabulary that would fuel innovation throughout the 20th century and beyond. We have touched on a mere handful of chairs! Enjoy a wider diversity of mid-century design seating in the Vinterior collection. 
Featured image: mjolk.ca
Discover a wide range of mid-century chairs
Explore our characterful collection
SHOP NOW