Furniture Reupholstery: How much does it cost?
Have you ever looked at your favourite wingback armchair and thought that it could do with an overhaul? Reupholstery could be the answer. 
Reupholstering furniture is the process of replacing old fabric, padding and springs with new ones. It can give new life to your seating and make it look as good as new. But, is it worth the cost to reupholster a chair? Read on to find out.
How much does it cost to reupholster a chair?
Mid-century chair reupholstered in pink velvet | Warsztat Form Design
The cost of reupholstering a chair can vary depending on several factors, including the size of your chair, the complexity of its design, and the fabric you choose to reupholster with. A small chair will be less expensive to reupholster than a larger one and chairs with more curves and angles will take longer to reupholster, which can increase the cost.
High-end fabrics like leather and velvet will cost more than synthetic fabrics like polyester. However, choosing a high-quality fabric can also make your chair look more luxurious and last longer, so it could be worth paying a little extra.
Buying a brand new high-quality armchair can cost upwards of £250 whereas the cost of reupholstering a chair can range from £75 to £500. While this may seem like a significant investment, it's important to consider the long-term benefits of reupholstering. By choosing to reupholster your chair instead of buying a new one, you can save money in the long run and get a custom piece that fits your style and preferences perfectly.
And, if you fancy giving it a go yourself, you can save money and learn a new skill. Have a read of our guide to reupholstering a chair to find out more.
How much does it cost to reupholster a sofa?
Reupholstered Ercol daybed sofa | 20th Century Warehouse
Reupholstering a sofa can be more expensive than a chair due to its size and the amount of fabric needed to recover the foam and cushioning. The cost can range from £600 to £4,000 or more.
If you have a high-quality sofa that you adore, it may be worth the investment to reupholster it instead of buying a new one. By choosing to reupholster, you can preserve the frame and the quality of the sofa while updating its appearance. Choosing the bespoke fabric and design that you want gives you a unique and personalised piece of furniture that you'll love for years to come.
Reupholstering other types of furniture
Edwardian dining chairs reupholstered in bright fabric | Hamilton & Hodson
You can reupholster all sorts of seating types and give them a new lease of life:
Chaise longues: Reupholstering a chaise longue can result in a statement piece of seating for your chosen room. The cost can range from £800 to £2,000. Once reupholstered, you will own a characterful piece of furniture that you can pass down through the generations.
Ottomans: Reupholstering an ottoman is typically less expensive than reupholstering a chair or sofa at around £75.
Dining room chairs: Reupholstering dining room chairs can cost anywhere from £50 to £200 per chair depending on how much fabric is required. Why not reupholster each chair in the set with a different fabric or colour to create an eclectic centrepiece for your foodie gatherings?
Is it cheaper to buy a new chair or reupholster?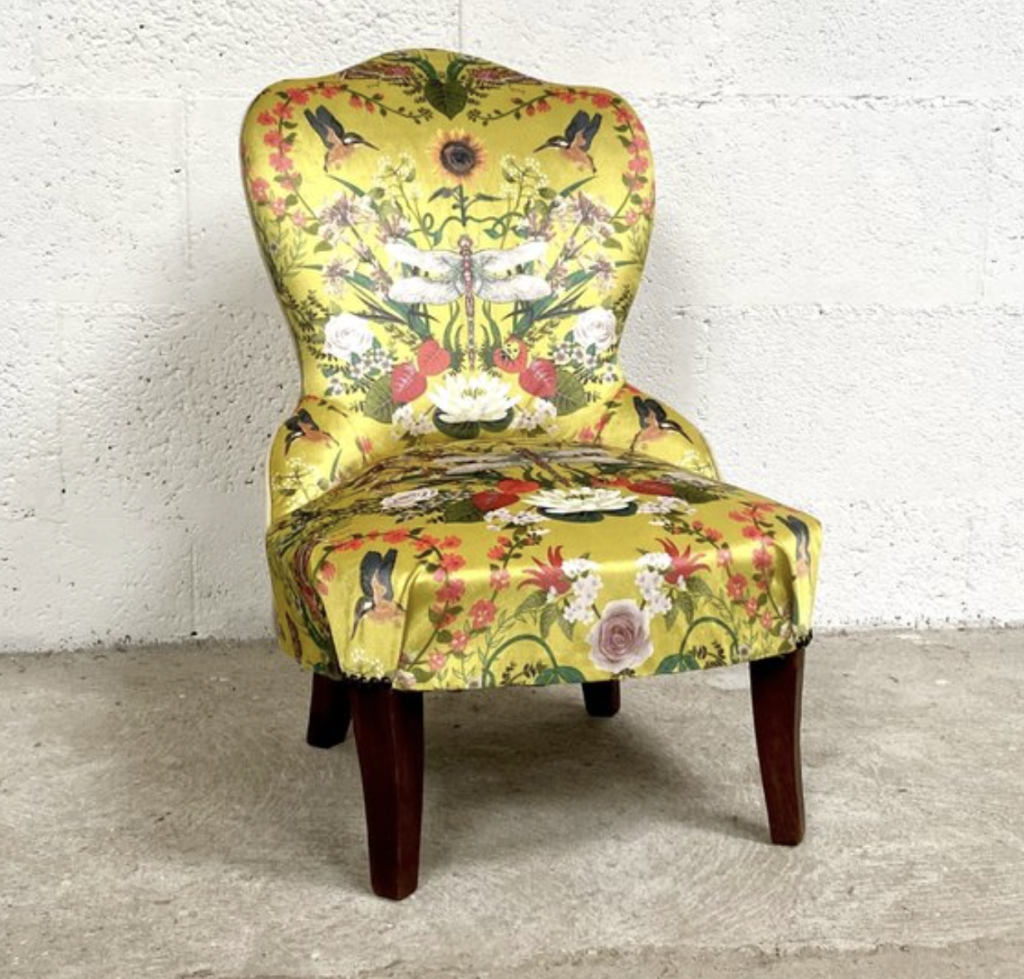 1930s toad chair reupholstered in striking fabric | Little Paris Store
When deciding whether to reupholster or buy new furniture, cost is not the only factor to consider. While purchasing a new chair or sofa may seem like a more affordable option upfront, it might not be the most cost-effective in the long run.
Reupholstering your furniture allows you to retain the character and heritage of older, vintage pieces. This is a more sustainable option, as you're not contributing to the waste generated by discarding old furniture. It's also an opportunity to create unique pieces of furniture that perfectly suit your lifestyle and interior aesthetic.
If you have sentimental or antique furniture that has been passed down to you, reupholstering it can help preserve its history. By reupholstering, you're not only preserving the furniture itself, but also the memories and stories associated with it.
It's worth noting that the cost of reupholstering can be more expensive than buying a new piece of furniture. However, the quality of the finished product will likely be higher, and you'll have a custom piece that you'll love for years to come.
Have you reupholstered a piece of furniture recently? Did you give it a go yourself? Was it worth it? Let us know in the comments section below. We'd love to hear from you.
Take a seat
Explore our collection of reupholstered armchairs
Shop now