The Essential Guide to Antique Glass Decanters
Whether you're looking to store your aged single malt in an elegant lead glass decanter or you want to adorn your drinks trolley with an eclectic selection of antique glassware, Vinterior's here to help. This guide will help you identify antique glass decanters and delve deeper into their history, use, and value.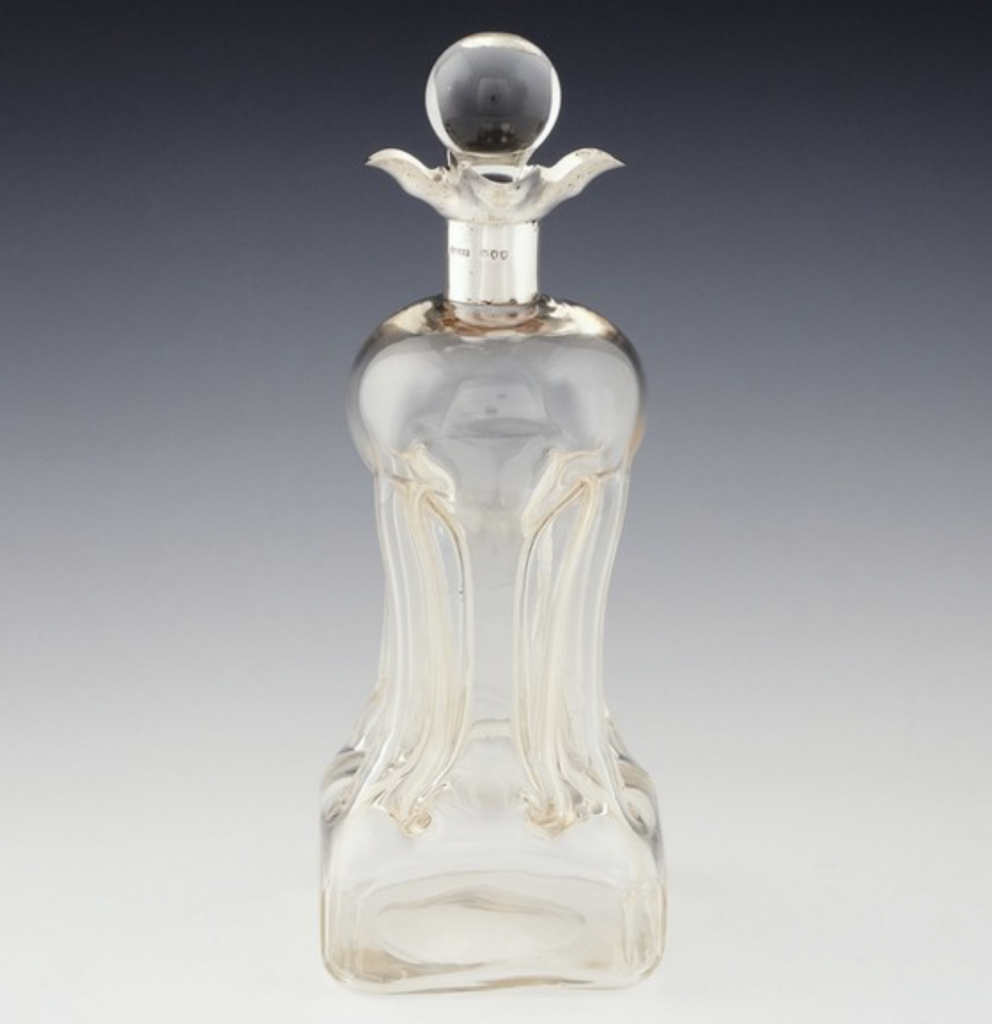 Kuttrolf Type Decanter With Sterling Silver Collar | Scottish Antiques
What are decanters used for?
Decanters haven't always been made out of glass. While we're used to seeing gorgeous cut crystal decanters with swan neck stems, decanters were originally made out of gold, silver, bronze, or stoneware. It wasn't until the emergence of the Roman Empire that the glass decanter became the norm.
Originally used solely for serving wine, naive free-blown carafes were the vessel of choice for the upper echelons of Roman society. It wasn't until the Renaissance period that decanters surged in popularity. In Venice, the sommeliers of the day understood the need for wine to breathe. The wider-based decanter with a more slender neck allowed wine sediments to settle and react with the air to enhance its taste and aroma.
The next decanter milestone was the invention of the stopper in the 1730s in Britain. This allowed wine to be stored for longer preventing it from spoiling. Today, wine isn't the only beverage stored in decanters. Cognac, brandy, whisky, and even non-alcoholic liquors can take pride of place in your favourite antique decanter.
Art Deco 1930s Bohemian Decanter | Deco Interiors
How to identify an antique decanter
Antique decanters are the perfect mix of sculptural beauty and functionality. Sustainable by their nature, they can last a lifetime and become a family heirloom. They will store the finest tipples throughout the generations.
Spanning the elegant Victorian era to the glamorous art deco period, antique decanters – while eclectic – all share common characteristics. When looking to identify an antique decanter, look out for the following:
Stylish shapes – Antique glass decanters are usually wider at the base than the top. They may have a round or square cut profile with elongated stems. The shape could be organic and curved or more rigid and geometric. Later designs also had stoppers. Be wary of the marriage between the decanter and the stopper. It should fit snugly and show natural wear.
Pontil scars – Artisan glassblowers used pontil rods when shaping and distending the glass. The pontil rod is broken off when the perfect decanter shape is formed. Before the age of mass production, pontil rod marks can be found at the base of antique glass decanters.
Bubbles in the glass – Perfectly imperfect, old decanters will have bubbles and ripples within the layers of glass.
Colours – Clear, emerald green, magenta pink, cherry red, cobalt blue; the array of whimsical and regal antique decanter colours can be a sight to behold.
What are the different types of decanters?
Antique glass decanters span the ages mirroring the natural aesthetic of their era. Take a look at these common decanter styles and wow your guests at your next evening soiree.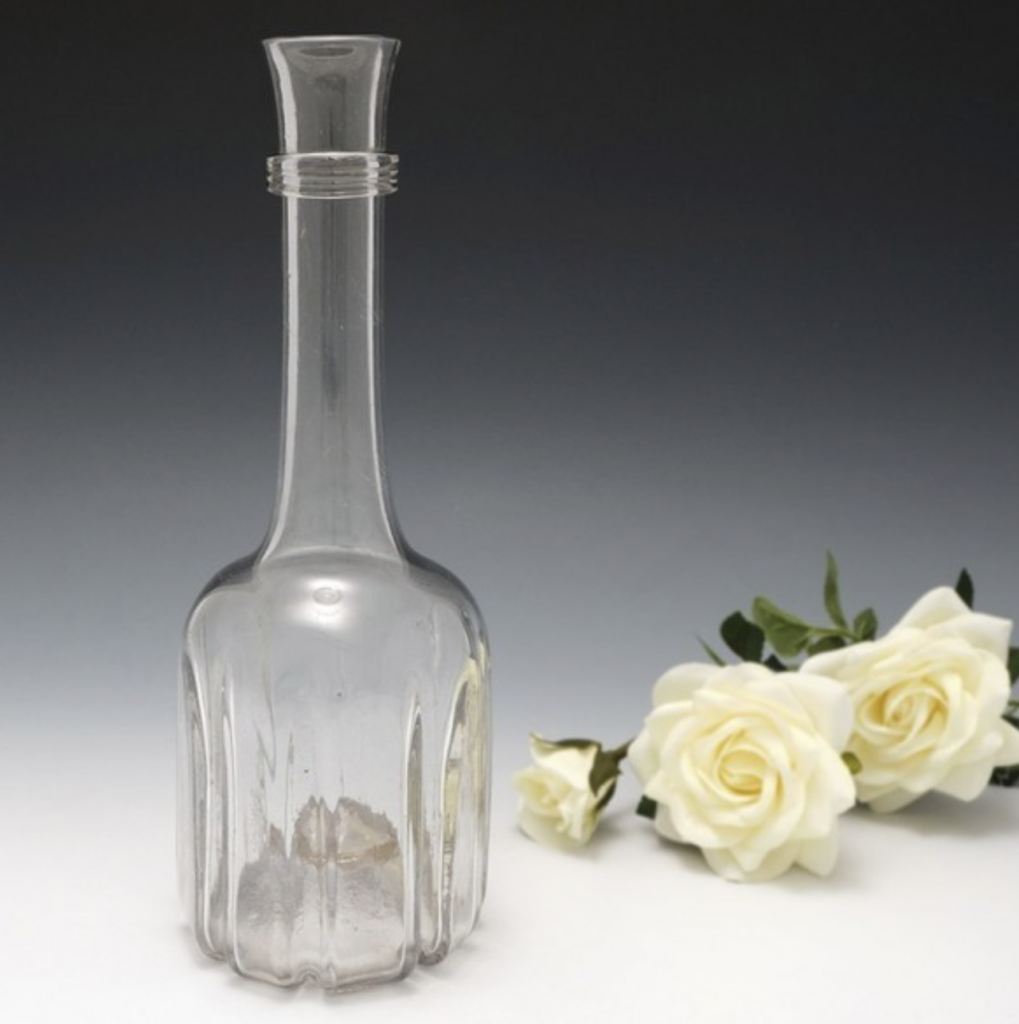 A Very Tall Modified Cruciform Decanter Bottle circa 1740 | Scottish Antiques
Regency glass decanters
Glassware from the reign of George III is elegant, simple, and refined. The ringneck on a decanter signifies its Regency period styling. The late 18th century saw gin become popular among the lower classes in Britain as there was no need to have a licence to sell it. The upper classes shunned gin and chose to drink wines from the continent instead.
The stoppers in Regency decanters were often cut using the hobnail and star method. These two outlines on the stopper and the lip of the neck created an airtight seal, so wine would not spoil. In the early 19th century, antique glass decanter designs became more exotic. Cut crystal emulating the skin of the pineapple fruit was characteristic of Regency glass. And the fluted necks of glass decanters would often have ribbed detailing to provide a tactile finish and a sturdy grip for the individual pouring the wine.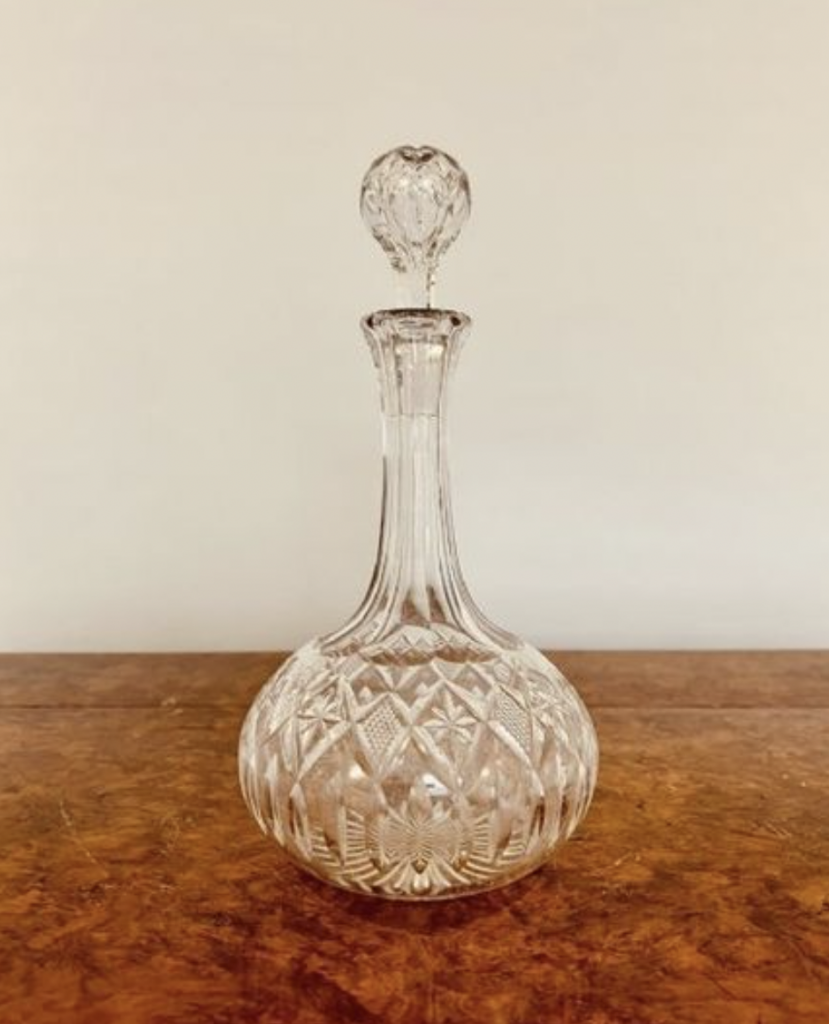 Antique Victorian Cut Glass Decanter | Unique Antiques by Emma Jade
Victorian glass decanters
Decanters from the Victorian era are often seen adorning cocktail cabinets and drinks trolleys. Made out of heavy-set clear lead glass, they encompass a range of different design elements. For a Greco-Roman influence, a stunning baluster shape carafe can elevate your aperitifs before a dinner party. Or for sheer elegance, a late Victorian glass decanter with a star-cut base, broad vertical flute, and lozenge diamond detailing will help the aromas of your finest brandy to mature.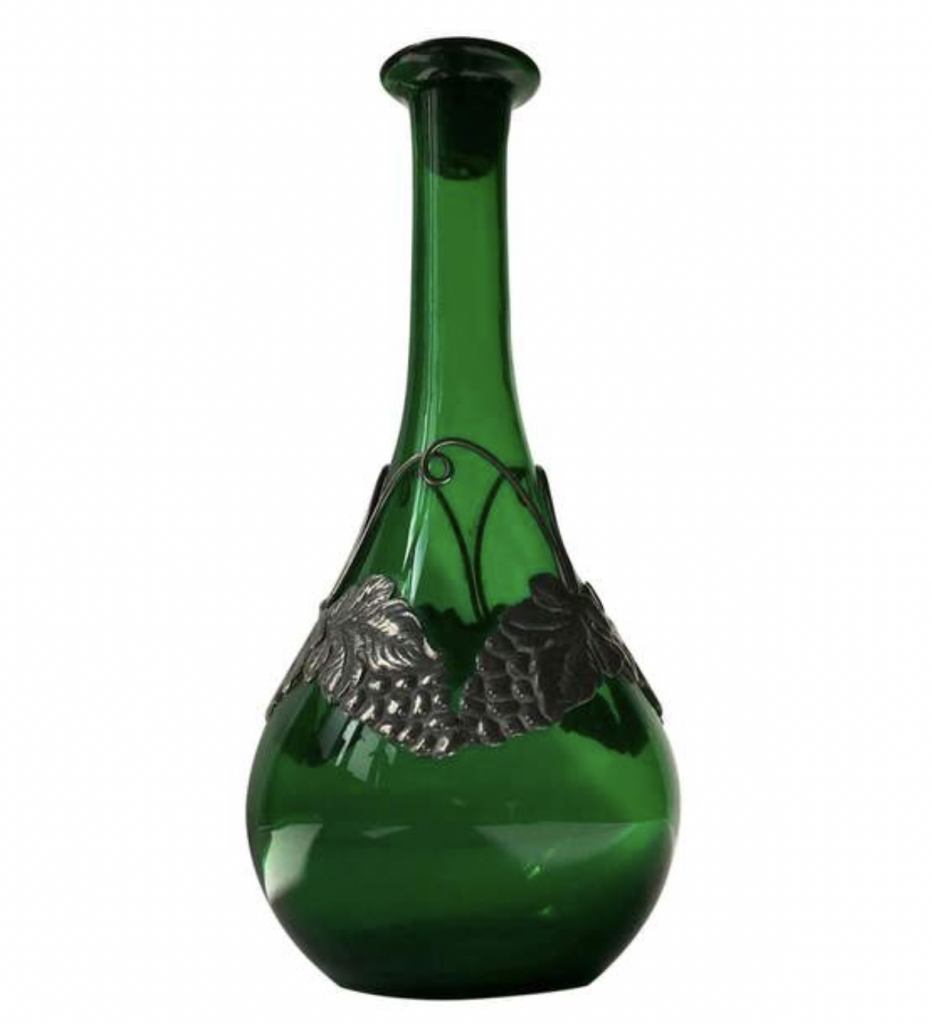 Art Nouveau Green Jugendstil Decanter In Glass And Pewter From Holmegaard | Retro Design
Art nouveau glass decanters
The art nouveau period was relatively short, between the years of 1890 and 1910. However, in these two decades, a whole new style of decanter developed. A rainbow of colourful hues replaced the clear lead crystal of previous centuries. Tangerine orange, moody purple, and emerald green glass brought vibrancy to the luncheons and gatherings of high society.
Taking their influence from the natural world, glass companies like Stevens & Williams and designers such as Émile Gallé embraced organic shapes, curves, vine motifs, rope twists, and neoclassical cherubs. Many glass decanters were enveloped in pewter or silver overlays – another characteristic of the art nouveau era of glassware.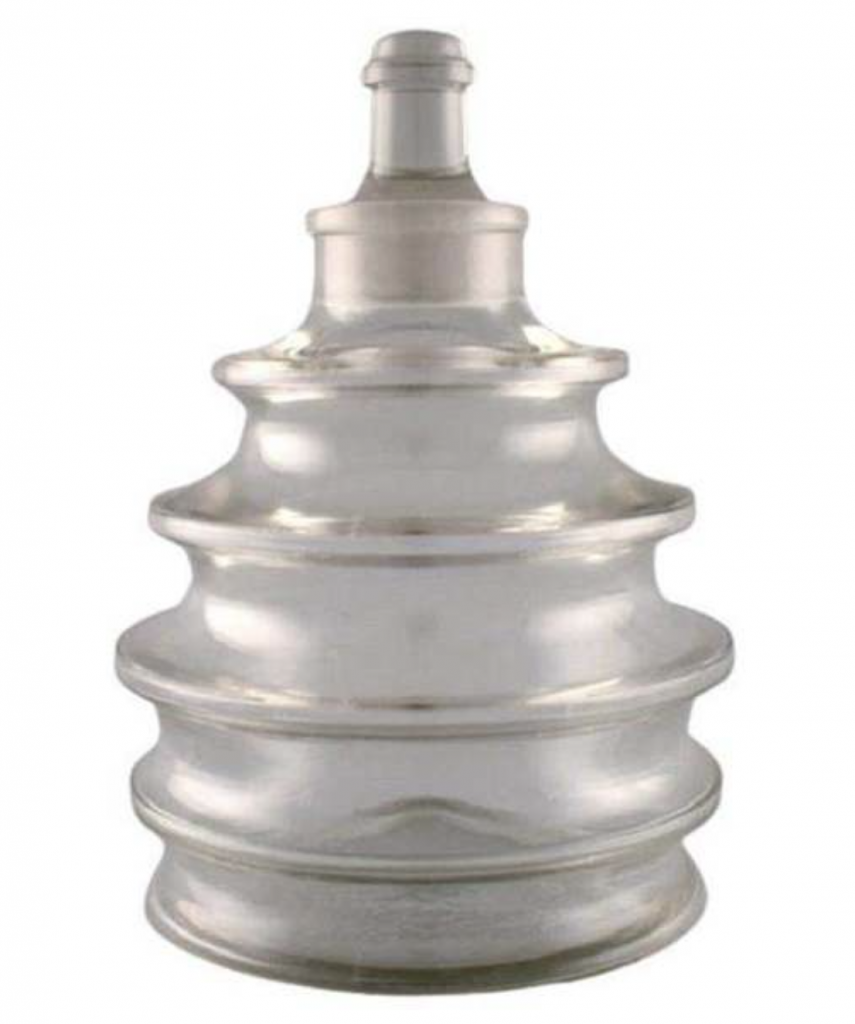 René Lalique Decanter In Clear Art Glass | L'Art
French antique glass decanters
Hop over the Channel and you will find brocantes full of French antique glass decanters. 
The master glassmaker René Lalique designed elegant and iconic decanters that are highly sought-after today. With his signature etchings and frosted glass finish, his Phalsbourg, grenade, and orchidée decanters are daring and different. Lalique played with the stopper design, turning a simple tapered rectangular design into a giant iris flower, a bubbled teardrop, or even a koi carp motif.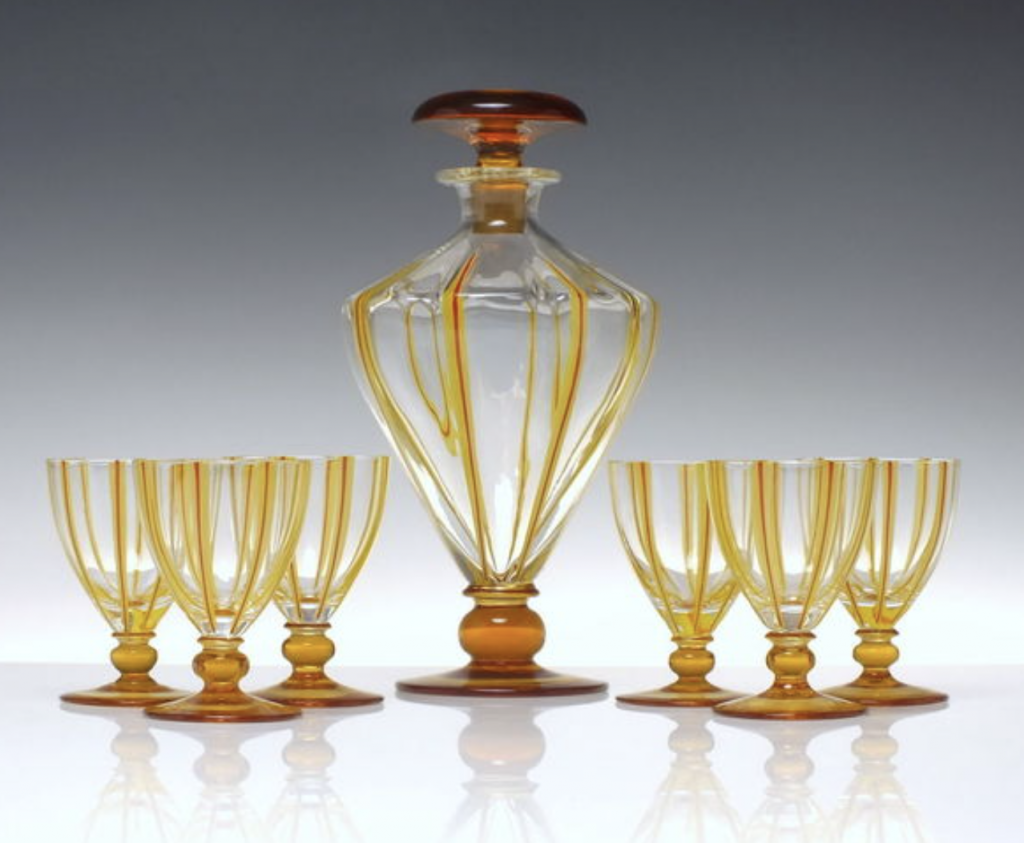 Rare Antique Art Deco Decanter and Six Matching Glasses | Exhibit Antiques
Art deco glass decanters
Not out of place at a party hosted by the Great Gatsby himself, art deco glass decanters embodied the sleek geometric simplicity of the design era. Stylised blocks fanning out from a central pillar with clear glass or subtle monotone accents are signature features of a classic art deco decanter. Influenced by the avant-garde architecture of the Chrysler building and the Rockefeller Centre, straight, sleek lines and swoon-worthy angles paid homage to the iconic skyline of 1920s New York.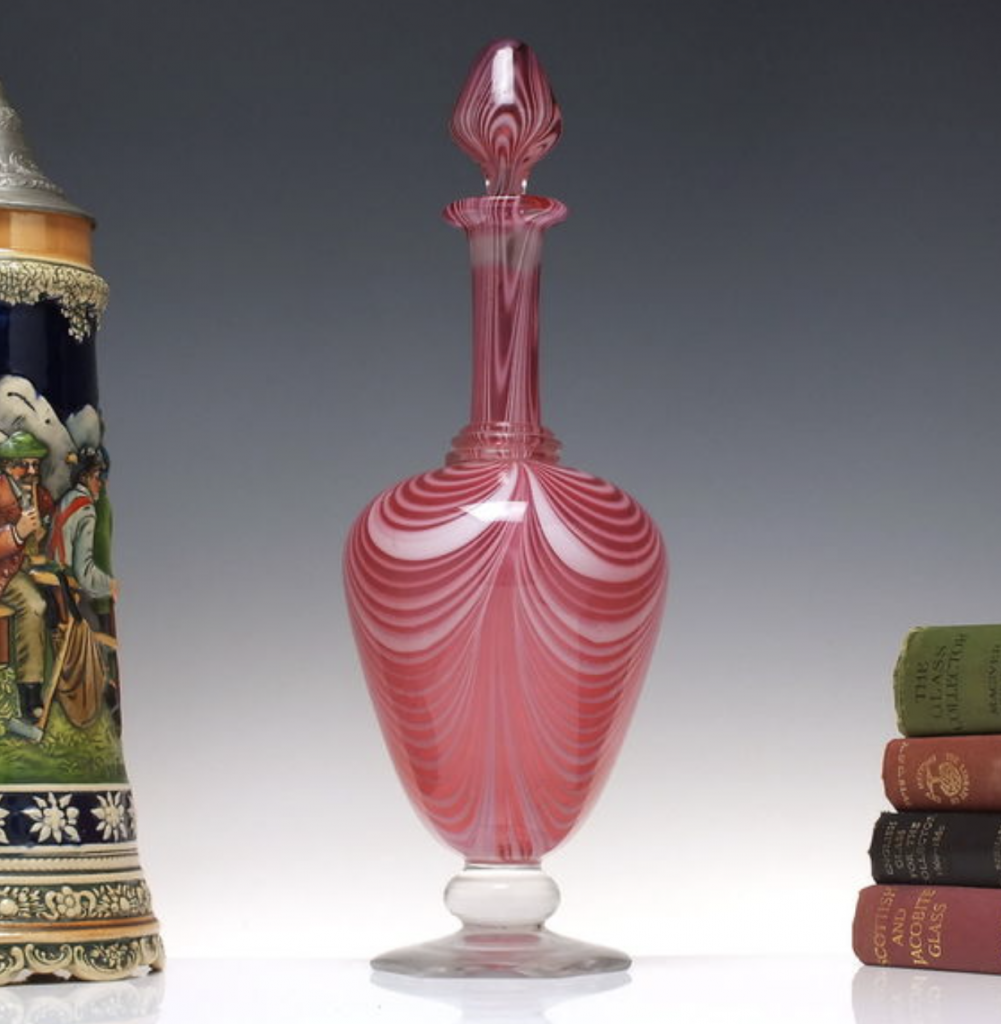 Antique 19th Century Victorian Nailsea Cranberry Glass Decanter circa 1870 | Exhibit Antiques
Are decanters worth anything?
A true antique glass decanter can be extremely valuable. Even the more common Victorian glass decanters make a sound financial investment. But, if it's a rare example, made by a prolific designer, or if it's a particularly early piece, your decanter will only increase in value. 
Look out for the following features when identifying whether your decanter is a true antique, sought-after, or valuable.
A heavy weight

– most antique decanters are made from glass containing a lead oxide mix. This is heavier than simple pure-glass equivalents.

No seam

– There is no moulding or joins in a bona fide antique glass decanter so you shouldn't see or feel any seam.

Prism features

– When shining a light onto the decanter, you should see a rainbow prism effect.

Base markings

– Underneath the base of a decanter, you may find a marking. For example, Lalique and Baccarat always signed or marked their glassware.

Sound

– The lead-infused glass will make a pleasant ping sound when tapped with a spoon.
Whether you want to recreate the fond memories of your grandparents' old drinks trolley that was wheeled out on special occasions or you simply adore the sustainable nature of an antique glass decanter to store your favourite tipple, Vinterior has a wonderful collection ready to explore.
Explore our antique glass decanter collection
Find your one-of-a-kind
Shop Now