How to Use Different Types of Lighting in Your Home
Finding the right lighting for your home isn't simply choosing the correct wattage for your bulbs. A nuanced lighting scheme sets a mood, creates an ambience, and personalises a space. 
At Vinterior, we have an abundance of different types of lighting to suit all tastes, lifestyles, and budgets. But how do you go about selecting the right lighting for your space? Whether you're renovating your first humble abode or simply want to give your interior a fresh look, choosing the right lighting type alongside characterful fixtures can help you to realise your interior vision.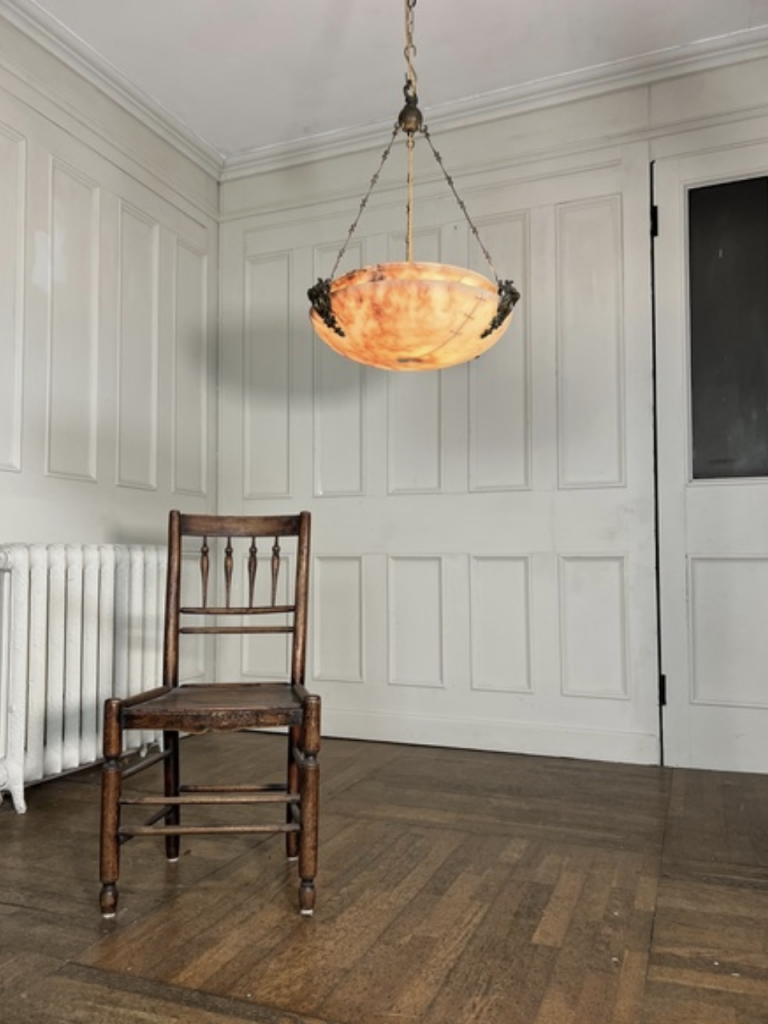 What are the 4 different types of lighting?
There are four distinct types of lighting, each creating a different mood and serving a different purpose. The four different types of lighting are:
Ambient lighting

Task lighting

Accent lighting

Decorative lighting
Read on to discover how you can layer these lighting types to create a cohesive space to illuminate a gallery wall in style, read your latest bestseller in comfort, or effortlessly highlight your latest gastronomic soiree.
Ambient lighting
When most people think about lighting, it's ambient light that first comes to mind. This is the all-encompassing illumination that cascades across a whole space. Ambient light creates uniformity and brightens those rooms that lack natural light. 
Ceiling light fixtures, including pendants and chandeliers, will cascade even light across a room. Many people consider a room's ambient lighting as the 'main' light of a space. This is why many design-conscious homeowners are choosing to make their ambient lighting fixtures statement pieces in their own right. 
For those who want to anchor their art deco aesthetic, how about a beautiful 1930s crystal glass chandelier? Or for a mid-century look, think playful atomic three-arm icons in teak or space-age UFO pendants. Bathing your space in warm amber hues or bright white tones should be an integral part of your interior design scheme.
Ambient lighting to consider: pendants, chandeliers, flushmounts.
Task lighting
Have you ever fancied partaking in your latest macramé marathon or reading the next chapter of your novel, but the ambient light is too much? Task lighting is designed to highlight a specific area to allow you to complete a task. This could be a hobby, reading, studying, cooking, or working.
An achingly cool Anglepoise floor lamp could bring some much-needed task lighting to a cosy alcove in your living room. A mushroom table lamp can focus just the right amount of light onto your desk as you check your emails first thing in the morning. And handy under-cabinet lighting can bring your kitchen worktop into searing focus allowing you to practise your latest bakes with ease.
Task lighting fixtures to consider: desk and table lamps, articulated floor lamps, under-cabinet lighting, recessed lighting, spotlights.
Accent lighting
Accent lighting is similar to task lighting as it provides directional illumination. However, this is to shine a light on a feature rather than a task. Think elegant wall sconces to showcase your treasured family photos or arc floor lamps to bring attention to your yuccas and succulents.
Accent lighting fixtures to consider: floor lamps, wall sconces, lanterns.
Decorative lighting
If the lighting you choose plays a vital role in the aesthetic of your space, it becomes a decorative choice. Decorative lighting should combine both form and function. Consider whether you want light dispersed evenly, focused upward, downward, or bounced across a room to create an illusion of space. 
Harnessing a heady mix of characterful vintage or antique style with your fixture choices alongside more practical lighting considerations will help your interior vision come alive. No matter your chosen aesthetic, period, or style, the lighting you choose will accentuate this and bring authentic charm to a space.
The importance of layering lighting
The abracadabra moment of a magical lighting scheme comes when ambient, task, and accent lighting are layered to create a versatile space. The multiple fixtures can be used individually or together so a room can provide coordinated lighting for various uses of the same room.
A snug with a gorgeous set of Murano glass wall sconces on dimmers alongside an arc floor lamp and a flycatcher marbled glass pendant can create a multitude of moods and scenes to enjoy.
While the colour of your walls and the furniture you choose are crucial to your interior design scheme, your lighting choices are just as important. Layer your ambient, task, and accent lighting to suit your needs and enjoy illuminating your home.
Ambient, task, accent, or decorative?
Explore our collection of pre-owned lighting
Shop Now