5 Green Sofa Ideas For Your Living Room: Go Vintage
Green is the colour of the moment. We're all hankering after this hue right now. And what better way to invigorate your living room with rich emerald jewel tones than with a vintage green sofa?
Universal and versatile in equal measure, green is a wonderful colour to surround yourself with throughout every season. In the cooler months, green velvet sofas and chairs bring much-needed cosy warmth to a room. In spring and summer, its natural vibrancy helps us to bring a sense of the outdoors in. Green is both calming and invigorating. This perfect juxtaposition of mood and tone means we never get bored of it. Take a look at these 5 beautiful preowned green sofa ideas for your living room.
The green velvet sofa
If you're keen for your living room to exude cosy hygge vibes, then think about your choice of material and hue of green. A deep cushioned, enveloping forest green that will sit even the largest of broods is perfect for those family movie nights, cheeky T.V. dinners, and games evenings. Velvet is a soft tactile material, that when coupled with a bold green shade, creates a snug and comfortable space in which to relax. Not sure where to start? Outlandish 1970s Italian sofas are a bellissimo choice.
The green Chesterfield sofa
For a more regal or formal lounge, a green Chesterfield with its timeworn leather patina and button-backed cushioning is a characterful choice. With a faded grey-green leather that has the odd knock, dink, and scrape, you can almost see its lifetime of service to families gone before. Welcoming a green Chesterfield into your home will add a timeless appeal to your space. Perfect for formal, industrial and minimalist aesthetics, this mottled green iteration is sure to provide the foundation of your interior vision.
The Camaleonda green sofa
Not for the faint-hearted, a vivid green Camaleonda sofa is a daring addition to a living room. Perfectly popping against a white wall or taking centre stage in a maximalist space, the bulbous silhouette of this Mario Bellini icon is striking in its form and gives a big metaphorical hug to anyone who sits on it. Casual enough to curl up on with a good book and sophisticated enough for guests to retire to after an evening soiree, the bold green Camaleonda is the perfect choice for design darlings and vintage aficionados alike.
The green daybed sofa
A green sofa idea that you may not have considered is the classic daybed sofa. Not quite bed but not quite couch, this mid-century classic is ideal for the larger living room. Built for durability and often with a soft mottled green fabric, this piece of seating is made to relax on. Rest your weary bones after a long day at work, lie down as you watch your current boxset of choice, or put your feet up with a cup of your favourite brew. And green is the perfect colour for a daybed as it stimulates feelings of peace, calmness and harmony.
The antique green sofa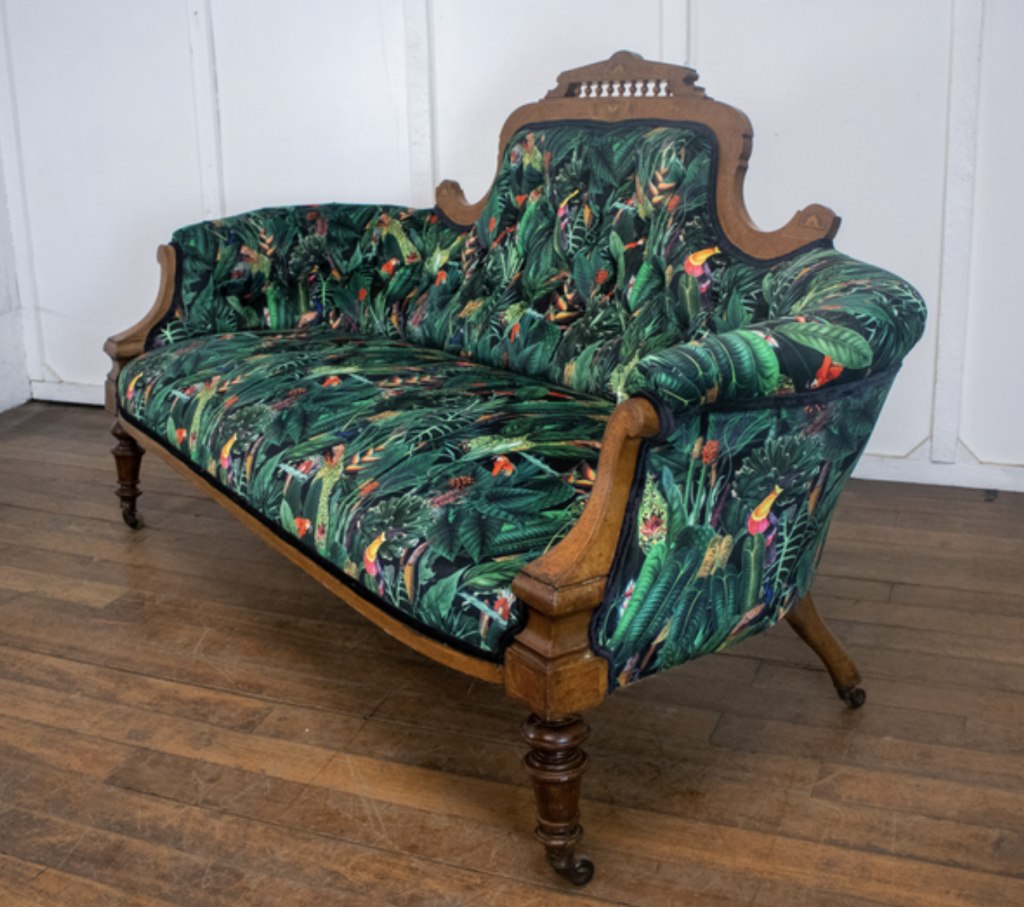 If you're craving a bona fide antique for your living room, consider a statement green sofa. Victorian, Georgian and Carolean examples feature heavily in Vinterior green antique sofa collection. What's more, many of these charming settees have been restored, upcycled or reupholstered to give them a new lease of life. Opt for an offbeat jungle fabric, a natural leaf green cotton, or a vibrant lime green upholstery. Whatever you choose, the hand-crafted oak, walnut, or mahogany frames will remain. Solid, durable, and having already lasted a lifetime, you can make a sound investment in a sought-after antique sofa that's sure to increase in value and give you a lifetime of memories.
Is a green couch a good idea?
Green sofas can fit effortlessly into a range of interior styles. Minimalist fanatic? Green is a great choice. Mid-century enthusiast? Green was a stalwart choice of Ligne Roset and Knoll. Art deco devotee? A green Gatsby-inspired couch makes an elegant statement in a living room.
Green is the colour of harmony, growth, and nature. So it makes sense that you'd want to feature this hue so prominently in your living room.
Ready to take the plunge? Explore our curated collection of vintage green sofas today and find your one-of-a-kind.
Discover our Vintage Curated Collection
More than 200,000 products to choose from
Shop now