Why the Insta-Ready Togo is the Go-to Sofa of the Moment
Michel Ducaroy had a design epiphany when brushing his teeth one morning in 1960-something. Bending his malleable tube of minty fluoride into a curve, only to see the dimples of the toothpaste push the outer aluminum casing, led to an idea. Perhaps the most influential furniture idea he'd ever had. And whipping out his notebook to draw his weird and wonderful toothpaste-inspired design, the iconic Togo sofa was born.
The Togo sofa is having a moment. Scroll through your Instagram feed and the chances are you'll see a Togo or two taking centre stage in dreamy mid-century or bohemian or industrial interiors. But how has this chunky, lumpy behemoth of a sofa taken the world by storm?
A brief history of the Togo sofa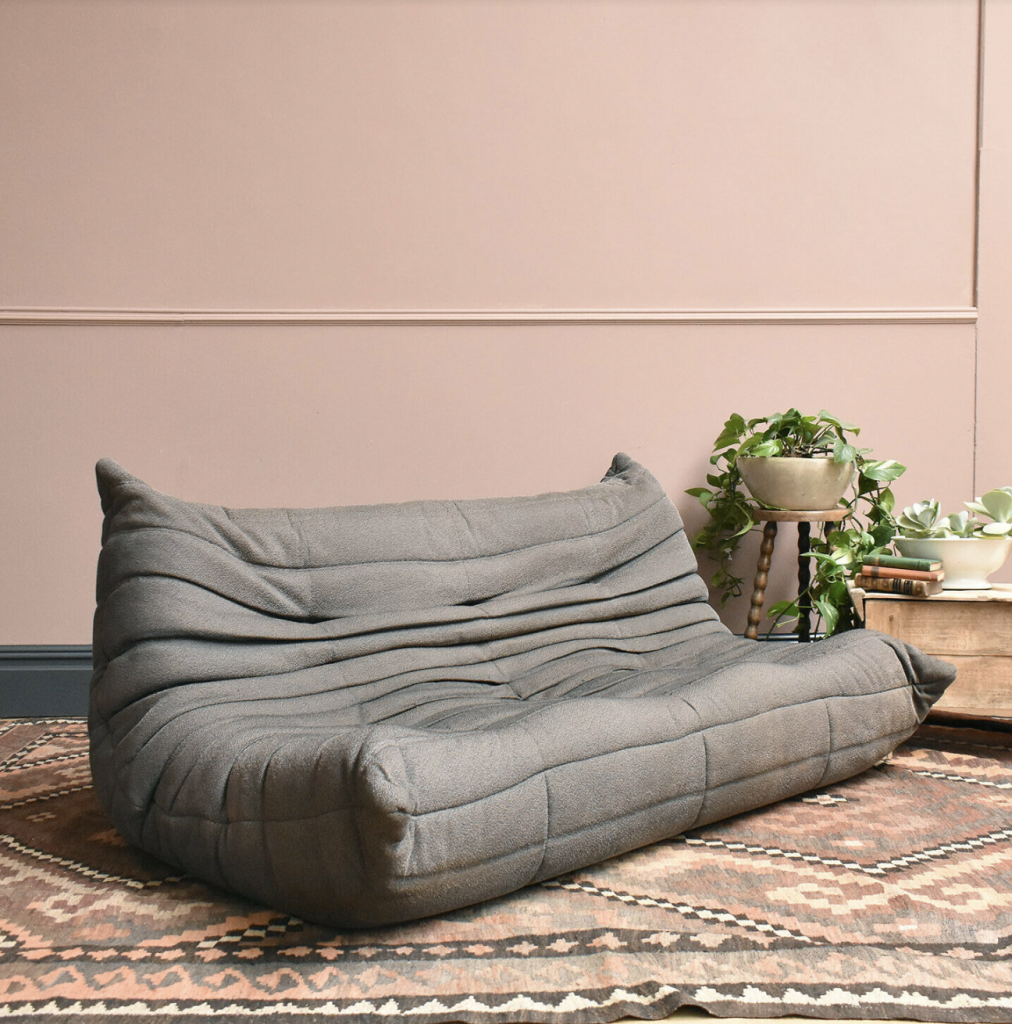 In 1973, the Togo was revealed to the world for the first time at the Salon des Arts Ménagers in Paris. Unlike anything ever seen before, this dimpled caterpillar-like sofa was a marvel. With no base and no traditional frame to speak of, Michael Ducaroy had created a couch that broke the mould.
However, while the design was different, it was viewed as revolutionary. The Togo won the Rene-Gabriel award for creating an iconic piece of furniture that was affordable. Ligne Roset had complete faith in its designer, Michael Ducaroy and gave him free reign to develop modular pieces that complemented the original Togo iteration. Before long, couches, ottomans, loveseats, and chairs were available to the masses, giving homeowners in the 1970s the versatility they craved to configure their own living room seating arrangements.
Is the Togo sofa comfortable?
The Togo sofa is made entirely from polyurethane foam. Three densities of foam are used to provide ergonomic support and this is wrapped in polyester that is stitched to provide the legendary crumpled and folded look. With no base, the Togo hugs the ground and has a unique low seating height. 
Without a straight line in sight, the naturally curved profile and sunken seating provide ultimate comfort. Enveloping every joint and muscle, the Togo's ruffles seemingly mould to the body's shape while providing exceptional lumbar support. 
It's not often that a vintage sofa is both comfortable and swoon-worthy. There's no form over function. It's the perfect combination of both. There's a reason why Ligne Roset has never stopped manufacturing the Togo since its emergence in 1973. At its 40th anniversary in 2013, the Togo sofa design in all its forms had racked up 1.2 million sales. And the sofa is still going strong today.
What's all the Togo fuss about?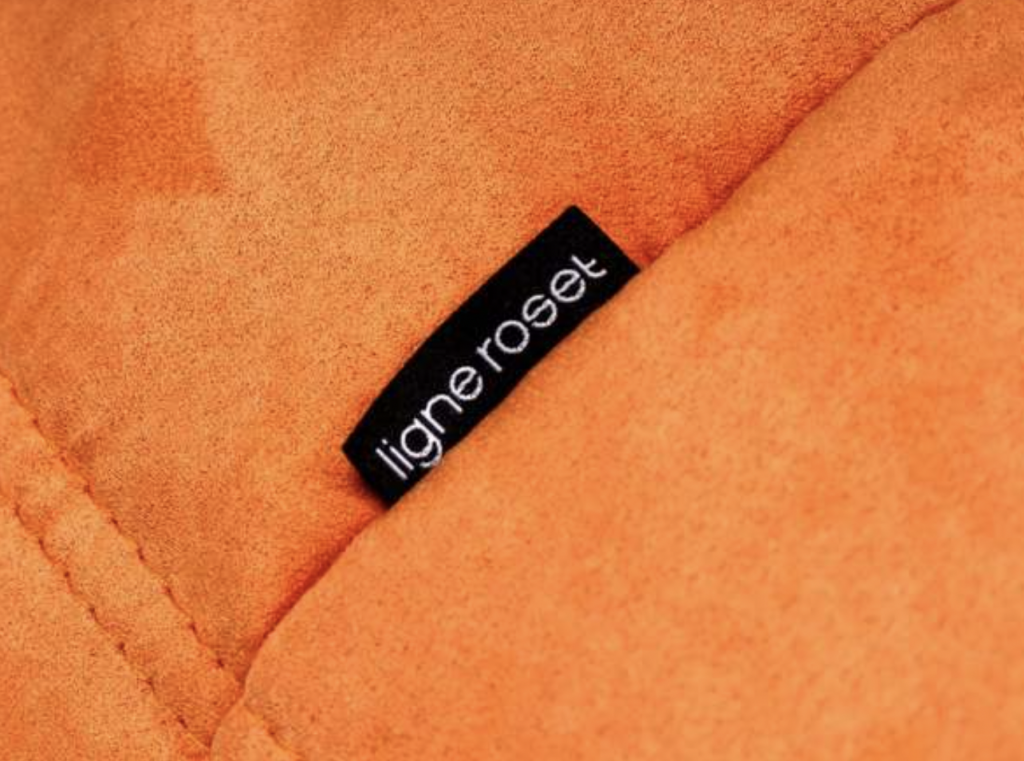 The Togo is timeless and it's as effortlessly contemporary as it was when it was first made. Industrial fanatic? A cool tan leather Togo loveseat would accentuate a brick wall, metallic flourishes and rough-around-the-edges factory-style decor. Minimalist enthusiast? A jet-black Togo will pop against a bare brick or white wall and add monotone chic to your space. Boho darling? The fluid curves, purposeful creases and cute dimpled profile mirror the eclectic and organic elements of bohemian styling.
Venture onto Instagram and you'll see numerous Togo-inspired hashtags to follow. The hashtag #togosofa will present you with over 23,000 posts to scroll through at your leisure alone. And it's the sheer variety of Togo posts that catch the eye. 
Younger homeowners are clamouring for the Togo sofa design. Visually striking and beautiful 'no filter needed' Togo-led interiors lead to nuggets of exquisite social media eye candy.
Marvel at a pair of delightfully slouchy Togo chairs overlooking a jungle canopy in Borneo. Go weak at the knees at a Togo positioned in a huge bay window bathed in Caribbean sunlight overlooking a palm tree-lined beach. And feel the familiar cosy joy of seeing a Togo in a living room just like yours, in a house just like yours, with a family sat on it, just like yours. Being accessible, affordable, and attainable, the Togo sofa can capture the imagination of every interior design devotee.
And the Togo has its fair share of celebrity fans. Lenny Kravitz has four cream Togo seats adorning his lavish living room in his Paris home. So why shouldn't you get in on the Togo action?
Welcoming the Togo sofa into your home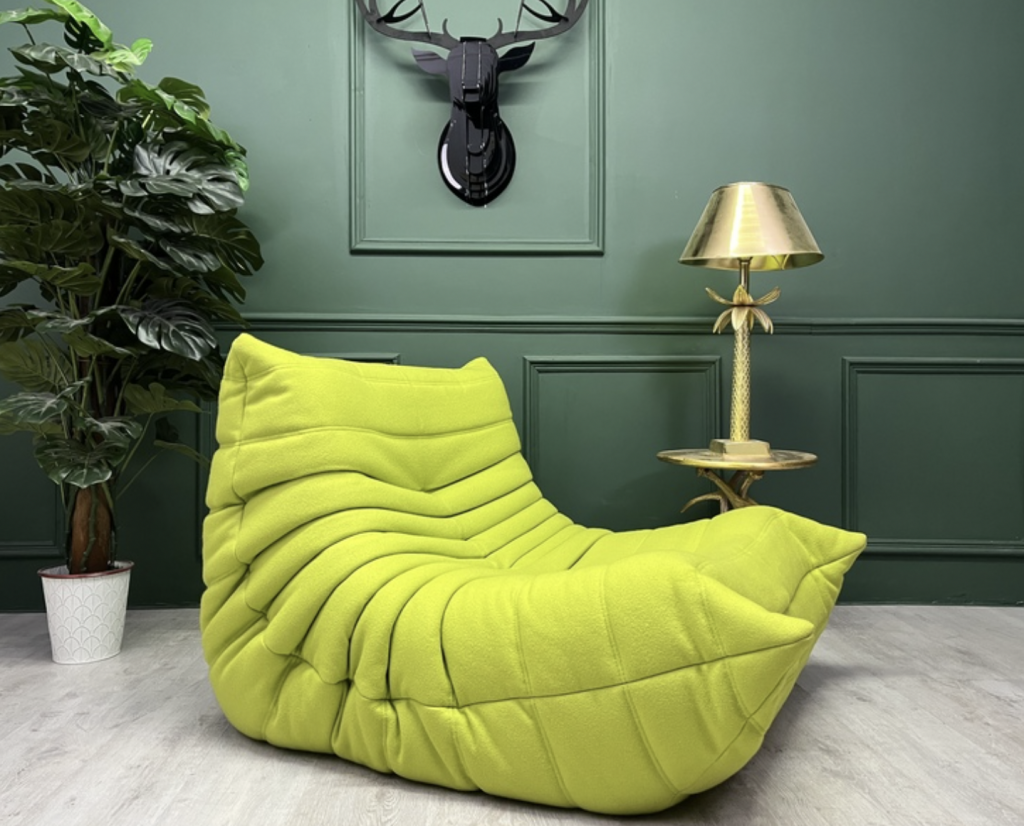 Are you keen to take a foray into the world of the Togo? Explore Vinterior's collection of beautiful Ligne Roset sofas. No matter your style, space or budget, we're sure to have something in our marketplace to make you swoon. Opt for a lime green vintage fireside one-seater for a touch of vibrant comfort. Or choose a colossal blue velvet corner Togo sofa to fit your entire brood. Or go all-out 1970s opulence with a gold velvet modular Togo.
Preowned Togo sofas have stood the test of time and have decades of life left in them. Welcome one into your home and add your own chapter to the story of the iconic Togo sofa. 
Want to see more Togo sofas?
Explore the Ligne Roset collection
SHOP NOW