In conversation with writer and interiors aficionado, Jo Rodgers
Meet Jo Rodgers, contributing interiors writer at Conde Nast Traveller, Vogue and House & Garden. We caught up to learn more about her latest house renovations, her favourite design era and how she shops vintage and antique furniture.
How do you describe your interior design style and how has this evolved over the years?
Cottagey, bookish, calm, hard-wearing. My preferences keep loosening—more colour, more art, more sentimentality. Because we've always had a chaotic number of books, I used to keep everything else deliberately simple and neutral and light. Now I mind less about that.
How do you incorporate vintage and antique shopping when you are choosing furniture for a space?
Antique shops and auction houses are my first port of call. The furniture is usually cheaper and often better quality than something you could buy new. When we lived in Sussex, I used to haunt the Saturday open mornings at Gorringes, a terrific local auction house full of satisfying things.
Do you have a favourite vintage or antique find?
I have a white, enamel-topped kitchen farm table that I use as a desk. My mother found it in the attic of the house that I grew up in, where it had been left or forgotten by another owner. It used to have a label on the drawer, but it chipped off during a move, so I don't have any idea where it's from. More friends ask about it than any other piece of furniture in the house.
One piece of advice when buying vintage or antique?
Don't get hung up on provenance (unless it's a big factor in the asking price). Sometimes the 1950s Regency-style replica will suit you better than the real thing.
What was the toughest part of your renovation? Is there anything that you would have tackled differently?
The wait was the hardest part. For our property in London, it took us a long time to get planning permission to renovate. Also, the costs before the work starts, for things like surveys, structural engineers, architectural drawings, and lawyers (if say, you have a party wall with a neighbour) can add up to something terrifying. It's tough to keep your nerve. I wouldn't change a lot about the renovation itself, but I wish we'd entertained more before the demolition began. We put off having dinner parties, Sunday lunches, and so on because we thought that (any minute now!) we were going to be a building site, and anyway, isn't it nicer to have everybody over when the work is done? But it took ages. A lesson for us would be: have the lunch.
What is on your vintage shopping list?
Right now it's bedside tables (or cabinets or miniature chests) for our bedroom, and a desk for my husband. I'd like to find a set of really beautiful port wine glasses—that's usually what I'm browsing for in shops. I love port.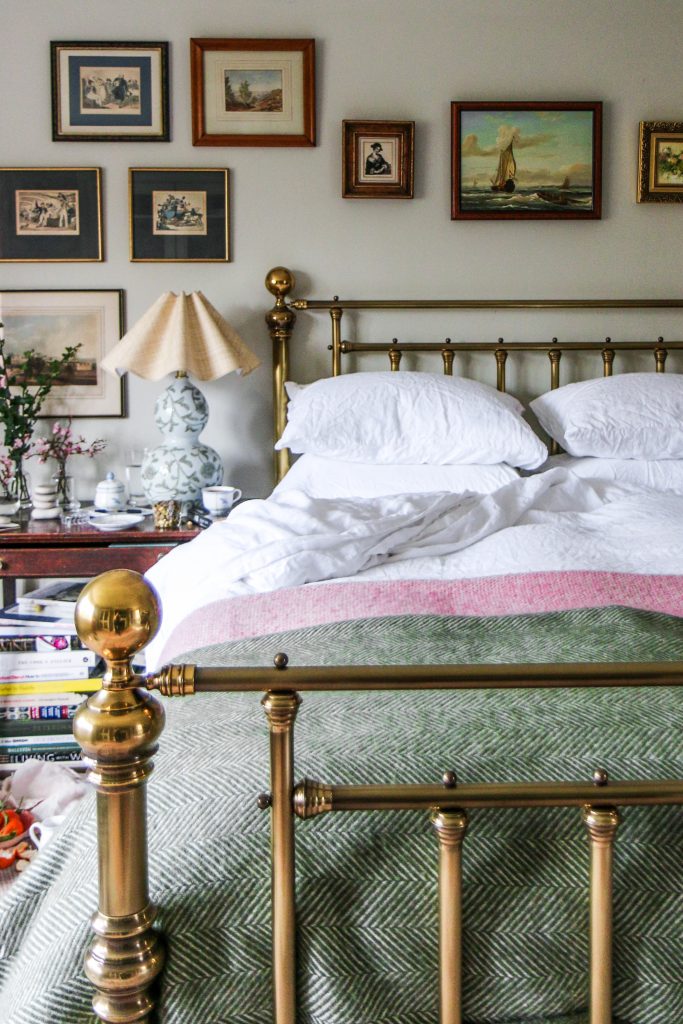 Do you have a favourite design era?
That's a good question—I don't think I do. There are things I like from all over the place. I love the quirk and attention to detail in a lot of Arts & Crafts pieces, I love Victorian cane furniture and 1970s chandeliers made out of puka shells. I love a practical Edwardian pedestal desk with lots of drawers and equally those 18th-century ladies writing desks that are so slim they feel like kindling.
What are you currently reading and what is your favourite reading chair?
I'm reading Old Filth by Jane Gardam, which is wonderful. The chair I read in most often is a buttoned, dark green wool one that we got from George Smith three or four years ago.
Explore the edit
Discover what's on Jo's wishlist
Shop Now