A guide to antique sofas styles and how to incorporate them into your home
In an age of modern sofa manufacturers on every high street, antique sofas might seem like a strange prospect to some. However, as the pendulum of design inevitably swings, antique sofa styles are asserting a new relevance in interior design. In short: they will not be disappearing from our homes any time soon. The nostalgic embrace of traditional, or heritage, design has long influenced British design tastes. Antique sofas boast a range of iconic styles that have graced our interiors for centuries. Take a look at our antique sofa style guide with pictures.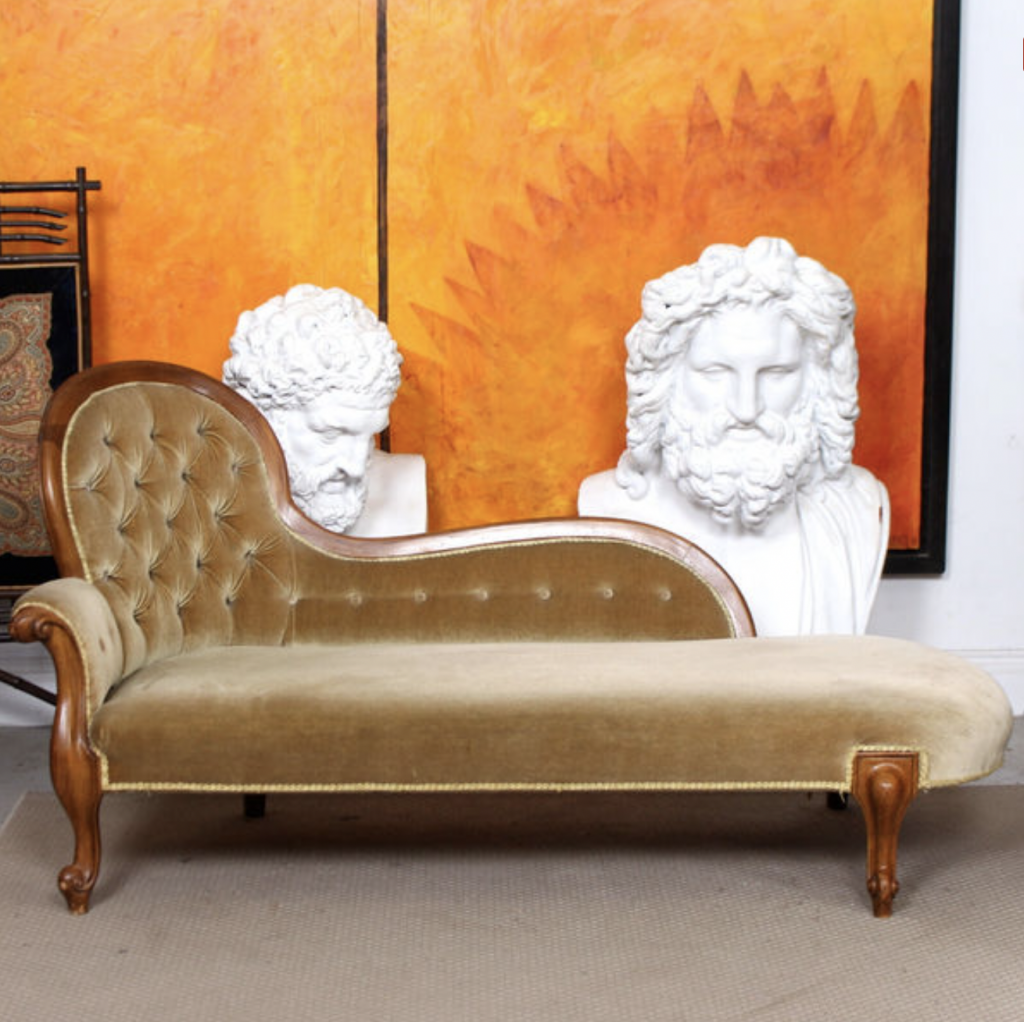 What makes a sofa antique?
There is often ambiguity around the definition of antiques. The popular dictum states that an item must be at least one hundred years old to qualify as an antique. So, what does this mean for the identification of antique sofas? Writing this in 2020, it constitutes any sofa that originates from an era earlier than 1920. Do not immediately conjure up images of Victorian, or even older, sofa models. Many Art Deco, Edwardian and Art Nouveau sofas now belong within the realm of antiques. However, certain antique sofa styles have been steadfast throughout the eras. Each period has adapted them to meet current trends: read on for advice on doing this in your own home.
How to identify different styles of antique sofas
Here is an introduction to some of history's most celebrated antique sofas:
The Chesterfield sofa
Among the most famous antique sofa styles is without question the long-standing Chesterfield sofa. This burly, button-backed sofa has lent timeless elegance to interiors for almost three centuries. Whence derives the esteemed Chesterfield is a question of some debate. The lore around the Chesterfield is that a court artisan invented it at some point in the mid-18th century, after the fourth Earl of Chesterfield, Philip Stanhope, commissioned a similar sofa. 
Many people wonder if antique sofas are as comfortable as their contemporary equivalents? There's no doubt that a weathered Chesterfield is an antique couch to sink into and relax in ultimate comfort. Chesterfield sofas are characterised by their bulky frames which consist of rolled arms the same height as the back. Typically you will see deep button tufting and studded trim. Chestnut leather-clad Chesterfield sofas still populate traditional settings such as private clubs and libraries. However, they can also be a witty style statement when upholstered in a more unusual fabric – think a jaunty tartan or a bright pop of colour. 
The Camelback sofa
The elegant camelback is a style of antique Georgian sofa that also remains highly coveted to this day. It is not difficult to understand from where it begets its name: the camelback frame has a distinctive 'hump' in the centre which gives it a curving linearity. Typically, the seat is suspended over a heightened frame whose simple angularity contrasts with the graceful, arched back. This classic, refined sofa was designed by the famous English furniture maker Thomas Chippendale and was very popular from the 18th century to mid-1800s. The leg and foot styles do vary depending on the exact period. Cabriole feet are typical on Queen Anne and Chippendale camelback sofas whereas those in the style of Hepplewhite have simple tapered legs. 
Some might feel that the antique camelback sofa is too formal for modern interiors but this is far from being true. They make great candidates for sofa reupholstery and undergo a dramatic transformation when paired with a fresh print.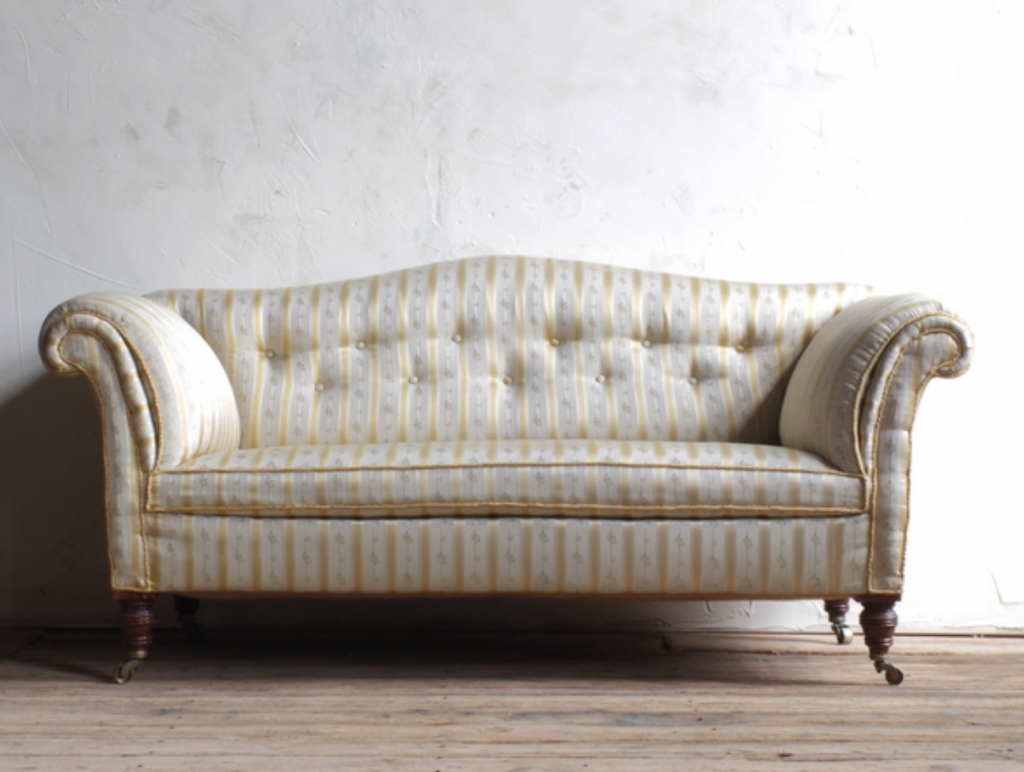 Divine divans
Divans are a form of antique sofa styles that stem from empires long past. Primarily a Middle-Eastern piece of furniture, the divan became popular during the Ottoman Empire. It functioned as a kind of floor mattress which would lean against the side of the room or upon a raised structure. 
The word divan finds its origins in Persian government terminology. This seating would generally line the walls in Middle Eastern council chambers of a bureau called diwan. Long, narrow Levantine homes also featured divans although it was not until 1702 that the term divan became well-known among English speakers. From between 1820-50, the divan style became increasingly fashionable, largely due to their elevation in the literary romantic movement. Boudoirs and coffee houses, which boasted a Turkish influence, were adorned with divan sofas. To this day, a cigar divan remains a well-known expression and the term echoes in other languages such as Hungarian (dívány), Italian as Divano, and Romanian as divan.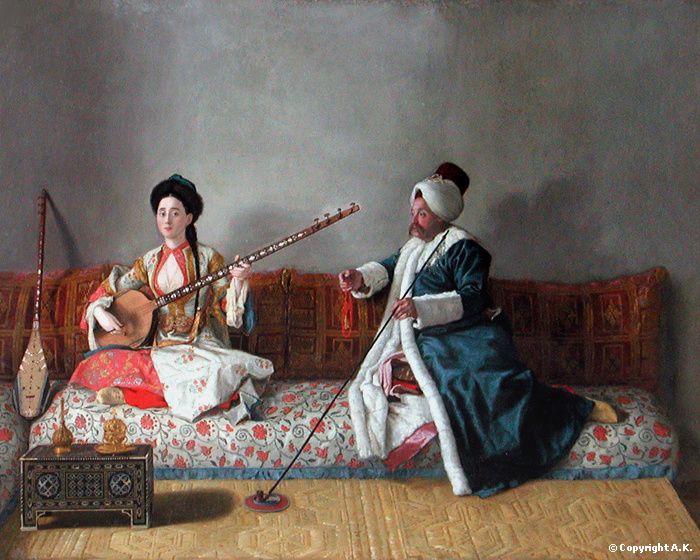 A more recent equivalent to the divan is the daybed, a piece of furniture that was favoured by mid-century designers. This era typically employed the use of teak to make sleek, simple frames with tapered feet on which would rest the elongated cushion. 
Antique loveseats
Such a lovely name for this form of antique sofa would suggest a romantic origin. But, not so! Little is known about who first created the loveseat. However, we do know that the earliest models were not designed for amorous reasons.  Rather, the loveseat existed to accommodate the big, poofy dresses of fashionable women – including the hoops, layers, underskirts and petticoats which were en vogue at the time. The billowing skirts required quite a bit of extra room and thus the loveseat came into service.
This initial antique loveseat consisted of two chairs which faced inwards so that the occupants could position themselves to have a good natter. The loveseat can be traced all the way back to the 17th century but over the centuries, as clothing slimmed down, many people took advantage of this 'oversized chair' to sit closer together.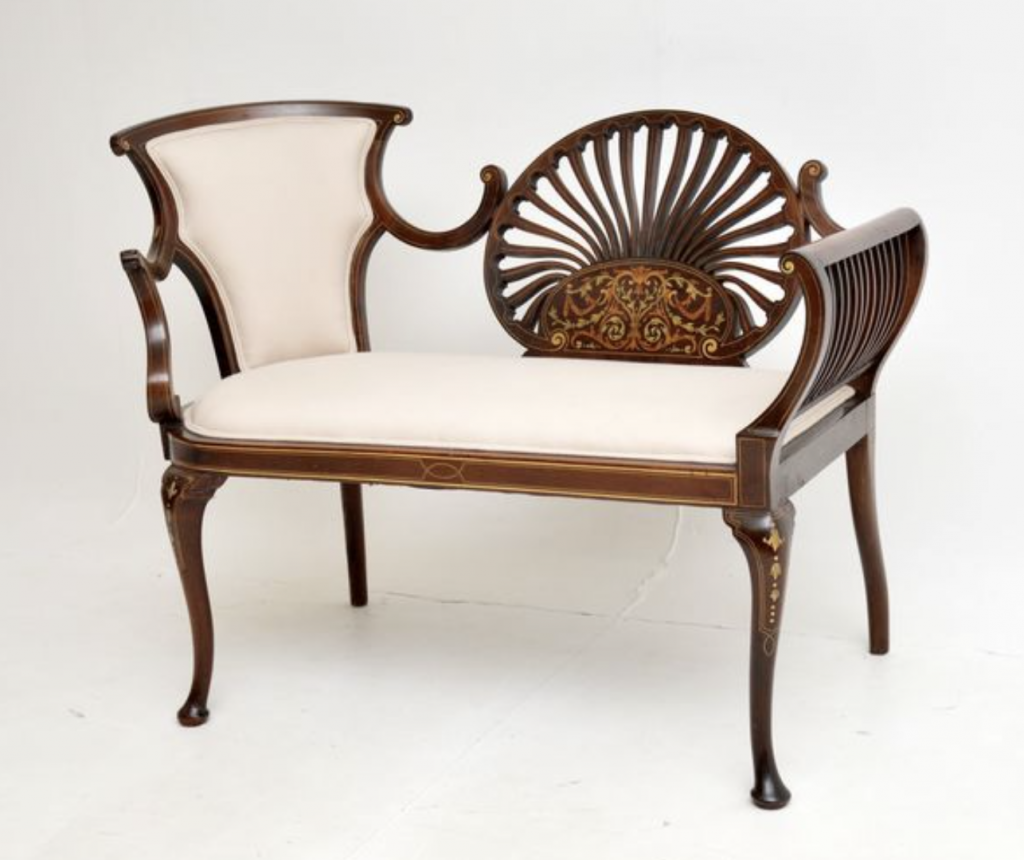 During the Victorian era, British middle and upper-class homes favoured the loveseat, which in turn lent it status as a symbol of elitism. However, it came back to land during the Industrial Revolution and the compact loveseat became a staple fixture of working-class homes – where space was at a premium. The space-saving capabilities of the loveseat have helped sustain its popularity into the modern-day. The design itself has also evolved – occupants now sit facing forward but, suitably for a loveseat, side by side.
How do I keep my antique sofa in good condition?
So, how to maintain your antique sofa? As with all furniture made from solid wood, it is important to keep it in a healthy condition. Try polishing the wooden frame with nourishing substances such as a beeswax or tung oil. Tung oil hardens on exposure to air and will reinforce wooden surfaces whilst a gentle cost of beeswax will maintain a good level of moisture. 
The same question goes for looking after old fabric and leather. With the latter, it is fortunate that leather ages beautifully. A weathered patina looks wonderful and lends immediate rustic charm to any antique sofa. To keep old leather supple, rub a light beeswax into it from time to time. Most leathers are also very absorbent – if you spill red wine over your antique leather sofa, for instance, the best remedy is to soak it up using a paper towel and then leave the leather to work its magic. In two to three weeks, the stain will have disappeared – hurrah. (Just note that this doesn't work so well with suede leather.) 
Will an antique sofa fit into a modern home?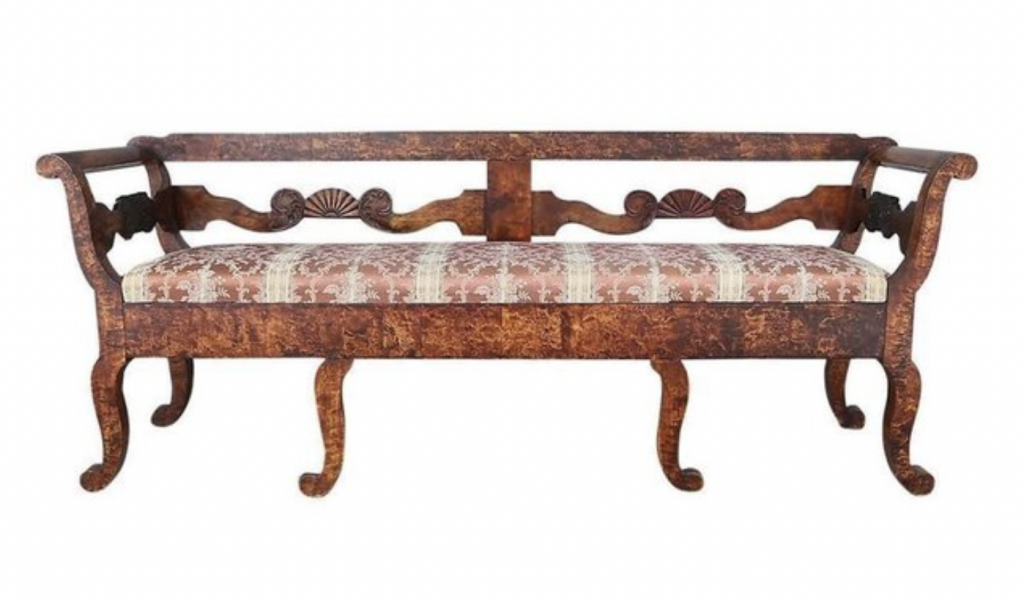 Don't make the mistake of thinking that modern and antique furniture cannot go together! An antique sofa will cohabit beautifully alongside newer pieces. Mixing antiques alongside modern-day paraphernalia can produce a surprisingly brilliant effect. Give yourself a carte blanche to experiment and create dynamic areas of contrast, using stylistic commonalities to harmoniously pull pieces together. Picture the corbelled frame of a Georgian antique sofa set against the wavy contours of a sculptural postmodern table, for example. The traditional aesthetic of antique sofas will do much to sand down the sharper edges of modern design.
5 simple ways to add an antique sofa into your home:
Breathe new life into an antique sofa by reupholstering it with a new fabric. This is an opportunity to have great fun picking out a print, whether traditional or contemporary, that will lend the sofa a new dose of panache.
Consider placing an elegant antique sofa in your bedroom to serve as a clotheshorse at the end of the day. 
Many old-fashioned sofas, namely two-person loveseats, tend to be quite small in size and therefore fit snugly into awkward places. A hallway, for example, is a great room to position a petite antique sofa for additional seating. 
Another unique way to style an antique sofa is to add detailing such as studs, tassels and other trims. This is a playful way to add colour accents and texture. Never did a Brit shy away from a touch of eccentricity!
Button-backed antique sofas will never go amiss and can be as relaxed or formal as you prefer. A magnificent Chesterfield is a timeless statement piece in a study or living room. It will also add charm within a comfortable, rustic setting such as a kitchen area.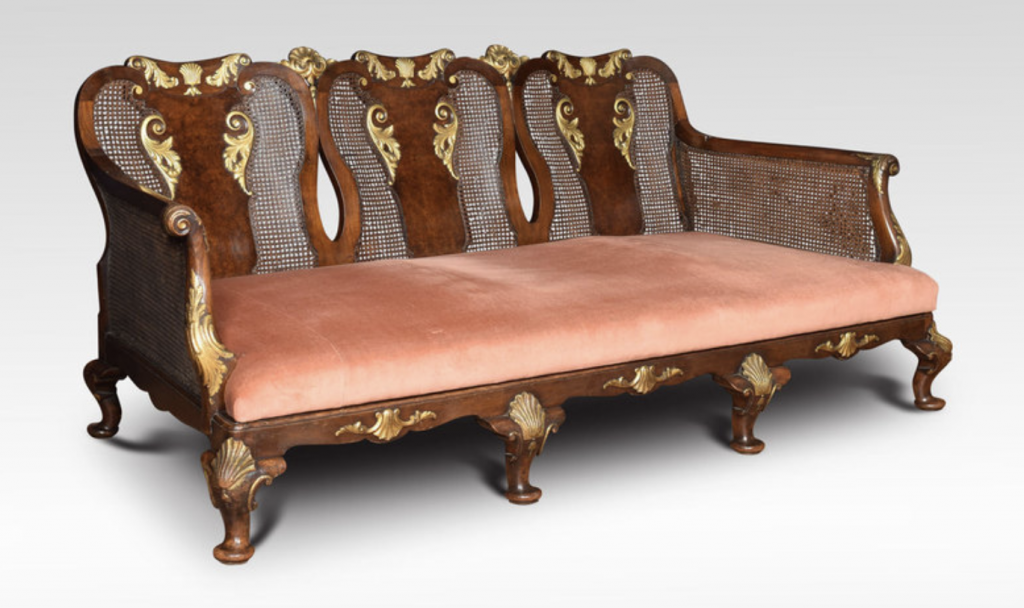 So, the next time you are shopping for new seating, why not consider picking an antique sofa? Use them to create soulful spaces throughout your home where people can curl up with a glass of wine and a good novel, relax and chat with friends, or simply unwind after a long day. 
What is your dream antique sofa style? Let us know in the comments section below. We'd love to hear from you.
Explore our antique sofa collection
Furnish your home in style
SHOP NOW