A guide to the mid century home
We always seem to have a love for mid-century modern design and its timeless style in a mid-century home. It is very easy to apply the term mid-century modern to any modern furniture that seems to emulate the style. Mid-century modern has become a somewhat ambiguous term today to describe most modern furniture, but what is it in essence? Let's unpack its history and find out more about the origins of this much-loved interior style.
What makes mid-century architecture so popular?
The love for mid-century modern design and architecture stems from its equal emphasis on function and form, and inclusive design. Mid-century modern homes were purpose-built to be functional homes for all. Designs were not just focused on function, but they were also designed to introduce art and beautiful design to all. After restricting periods during the war, the name of the game was innovation. Mid-century architects made it their purpose to create a functional design. They pushed the boundaries for architecture, and mid-century architecture would become the defining result. 
What are the most notable features of a mid-century home?
The time frame for mid-century modern design is hard to pinpoint. As with any design movement, it is hard to find the exact start date, but we can locate origins of the mid-century home design from around 1930 and started to see its decline towards 1970. Owing to this, distinguishing features of mid-century modern style can vary depending on what period in time they arose. 
Cara Greenberg and 'mid-century modern'
The term "mid-century modern" first made its appearance in 1984. Cara Greenberg coined the phrase "mid-century modern" for the title of her book, Midcentury Modern: Furniture of the 1950s. We also owe a lot of today's fascination with mid-century modern to Greenberg's book, as it hit a nerve within both the design and consumer worlds. Its retrospective look at furniture from the 50s instilled the ever-powerful sense of nostalgia within the public and also opened eyes to the innovative design appearing from a post-war world.


Bauhaus influences in mid-century home design
These home designs came as a stark contrast to colonial houses that preceded them. The style originated in Europe, informed by Bauhaus design during the 1930s. With great influences stemming from designers like Marcel Breuer and Walter Gropius, mid-century modern design was carefully thought out so that the homes could be built in a cost-effective way for optimum functionality and style. Predominant features of mid-century style homes are their minimalist aesthetic. The use of clean lines in the structure of the homes as well as in furniture design is a key focal point. 
Embracing nature in the mid-century home
Key characteristics of mid-century modern homes include its integration into the natural landscape and creation of large open spaces. Many mid-century modern style homes have large windows and open plan spaces to create the sense of a larger interior, which again is emphasised by the minimalist interior aesthetic and clean furniture design. All this culminates in a design that focuses totally on functional style.
Use of natural textures
Mid-century modern design also has a heavy connection with natural materials. Some of the most popular and iconic mid-century modern furniture styles are made from natural woods. Mid-century modern style homes also featured the use of natural flooring in different kinds of stone such as travertine, bluestone, terrazzo and slate as designers embraced natural textures throughout their design, in contrast to more man-made materials.
The architecture of these homes also took into account the urban landscape, and with this, you may also notice that many mid-century style homes included outdoor pools to further extend the architecture of the home into nature.
The architects famous for mid-century home style
Among the most famous architects of mid-century modern architecture and design, Frank Lloyd Wright stands as a formidable name in architecture history. Designing over 1,000 structures in hist career spanning over 70s, Wright's design left an irremovable mark on the landscape of American architecture during his tenure. Most notably for us, during the 1930s, Wright designed a series of 60 homes. There were the Usonian houses, built in his vision of the American landscape, and qhat has quite ironically become so synonymous with our vision of the American landscape by association.
Other inspirational Architects for mid-century home style
Other notable architects include Rudolph Schindler and Richard Neutra, both Austrian architects who are often associated with the modern architecture movement in the early to mid-twentieth century, and John Lautner, a mid-century architect who built his own architecture practice after completing an internship under Frank Lloyd Wright.
Who are the famous designers of mid-century modern interiors?
The mid-century modern design movement gave us many iconic names. Charles and Ray Eames were two of the most influential designers in modern furniture whose work within design, architecture and art still influence us today. Eero Saarinen's innovation in streamlining furniture design to its essential components can be seen as the blueprint for mid-century modern design. Interior design and furniture Florence Knoll master-minded the global success of Knoll Associates and its legacy in furniture manufacturing and production.
Danish Design
Danish furniture design also plays an extensive part in mid-century modern home design, as designers like Arne Jacobsen and Hans J Wegner created furniture that is almost synonymous with the design of mid-century modern homes.
What is the must-have furniture for a mid-century home?
When we look at the most iconic pieces of mid-century modern design, they all stem from innovation on preexisting furniture. Mid-century designers found endless creative was to innovate and find solutions to problems we didn't even know existed. The mid-century designers streamlined furniture and looked towards the future. More abstract concepts inspired by the modernist movement to create pieces that still innovate and inspire today. 
For pieces that are essential to the mid-century modern home, seating and lighting are key components. Here are some key design classics for the mid-century home.
Eames lounge chair and ottoman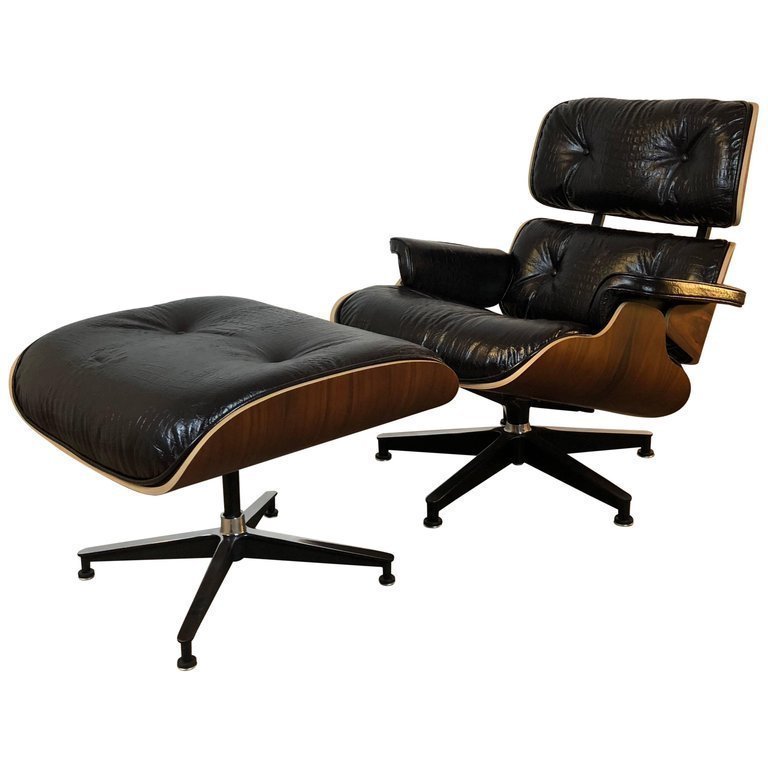 This iconic mid-century furniture piece was designed to evoke a sense of luxury. Like that of a good club chair with its leather upholstery, it provided respite from the stressors of modern living.
Wassily chair
Marcel Breuer was a key member of the Bauhaus design movement. His lightbulb moment upon seeing the handlebars on a bicycle inspired the creation of a chair with bent tubular frames. The Wassily chair's design used the latest innovations in metal-working and became an instant classic. This chair is an iconic furniture staple in mid-century modern homes and design.
Tulip chair and table by Eero Saarinen
Eero Saarinen said, "the undercarriage of chairs and tables in a typical interior makes an ugly, confusing, unrestful world. I wanted to clear up the slum of legs. I wanted to make the chair all one thing again". Along with the tulip table, Saarinen's approach to streamlined furniture made it essential in mid-century modern homes.
Barcelona chair
Although designed in 1928, this chair has become synonymous with mid-century modern interior design. It is still a favourite amongst modern interior design today. Fun fact –  its designer is Ludwig Mies van der Rohe, mentor to mid-century modern icon Florence Knoll.
Wishbone chair
This Danish chair design combines the arms and back, with a handwoven seat. Its characteristic Y shaped spine, of which it gives it the name Wishbone. This piece is a prime example of the mid-century modern design principles of streamlined design, whilst combining functionality with style.
Mid-century lighting designs are also key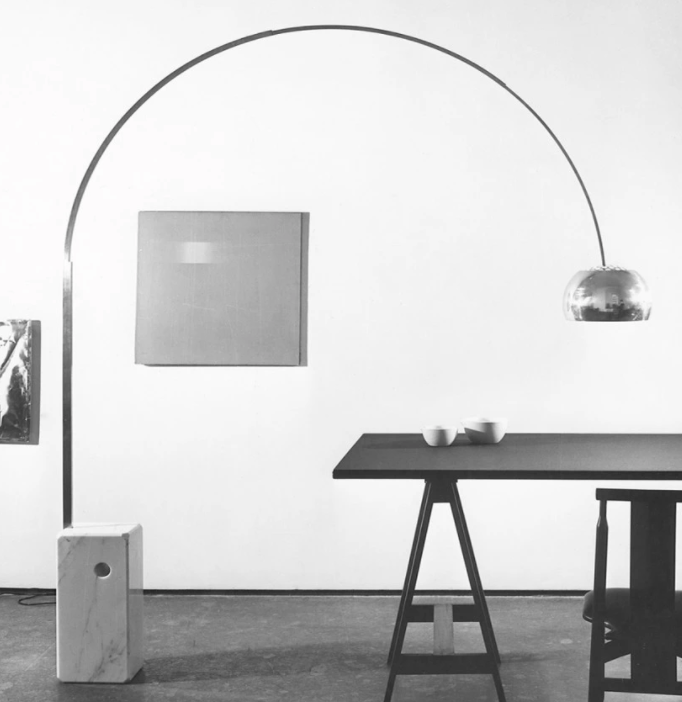 Lighting can also act as focal points in mid-century modern homes. Many mid-century homes feature elaborate chandeliers that take on art deco characteristics, or even more abstract designs that take inspiration from modernist movements such as the sputnik chandeliers, bursting pendant lights, or the Arco floor lamp that has a rather futuristic piece that never loses its innovative style.
Long-lasting impact of mid-century home style
Mid-century home design forever changed the landscape of interior design and architecture. It makes appearances through film and television and fashion continuously owing to its effortlessly chic practicality, and we are more than likely to see it reappear for many years to come. It is precisely its commitment to functionality and style that makes it a timeless and much-loved interior design choice that still informs interior design and popular culture today. 
Shop Mid-Century Furniture
Discover our curated collection
Shop now