Antique Chair Styles and How to Identify Them
Just as history is long, there is an endless array of antique chairs to choose from. While an article covering every type of antique chair would be pretty long, we've aimed to give you a quick, yet detailed, a summary of some of the most iconic and eclectic. We'll also touch on a few common antique chair designers whose iconic antique style has influenced modern-day furniture design and let you know how to identify the maker and age of any antique chair.
How to tell the age of an antique chair
One of the harder things to get right, unless you're a knowledgeable dealer, is how to tell the age of an antique chair. Luckily for those of us who aren't in the trade, there are a few failsafe ways to tell the age of an antique chair. 
Look for markings on an antique chair
You can get an indication of when a piece was made by looking at the markings of the manufacturer on antique chairs. Often located on the underside of a chair frame or even beneath the upholstery, furniture makers' marks were typically carved or burned into the wood. Marking in this way, just out of sight, was common practice throughout the 18th and 19th centuries, so that branding would not interrupt the intricate designs of the eras. 
Many antique furniture makers would also use paper or metal labels on their finished pieces. However, finding these can be hard, as the labels may have worn or peeled off with time. Additionally, you may even find dates indicating what year a piece was manufactured. Helping you to identify when an antique wooden chair was made. 
Check the construction of a piece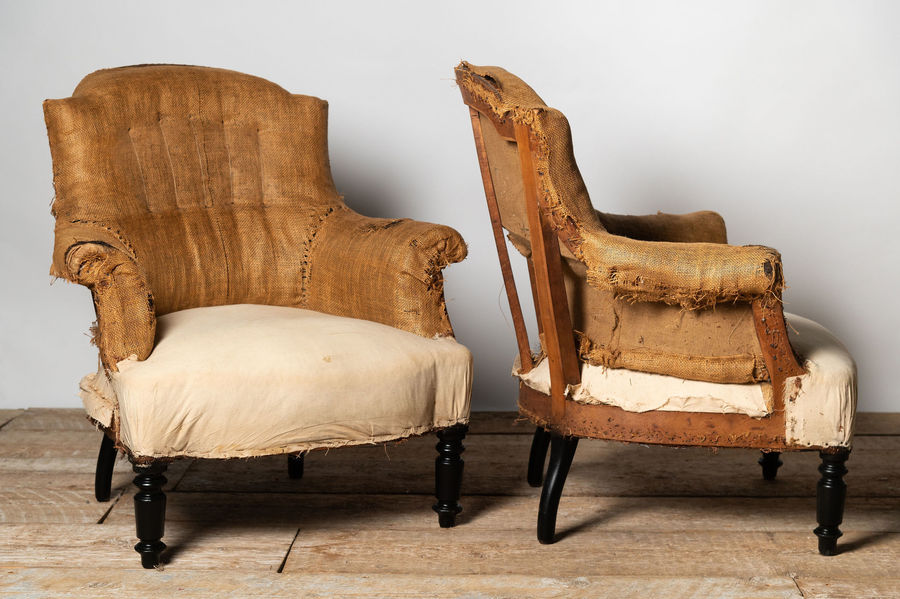 Image: Unupholstered Napoleon III chairs demonstrating antique chair joinery. Vinterior Seller: Nikki Page Antiques
The construction of antique chairs is also very useful in identifying their age and their validity. It is more likely to find complex hand-made joints. Dovetail joints were highly popular throughout the late 17th and early 18th centuries, which would indicate a very old piece indeed.
In addition, another clue in construction is symmetry. After the industrial revolution, symmetrical furniture became more common thanks to precision cut pieces being machine manufactured. Handmade antique chairs would have an asymmetry, and this would give you a better indication that the piece is older. 
Checking materials to identify an antique chair
We can often tell the age of a chair by the materials used. Depending on the period your antique chair was made during, you'll often find that certain woods were used in abundance. For example, oak in the early Georgian period, mahogany throughout the late-Georgian and Victorian eras, and ebonised beech towards the end of the 19th century. 
Other indicators of the age and authenticity of an antique chair can be materials in seat fillings, coverings, and finishing materials. It would be very unlikely to find modern-day screws in an antique piece or more recent material such as plastic, Formica and chrome.
Who are the best antique chair designers?
Colloquially known as "The Big Three", Thomas Chippendale, Thomas Sheraton, and George Hepplewhite are a few common antique chair designers. We've also added William Morris to the mix, because of his renowned contributions to the Arts and Crafts Movement. Below are some of the key characteristics of these designers.
Thomas Chippendale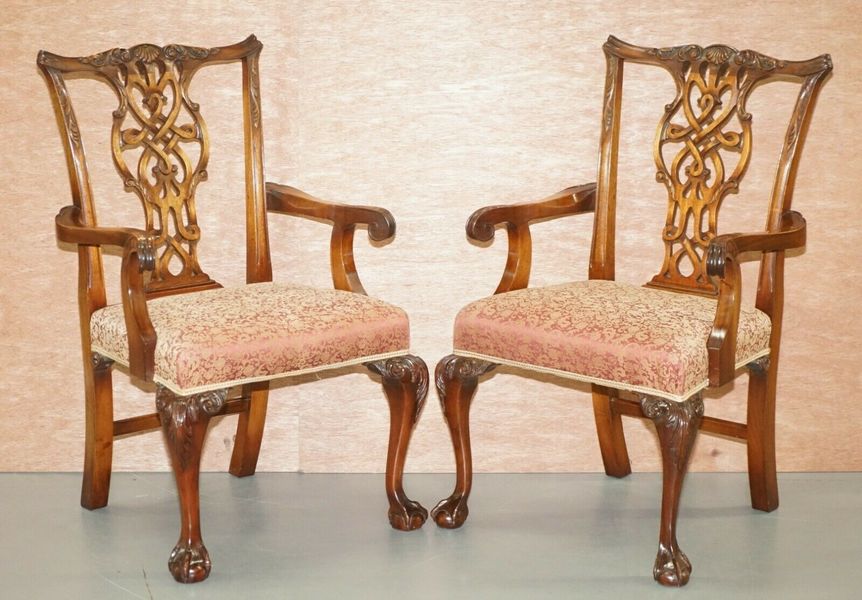 Image: Ball and Claw Foot chairs by Thomas Chippendale. Vinterior Seller: Exclusive Furniture Wimbledon
Thomas Chippendale is lauded as a significant figure in antique furniture design. His iconic publication, 'The Gentleman and Cabinet-Makers' Director',  allowed many people to commission pieces of his furniture. In addition, it was a template for carpenters to replicate his works. Chippendale chairs remain a favourite amongst antique chair styles. His influence on furniture design held into the late Victorian and Early Edwardian periods. Characteristics specific to Chippendale's antique chairs include:
Gothic, Chinese, or Rococo influences 

Claw and ball footing on legs

Use of deep mahogany wood
Thomas Sheraton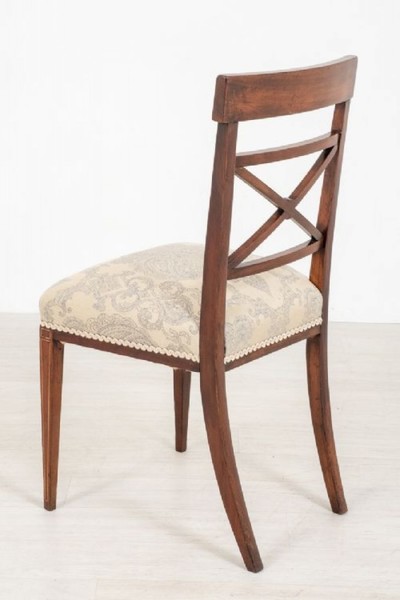 Image: Sheraton antique mahogany chair. Vinterior Seller: Canonbury Antiques
Sheraton's work inspired many 18th-century designs. He trained as a cabinet maker and sought inspiration from the Louis XVI style of furnishings. Sheraton also developed his own publications, most notably his first, The Cabinet-Maker and Upholsterer's Drawing-Book.
Characteristics specific to Sheraton's antique chair designs include: 
Neoclassical style

Slim tapered column legs

Lightweight form
George Hepplewhite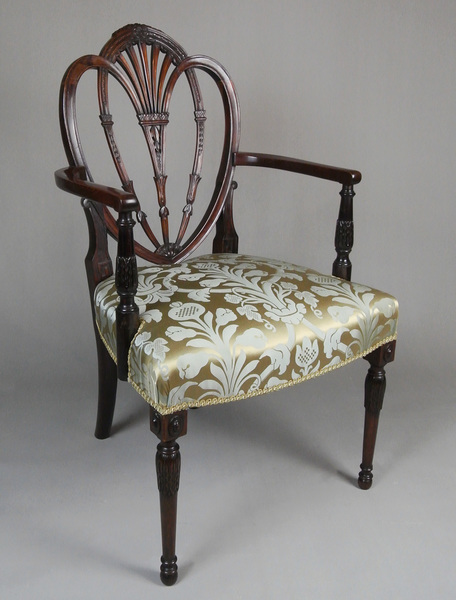 Image: George Hepplewhite shield-back chair. Vinterior Seller: Webberley Antiques
George Hepplewhite's furniture design focuses on the figuring of wood as opposed to the intricate carving. An example of this is the distinctive wide shaping in the backs of the chairs. Hepplewhite's name is attributed to a specific style of elegant furniture design, which contrasted the heavier and more ornate styles prior.
Characteristics specific to Hepplewhite's antique chair designs include: 
Ornate shield-shaped chair backs

Neoclassical influences

Straight legs

Curved or circular shapes
William Morris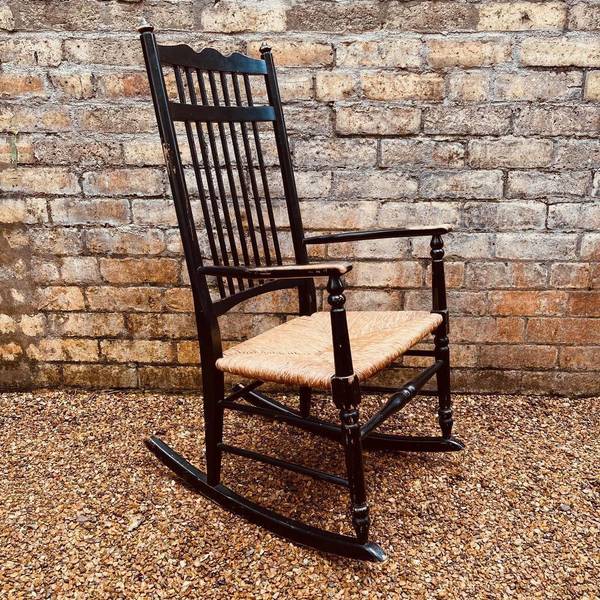 Image: William Morris's Sussex rocking chair Vinterior seller: Brickhouse Vintage
William Morris was one of the founding members of the Arts and Crafts Movement in the later years of the Victorian era. A revolutionary group of creators and thinkers, members of the Arts and Crafts Movement aimed to push back against the burgeoning mass-production market of the industrial revolution of the 19th century. William Morris's Arts and Crafts chairs are now highly coveted among collectors and homeowners. 
Characteristics of William Morris's Sussex chairs:
Turned wooden frame

Seat crafted from woven rush

Made from ebonised beech wood

Spindle backs and armrests
How to identify antique chairs
To identify antique chair styles, it is important to notice their visual characteristics. Design codes are a good way of identifying how old an antique chair is. While carving styles specific to common antique chair designers can help you to pinpoint the period of manufacture. 
However, stylistic influences are also important indicators of antique chair styles. For example, a Rococo-style piece could direct you to 1730 and onwards, a Windsor-style antique chair could be dated between 1725 to 1860, and an Arts and Crafts chair would be dated after around 1880. 
Whether you own an antique lounge chair or a set of antique-style dining room chairs, read on to find out about different types of antique chairs. 
What are some types of antique chair designs?
When we think of antique chairs, there tend to be some specific types of chairs that typically come to mind. Of these old-style chairs, there are some synonymous with antiques, and some a bit more unconventional. If you're trying to identify the design and style of a chair you own, take a look below as we explore some striking antique chair styles.
Slipper Chair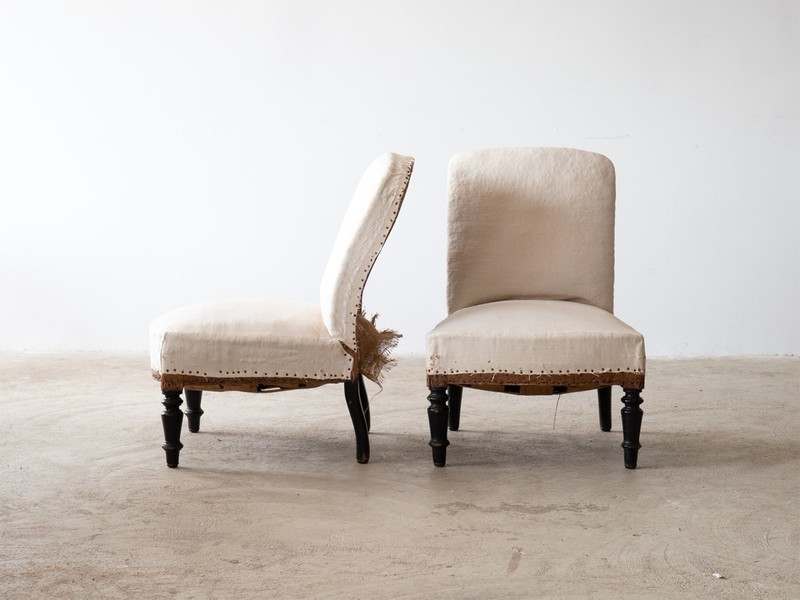 Image: Antique French Slipper Chairs. Vinterior Seller: Modants
The slipper chair first appeared in the 18th century. One would commonly find this chair in ladies' quarters. Born out of necessity, women used it to assist with everyday dressing due to the heavy garments and corsetry of the period. 
However, American interior designer Billy Baldwin brought them into living rooms with a redesign and saw their popularity rise again in the 20th century. Its initial designs saw it adorned with plush materials and ornate carvings, but more modern interpretations see it appear more streamlined and contemporary.
Porter's Chair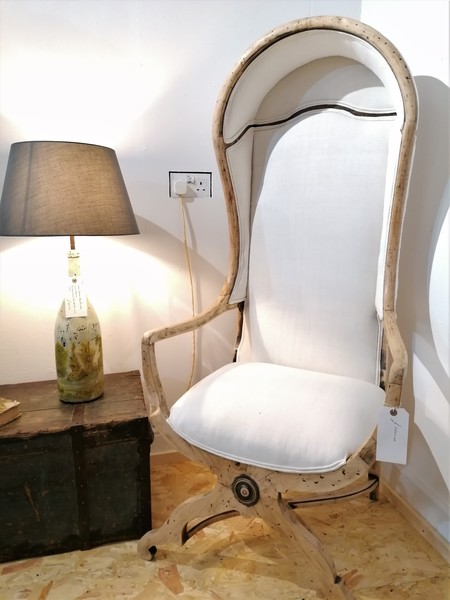 Image: Porter's Chair. Vinterior Seller: B&R Antiques
Originating in 16th century France, the Porter's chair was functional seating for porters or sentries keeping watch outside affluent homes. For that reason, the design consisted of a high-back chair that encased the sitter in leather padding to shield them from the cold. In addition, some designs had a small cupboard at the base of the seat for storage. 
The chair became redundant by the early 20th century, however, we still see echoes of the seat today. The large balloon-shaped silhouette has been adopted by modern designers and is often crafted with luxurious materials. In light of this, today it can be seen within many high-status establishments, as opposed to outside of them. Certainly a turnaround from its humble origins.
Tub Chair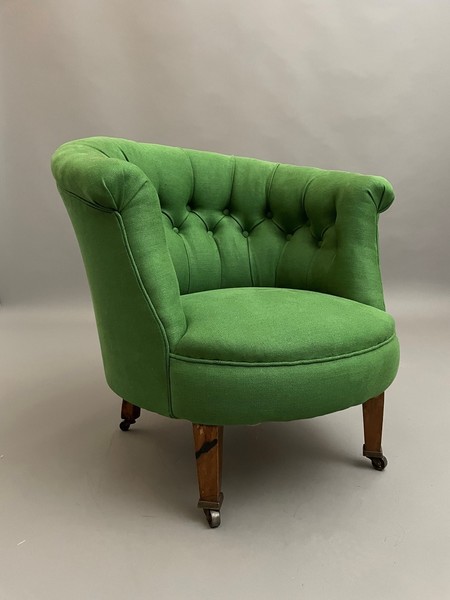 Image: Edwardian Tub Chair. Vinterior Seller: Franklin & Hare
In 18th-century France, the silhouette of the tub chair already existed. Although it was made of wood, with no upholstery, this style of chair was available to all classes. However, the antique tub chairs that we are familiar with today are often covered in expensive upholstery to increase their comfort and style. It is known that King Louis XV of France used one of the first incarnations of this upholstered tub chair to hold court. Due to this, the upper classes used this chair as a marker of importance and affluence. 
The name tub chair is subject to contention. For instance, the name probably came from the visual similarities between the chair and bathtubs, or the word just being a variation on the already existing club chair. Nonetheless, the tub chair has remained a visual symbol of luxury for centuries.
Savonarola or X-Chair or Dante Chair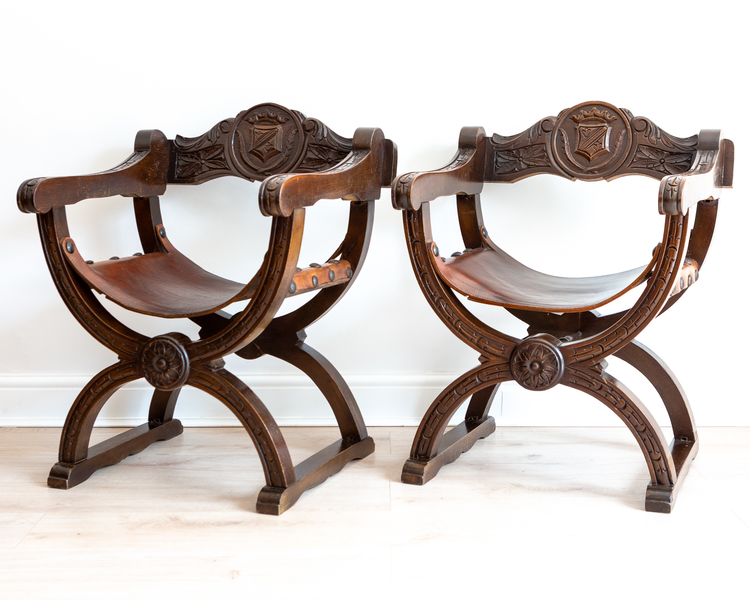 Image: Savonarola Chairs. Vinterior Seller: River Spa Vintage
Developed in late 15th-century Italy, the Savonarola chair took its name from Friar Girolamo Savonarola. The Curule seat used in Ancient Rome was an inspiration for the Savonarola's shape, becoming a symbol of political power and social status during the Renaissance. With political figures using them as practical and portable chairs. 
In the middle ages, the users switched from political to religious. Following this, we now have the faldistolium or folding stool. It was a similar style of a portable seat that bishops used outside of cathedrals. Towards the end, the chair moved away from its core focus of functionality and included more embellishments and lavish decorations. 
Yoke Back Chair
Image: Yoke Back Chairs. Vinterior Seller: Shimu
The Yoke Back or Official's Hat chair came into existence in the late Ming and early Qing dynasties in China. They were traditionally crafted out of a type of rosewood called huanghuali, favoured in traditional Chinese furniture. As can be seen, elements of the chair's design signified the importance of the sitter. For example, the stretchers on the chairs were each placed at different heights; this is referred to as bubugao or 'step higher.' 
The chair's design has varied throughout its history in ancient China. A lift on the trade ban in China allowed craftsmen to work with different types of wood and form new shapes compared to older designs. Subsequently, we have now sleeker, intricate designs from the imported wood and we still see them in modern homes today.
Hitchcock Chair
Image: Lambert Hitchcock Chairs. Vinterior Seller: Pointers Antiques
Lambert Hitchcock was an American inventor who popularised the Hitchcock side chair or 'Fancy' chair. Initially, Hitchcock began manufacturing chair parts after opening a factory in 1818. Later, Hitchcock began to mass produce cheap affordable chairs, using newer techniques of stencilling as opposed to painting for decoration, a move that was considered highly innovative at the time. Subsequently, tens of thousands of affordable but fashionable side chairs made their way into American homes each year.
Klismos chair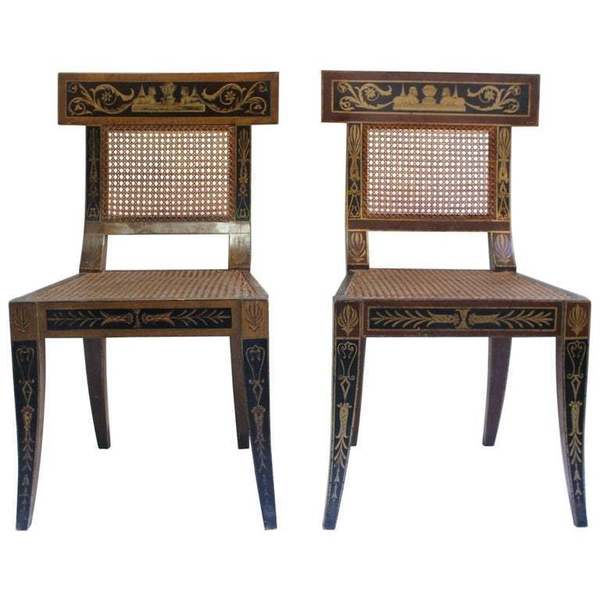 Image: Klismos Chairs. Vinterior Seller: Vago A.M.O.R.
The style of the Klismos chair hasn't really changed since its conception in Ancient Greece. The chair first appearing during 8th century, and would reach perfection during the 5th century. As a result, the Klismos chair has a truly timeless design with a distinctive curved back and curved legs. Modern versions of this chair rarely seem to stray from its initial design. It kept its trademark features whilst materials and decoration developed over time. The Klismos chair reappeared the through French Directoire, the English Regency, and the Empire styles and we still see the Klismos silhouette today adapted to suit modern tastes.
Corner Chair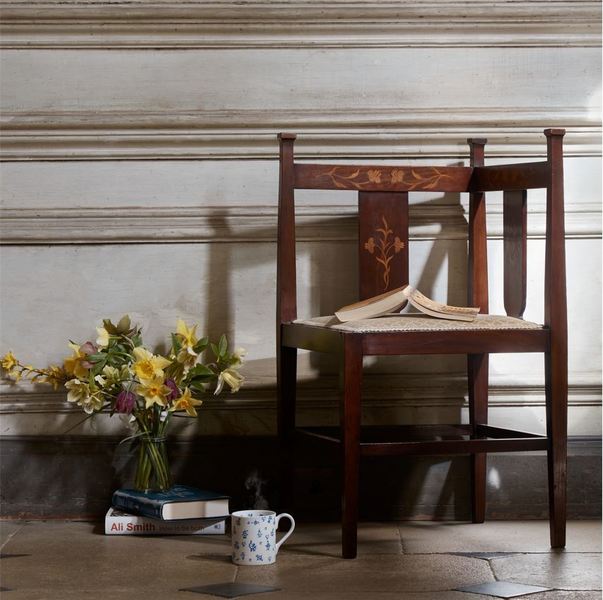 Image: Arts and Crafts Corner Chair. Vinterior Seller: Pear Tree
The antique corner chair was extremely functional, becoming quite popular in the early 18th century. Gentlemen of the period mostly used them in their private quarters. Without a doubt its shape and design were quite unique – a curved back and arms, with a corner at the centre front of the seat, supported by a foot at the front. Often called writing chairs, reading chairs, or desk chairs, they were convenient for the sitter in those capacities. Owing to its practical design, it was also a convenient space saver. 
How do I know if my antique chair is valuable?
The best way to determine if your antique-style chair is valuable or not is to take it to an antique dealer. With their knowledge and resources, they'll be able to appraise your piece properly and give you a fair assessment of its price. If you're planning on selling an antique chair or set of antique dining chair styles, it's best to get a few quotes from different dealers to ensure you get the best price.
The world of antique chairs is one that holds many daring styles and designs. By using some of our top tips, you can identify old styles, check for their maker's marks and joinery, and get a piece valued for resale. 
So here's to finding intriguing antique pieces with years of exciting history. Let us know in the comments what some of your favourite styles of antique chairs are.
Characterful Antique Chairs
Find one-of-a-kind antique seating at Vinterior
Shop now