Teak time: How to maintain teak wood, a time-tested favourite
Praised for its beauty and durability, teak has been the gold standard for quality indoor and outdoor furniture for centuries. Attractive colour, incredible strength and unmatched resilience established teak wood as a premium choice for those who prioritise longevity and arresting appeal of wooden furniture. Once heavily used for everything from construction to sideboards, teak has now become a highly coveted material with a prestige price. Encapsulating the ideals of sustainability and ethical practices, teak furniture is gaining traction as more and more people are choosing to adopt vintage and reclaimed teak pieces into their homes. Here is how to maintain teak wood to keep its allure for a lifetime.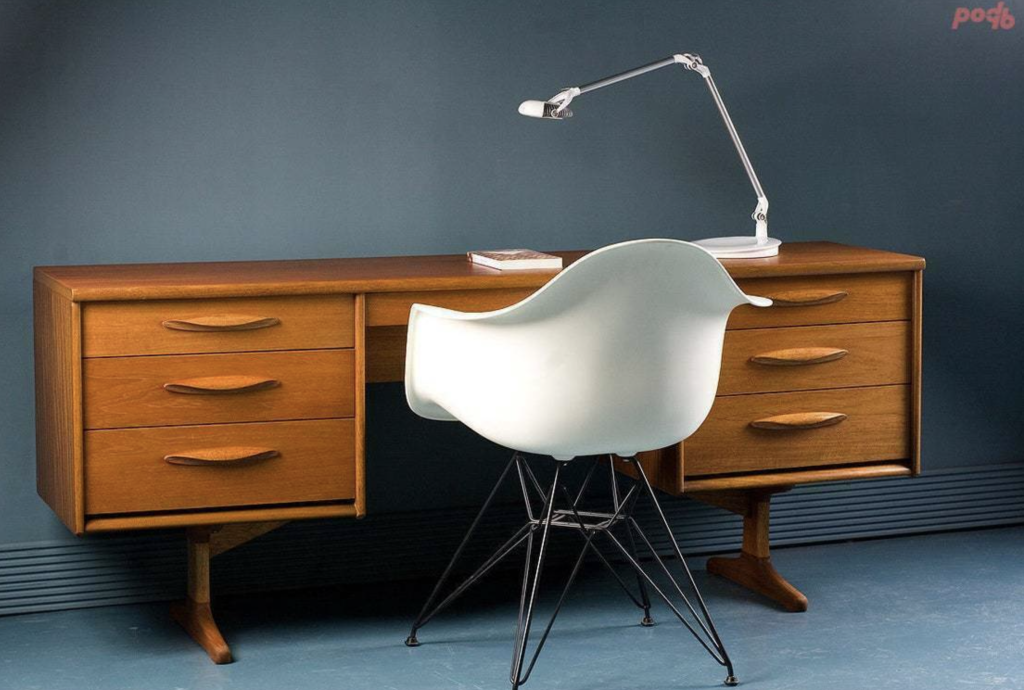 Original vintage mid-century teak desk by Frank Guille for Austinsuite | Pod 96
What is teak wood?
Teak is a tropical hardwood. It comes from Tectona grandis, a tree native to south and southeast Asia (mainly India, Indonesia and Bangladesh). Teak trees can reach a height of up to 35m, grow without artificial fertilisers and don't require heavy irrigation. Teak wood is rich with natural oil that repels insects and gives the wood its characteristic weather-resistant qualities.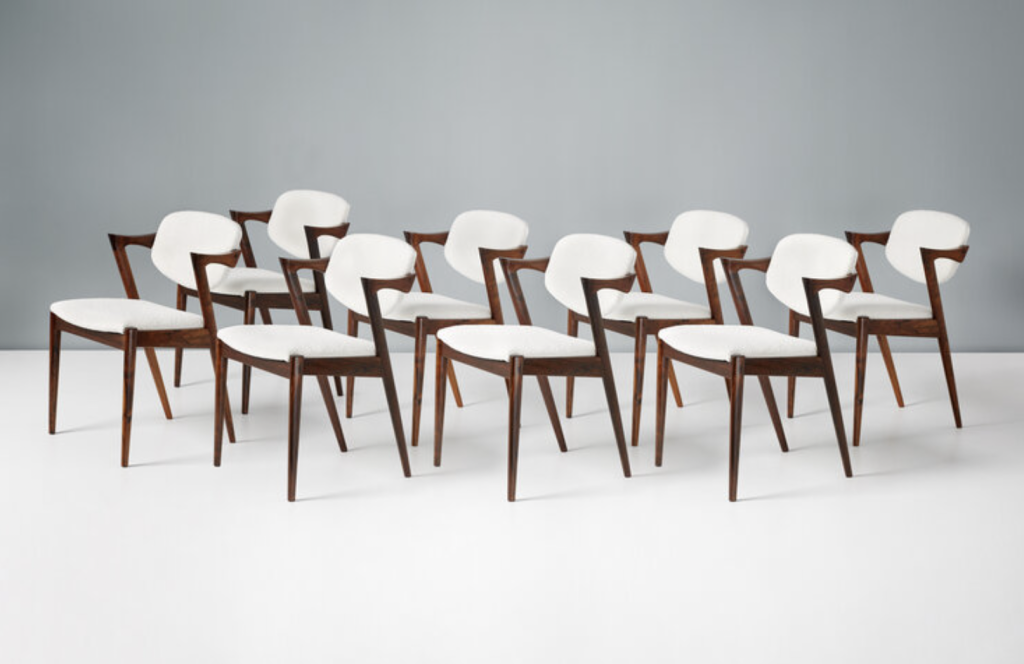 Kai Kristiansen teak model 42 dining chairs | Dagmar
Thanks to its incredible ability to withstand elements with very little to no upkeep, teak has earned a special place in the history of shipbuilding, architecture and furniture manufacturing. Starring the collections of furniture giants such as G Plan furniture, Parker Knoll, Ercol and Nathan furniture, teak wood became a hallmark of mid-century furniture aesthetic. Teak garden furniture also emerged in the 1960s and remains popular today.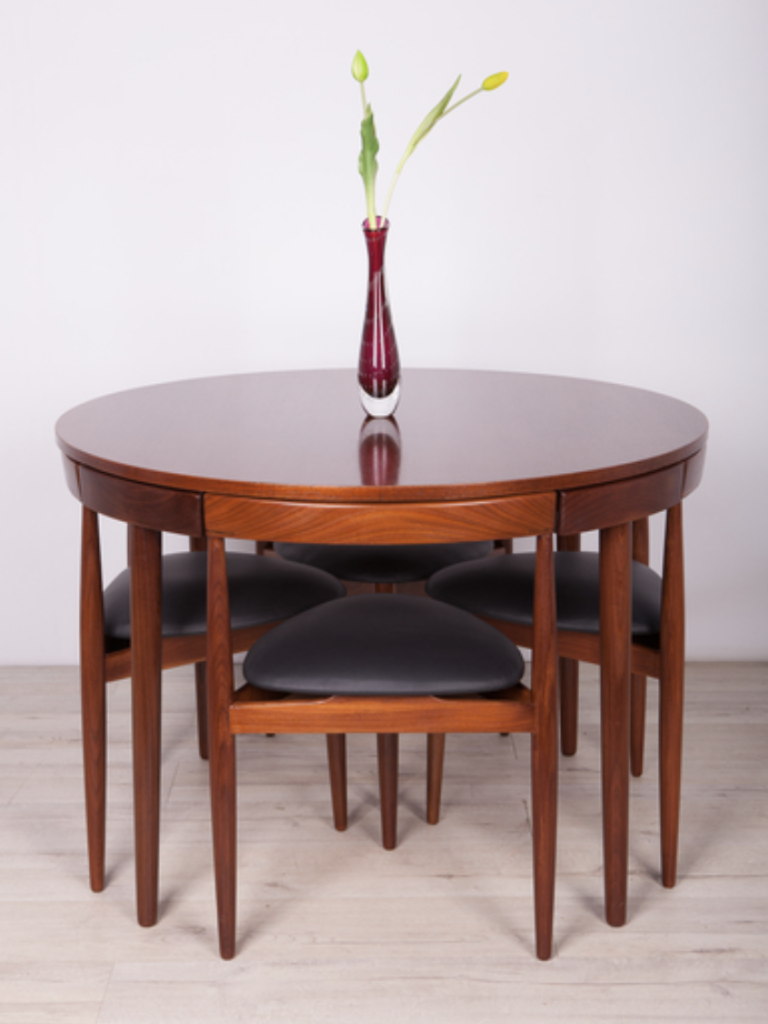 Mid-century teak dining table and chairs by Hans Olsen For Frem Røjle, 1950s | Our Blast from the Past
What are the advantages of teak wood?
What teak wood is best known for is its incredible durability and resistance to rot. With the ability to withstand extreme temperatures and the tendency not to splinter, teak furniture is very adaptable and can take whatever you throw at it.
As it weathers over time and becomes dry, the colour of teak transforms from warm honey brown to rustic silver-grey. However, with proper care, teak can forever keep its attractive golden glow. 
Read on for tips on how to maintain teak wood.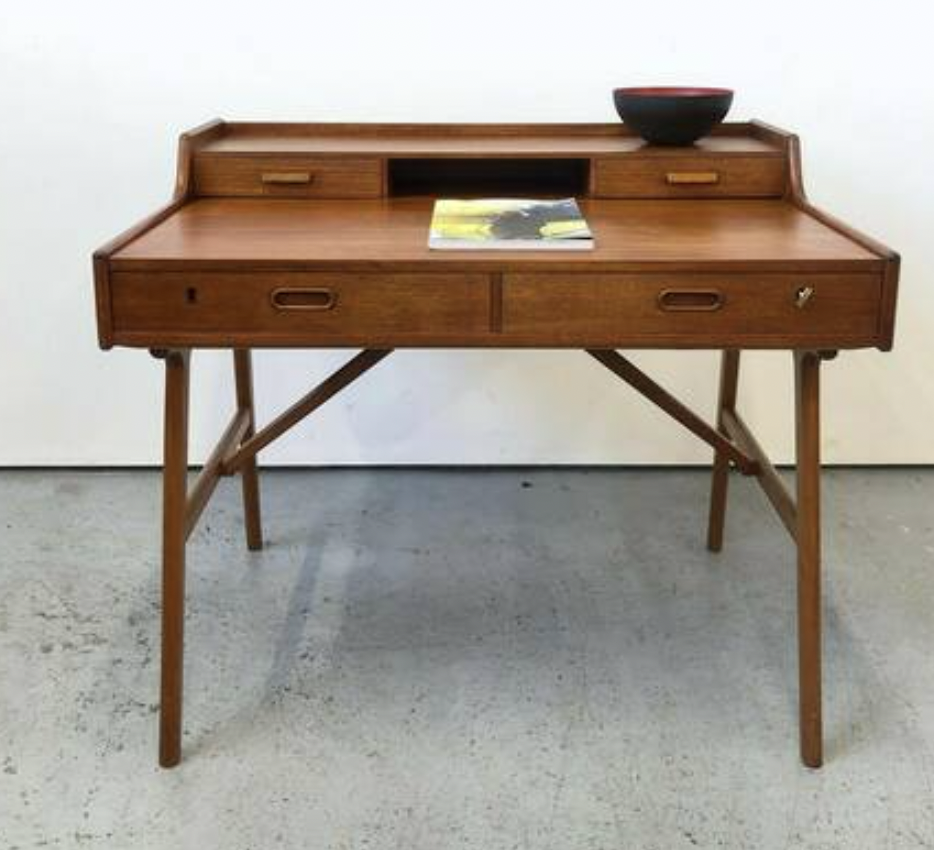 Mid-century Arne Wahl Iversen desk, 1960s | The Garage Vintage
Maintaining teak wood furniture
Why is it important to maintain teak?
Although teak wood is a rather resilient type of wood that doesn't require much care, it is important to maintain it due to its expensive manufacturing process and high demand on the market. Try to prevent your teak furniture from appearing timeworn and ensure it will stay in shipshape for it to retain its value throughout the years.
Why is teak wood so expensive?
High market demand triggers a significant decline in the number of trees, resulting in an ever-increasing cost of this exclusive hardwood. However, scarcity is not the only factor contributing to the price of teak wood.  Since the best quality teak furniture is made from mature trees, it takes about 40 to 80 years before they can be harvested for wood. With all this in mind, it doesn't come as a surprise that vintage teak has been holding its price for decades which explains why more and more people are interested in learning how to restore teak furniture to give it a new life. 
How to clean teak wood
Cleaning your teak wood furniture is essential for good maintenance. If treated well, teak furniture is very durable and can last a lifetime. Unlike many other types of wood, teak requires little maintenance.  If you are curious to find out how to clean teak furniture, the answer is very simple. All you need is mild soap and some warm water. For more stubborn grime, feel free to use a soft scrub brush and then rinse the surface with a clean, damp cloth. Always wait until the surface is completely dry before using a sealer.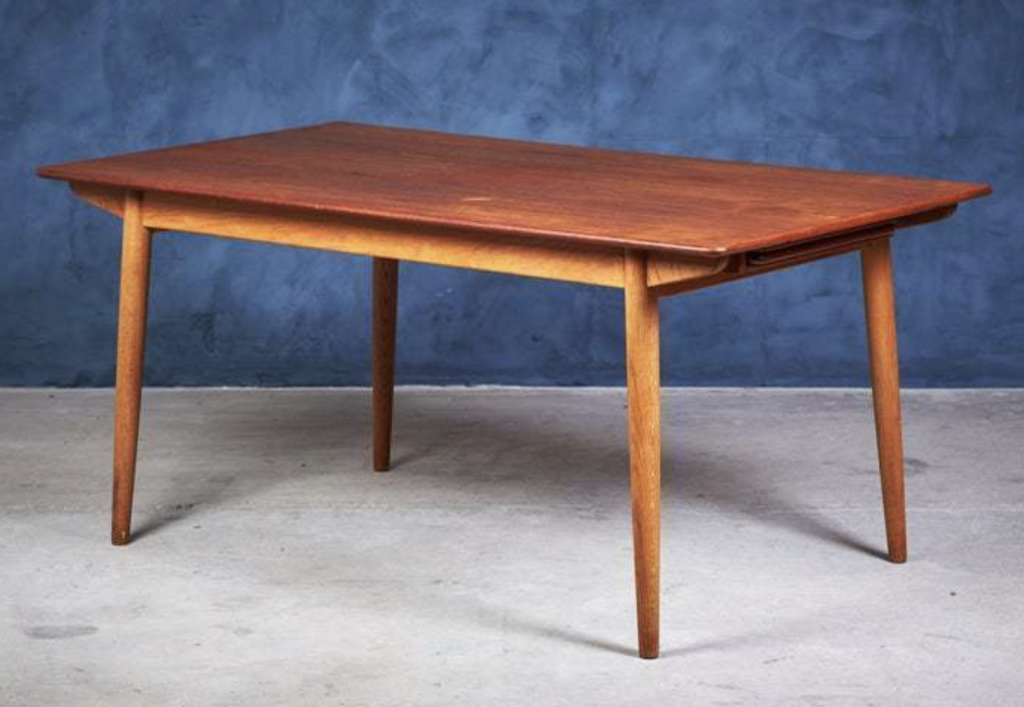 Danish teak and oak dining table, 1960s | Retro Delux
Protect your teak wood furniture from spills
To protect your teak dining table during meals, it is recommended to use a tablecloth. If a spill occurs, clean it up as soon as you can to avoid any permanent damage. 
Fortunately, teak is hardwood and thus fairly forgiving, but this doesn't mean it will withstand everything.
How to restore teak wood 
The best way to restore old teak is to encourage its natural oils to emerge from within. To do so, sand your vintage teak wood with fine 150-grit sandpaper and then clean and dry its surfaces before adding a sealant.
1960s G Plan Astro teak coffee table | IDA Treasure Hunter
How to seal teak furniture
Once your teak piece has been finely sanded, you have prepared it for the next restoration step: sealing. Here are some do's and don't when sealing teak wood.
DO
Leave the wood out in the sun first to open up the grain. This should take two weeks.
Spray the piece with a sealant once the piece has dried out
Work the sealant into the grain with a cloth, lint-free is best.
Keep in mind that once you have sealed teak it maintains the colour of the time of sealing, so if you would prefer a more aged colour, seal the wood once the shade has developed to your preference.
DON'T
Don't oil teak. Oiling this wood doesn't add any protective qualities as it naturally produces its own oils. Stick to using protective sealants.
Don't use water repellents on teak as it is naturally resistant to water.
Don't use harsh or abrasive cleaning tools such as steel wool on teak, opt for softer materials instead.
To keep the recognisable golden colour of the wood, use a teak sealer, rather than oil.  This will help with preserving the colour of your teak furniture and protect the wood from UV rays and rot. If you decide to seal your teak wood, avoid using brushes and apply the sealer with a soft cloth. 
However, if adding oil is absolutely necessary, make sure to use Danish oil as it has the power to penetrate rather than sit on top of the surface. Once you're done, remember to remove any excess oil that remains on top.
 teak Beautlity
Mid-century teak Beautility sideboard | Hello Retro
How to stain teak wood
While you can wait for teak wood to naturally age into a more grey finish, there are other ways to change the wood's colour, and that's with staining. Here is a step-by-step guide on how to stain teak wood:
Ensure that your piece of teak wood furniture is clean beforehand. Avoid abrasive cleaning products during this process.
Fill in any holes in the furniture with wood filler, and gently sand down any bumps or rough textures for a smooth finish.
Seal your teak piece, this helps the stain to adhere to the surface. Ensure that the piece is fully dry before proceeding.
Sand the piece down again. This will help to even out any uneven sealant from the previous step. Use fine-grit sandpaper and remove any dust when done.
Use masking tape to protect any parts of the furniture that you don't want stained.
It's finally time to stain the wood! Apply a layer of the stain on top with a paintbrush or sponge. The longer you leave the stain on, the darker the stain colour will turn out. 
Once the desired colour is achieved,  wipe off any extra stain that doesn't soak in.  If the colour is not dark enough, when the stain dries repeat the process by adding another layer of stain.
Sealing helps with distributing stain more evenly, but to protect the colour from fading always apply an additional coat of finish. 
Vintage brands that use teak wood in their furniture design
Teak wood helped to define the mid-century aesthetic as many early designs exploited the countless benefits of using this beautifully coloured, easy to work with, high-quality material. In the early fifties, prominent furniture manufacturers launched their own ranges of iconic teak wood pieces that remain sought after even to this day. Some of these key manufacturers included furniture giants such as :
G Plan furniture
Parker-Knoll
Ercol
Nathan 
From sideboards, bookshelves, chairs, and desks to coffee tables and wall units, teak wood infused post-war homes with modernity and new optimism.  
Mid-century Trinity coffee table by Nathan, 1960 | Search & Rescued
Bringing teak back to life
Teak wood is commonly used in exterior construction and the manufacture of boats, outdoor and indoor furniture, countertops, floors and veneer. Thanks to the wood's high oil content, it has a high resistance to infestations and cracking and warping in high humidity conditions. This makes it much easier to maintain teak wood.
Fun fact: All English public parks use benches made of reclaimed teak wood.
Next time you come across an exquisite vintage teak wood furniture piece, remember the quality behind the price tag. Teak is an ethical investment and if you learn how to maintain teak wood furniture it will be the last piece you will ever need to buy. 
Discover antique and vintage teak furniture
Browse our curated collection
Shop now