How to clean and restore your garden furniture
If your outdoor space is looking a little lacklustre there are lots of ways to clean and restore your garden furniture.  It's much simpler than it sounds and is a better choice for the planet and your pocket. Grab your marigolds and follow these simple steps to completely revive your outdoor furniture this spring. 
Longer days and warmer afternoons can only mean one thing. We have finally made it to spring and if, like us, you like nothing more than starting your day with a hot cup of coffee in the garden it is probably time you dusted the cobwebs off your weathered garden furniture.
We love the lived-in look here at Vinterior, our furniture is all about character, but if your garden furniture has been left out all winter it may need a little bit of TLC to be restored to its former glory. The planet will thank you, and so will your wallet.
The best way to restore garden furniture really depends on the type of material you're working with and how worn out your pieces are. This guide covers everything you need to know, from simple material-specific cleaning tips to complete restorations. 
So, whether you're looking to revive your rattan garden armchairs or your rustic metal outdoor dining table, here's everything you need to know about restoring outdoor furniture.
How to restore wooden garden furniture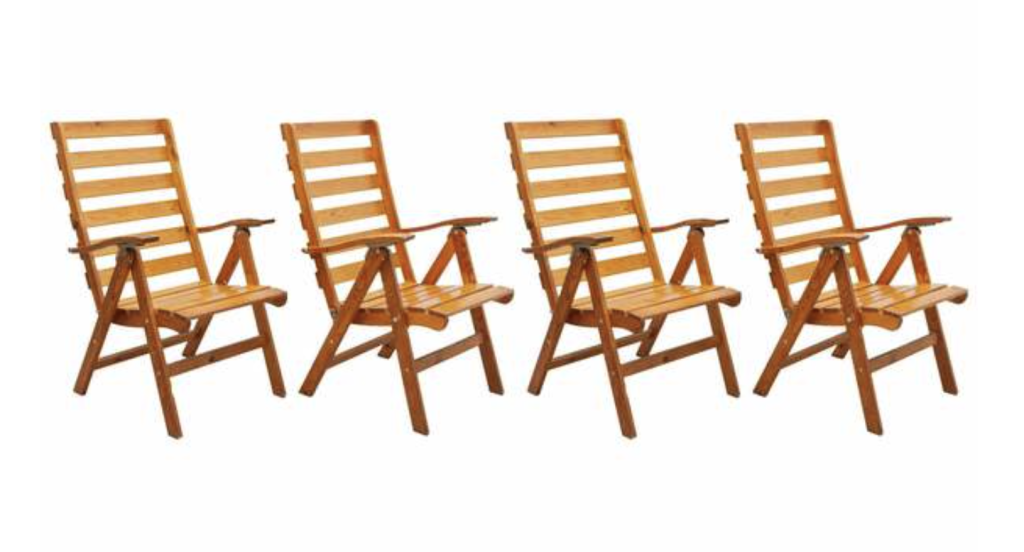 Wooden garden furniture is often left out in the open all year round. Whilst good quality pieces can brave the elements, over time their surfaces weather down to that worn out silvery-grey look. Luckily, restoring and refurbishing wooden garden furniture can be very straightforward:
Step 1: Cleaning up wooden garden furniture
First, give it a scrub. Dust off the excess dirt, dust and any moss or lichen that has built up on the surfaces with a soft bristle brush.
Step 2: Sanding down wooden garden furniture
Next, use some medium/light-grade sandpaper and start working on the silvered surface layer. 

Apply light pressure and make sure you sand in the direction of the wood grain using long strokes.
Step 3: Treating wooden garden furniture
To get your pieces back to a more golden hue treat your newly sanded surface with a wood oil.

Generously apply the oil with a large, flat brush and then massage it into the wood with a rag. 

Leave until touch dry and repeat for as many coats as you like.
Top tip: Tung oil is a great, all-natural wood oil that can be used on any type of wood to really bring it back to life. It's also highly resistant to water, alcohol and food acids—perfect for an outdoor table.
How to restore metal garden furniture
From wrought-iron tables to steel seats, metal garden furniture is sturdy and generally weather-resistant—even to the great British weather. However, bare-metal pieces build up rust over time and painted metal pieces are prone to peeling. If you're restoring cast iron garden furniture, wrought iron, steel, aluminium or painted metal pieces, follow these steps to revive them:
 Step 1: Removing any rust or peeled paint
Give any rusty patches a brush down with a stiff wire brush, followed by a once over with some wire wool. 

If you want to take it all the way back to the metal, apply some paint stripper to the surface, let it set according to the instructions and scrape with a paint scraper and nylon pad. 

If your piece just needs a touch-up, skip the stripper and go straight in with the scraper.
 Step 2: Cleaning and treating metal garden furniture
Give your freshly scraped and buffed piece a wash with some water and soap.

Once dry, apply a metal lacquer to any exposed metal, this will protect it from any weathering. 

Repaint or touch up as desired.
Top tip: Prevent rust forming on any fittings, brackets or bolts with some WD40.
How to restore rattan and wicker garden furniture
Rattan, woven or wicker garden furniture is perfectly fine to be outdoors all year round, but try to store cushions indoors when they're not in use. Covering up your rattan and wicker pieces throughout the winter will go a long way, reducing the time needed to renovate outdoor furniture when the spring comes around. If they're in need of some life, spruce them up with these easy steps:
Step 1: Cleaning rattan and wicker pieces
Dust off any dry dirt or grime with a soft dry brush.

Use a gentle non-foaming detergent and gently wash down with a sponge. Make sure you thoroughly wash off any detergent as any leftover residue can promote mould growth.

If your pieces have a lot of built-up dirt, you can use a power washer—but make sure it's on a low setting.
Step 2: Treating rattan and wicker pieces
Gently rub some olive oil into the surface of your wicker or rattan with a soft cloth to give it a shine.
 Top tip: Avoid any harsh chemical cleaners or detergents on wicker or rattan pieces as these may cause damage and leave you worse off than where you started. Choose gentle, non-chemical detergents or natural cleaning solutions.
How to restore plastic garden furniture
Plastic garden furniture is a great option because it's so easy to clean and with proper care, can last a lifetime. It's best to store your plastic pieces inside during the winter months as plastic can leach colour over time. If they've faded, these steps will help you get them back in good nick:
Step 1: Cleaning plastic garden furniture
Give them a good wash with some soap and hot water. Add a couple of drops of detergent or bleach for particularly stubborn patches and apply with a sponge or cloth, nothing abrasive.
Step 2: Spray painting (optional) 
If your plastic pieces have drained of colour, you can always freshen them up with a coat of spray paint. 

Make sure they are completely clean, free from dust and that your spray paint is compatible with hard plastic.

Spray outdoors, holding the can about 30cm away from the surface of your piece.

Repeat for at least two coats, allowing adequate drying time in between.
Top tip: To add an extra layer of protection to your plastics, apply a layer of clear car wax with a soft cloth. This will give them a shine and help protect them from the elements, year-round.
How to restore fabric cushions or covers
Left your garden cushions out overnight a few too many times? It can be tempting to simply replace cushions or covers that are looking a little worse for wear—but often all they need is a bit of attention to last another season:
Cleaning cushions and covers
Brush off any dust and dirt that has built up with a soft cloth and then give them a hoover. 

Take off any removable covers—if these are machine washable then you've got your work cut out. Pop them in on a 30 degree wash with some upholstery shampoo or gentle washing detergent.

If there are no removable covers or they aren't machine washable, work in an upholstery shampoo with a soft sponge to any dirty patches. Then, wipe down with a soft cloth and warm water.
 Top tip: Hang out your dry cushions and covers on the washing line to air them out and freshen them up. Gently beat them together to remove any excess dust that's built up inside. 
Garden Furniture Restoration FAQs
How to restore teak garden furniture?
Teak is a really popular wood for garden furniture because it's one of the few woods that contain a high amount of natural oil, protecting it against the wind. You can restore teak pieces using our easy steps above for restoring wooden garden furniture—a simple process of cleaning, sanding and treating. 
Can you paint teak garden furniture?
Definitely! Make sure you follow steps one and two in this guide on how to restore wooden garden furniture first. Then, make sure you apply a good stain-blocking primer—this will stop the abundant natural oils in teak bleeding through the final coat of paint. Finally, apply your desired hue, with at least two coats.
What if my pieces are vintage or antique? Can I still restore them?
Absolutely. Vintage and antique garden furniture is usually made from exceptional quality materials and although they may get some wear and tear outdoors over the years, usually all they need is a little smartening up. Make sure you read the labels of any cleaning products you use and try to opt for gentler, non-foaming detergents. It's best to avoid power washing and opt for gentle, non-abrasive cloths or sponges—with the exception of metal brushes for metal pieces.
Feeling outdoor inspired? Read more of our stories showcasing creative and unique garden planter ideas and garden shed decor ideas.
Shop vintage garden furniture
Discover our curated collection
Shop now