Timeless Vintage Lighting Trends for a More Characterful Home
The unstoppable tide of interior trends might have you feeling like you need to update your lighting scheme every season. Vintage lighting trends, however, never go out of style. To create a modern home with a lighting scheme that promotes your lifestyle and stays in style, our guide to timeless vintage lighting trends has you covered.
Whether you're turning to vintage lighting and furniture for the first time or you're in need of some inspiration for your lighting plan, we're on hand to help you update your decorative lighting scheme with timeless character and effortless style. 
If you are looking for characterful ideas to brighten up your home, explore our round-up of lights for your decor and the best timeless vintage lighting.
Statement Chandeliers
Always in vogue are big and bold chandeliers. Oversized pendants and statement chandeliers make for a dramatic focal point and bring a sense of style and sophistication to any decorative lighting plan. Adding a wow factor with your lighting fixtures can double as art installations and inspire the mood of your entire space.
Image: Murano Glass Chandelier. Vinterior Seller: Art In Life
Minimalist Modernism
One of the most covetable vintage lighting trends of the last 70 years is minimalism. Although our social feeds are full of bold maximalist interiors, for those inclined toward a life of less, minimalist lighting is perfect for your functional lighting schemes. They're chic, glamorous and edgy, and with designers such as Serge Mouille to explore they've become sought-after pieces among designers and collectors alike. Look for black lampshades and geometric-shaped lighting and we promise you will spot them everywhere.
Image: Serge Mouille Plaffonier 2-Arm Ceiling Light. Vinterior Seller: Tangy Rolin
Geometric Design
Trendy geometric chandeliers have dominated interior trends of late. However, these designs have been around since the art deco era. Bridging the gap between antique glamour and industrial chic, these attractive geometric lighting fixtures have become highly coveted, especially for lighting a dining room.
Image: Geometric Brass Pendant Light by Hans Agne Jakobsson. Vinterior Seller: Norepro
Antique Charm
Antique pieces might feel a bit fussy to some determined modernists, but these striking pieces have endured since the early days of electricity. With many people turning their backs on mass-produced lighting in favour of hand-crafted pieces, antique lighting is a timeless trend we're certain you'll see more of in the years to come. Discover this timeless lighting style, with our antique lighting collection at Vinterior.
Image: Art Nouveau Tiffany Lamp. Vinterior Seller: Canonbury Antiques
Industrial Refinement
To add a nod to the industrial revolution or the post-war boom years to your urban dwelling, look for refined industrial lighting. Yes, this look has stayed relevant since the warehouse-conversion boom of the 1990s. If you genuinely love this style, look for vintage lighting with galvanized metal, reclaimed wood, Edison bulbs and glass to achieve that industrial lighting refinement.
Image; Iron-made Industrial Floor Lamp. Vinterior Seller: Quirky Interiors
Lamps, Lamps, Lamps
Low-level lighting is fantastic for setting the mood in a space and that's where our old friend the lamp comes in. In our opinion (a biased one, we admit) you can never have too many lamps and they're one of the best ways to light a dark room. Perch them on side tables in reading nooks or on consoles behind sofas to create a time-honoured look. You'll even find antique table lamps with empire lampshades are gaining popularity again. Proving once again that you cannot put an expiration date on good design.
Image: Pair of Mushroom-Shaped Table Lamps. Vinterior Seller: The Old Attic
Cone-Shaped Shades
Speaking of lamps, the modernist twist to the classic empire lampshades—cone shades—have also become timeless staples of many a lighting scheme. Vintage table lamps with cone lampshades are the preferred alternatives for more contemporary interior settings.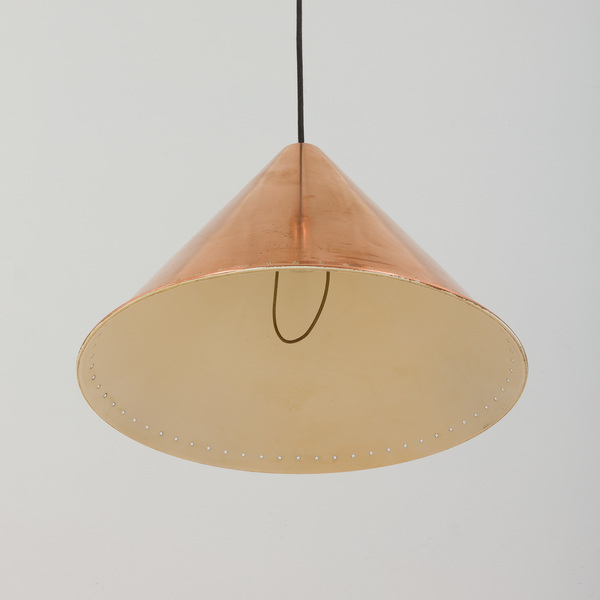 Image: Copper Cone-Shaped Pendant Light. Vinterior Seller: FutureAntiques
Natural Materials 
As home buyers continue to seek new ways to reconnect with Nature, home furniture and decor have become increasingly about natural materials. But this is not a new trend. In fact, the bohemian tendency for bamboo and raffia has never really gone out of vogue. A timeless turn away from man-made materials means opting for lampshades made of stone, marble, and raffia instead. Ceramic finishes and natural crystals are also fab, and so is everything made of wood and rattan. As you've probably noticed, there's no limit to the natural materials that can inspire your at-home scheme.
Image: Raffia Pendant Lampshade. Vinterior Seller: BoutiqueMaroc
Textured Fixtures
If you're lighting a large living room, textured lighting can add decorative delights to what can become an empty feeling space. Chicly detailed woven lighting fixtures offer a great opportunity to add texture to a lighting environment. Wicker or metallic —they will work either way—or look for something sculptural to add visual interest.
Image: Organically Curved, Sculptural Table Lamp. Vinterior Seller: The Vintage Trader
How to Curate a Vintage Lighting Scheme
Below, we take a quick look at how to create a vintage lighting scheme to inspire your next vintage lighting project.
Define your style
First, it's important to define your interior style before investing in lighting. Are you a mid-century modernist? An antique fanatic? Or a daring maximalist? Once you know your personal style, you'll be able to find lighting to create a scheme you love.
Set the mood
Lighting is all about mood and curating your vintage lighting scheme is all about setting it just right. How you choose to light different rooms is important. For example, you'll want low, relaxing lighting for a bedroom, but in a kitchen, you might want brighter overhead lighting to help with tasks. Assess the needs of each room at the start of your vintage lighting project.
The right bulbs
Getting the right wattage or lumens when buying bulbs is vital for getting your style and mood right. Low numbers are what you need for relaxing, soft, ambient lights, while a higher number is needed for practical areas. Remember, a mix of both is good too. Think low-level lamps on a hallway sideboard for the evening, but bright overhead pendants for when guests need to put on their shoes to leave.
Functional vs Decorative
The constant debate around a lighting scheme, whether it's timelessly vintage or not, is that it needs to be functional and decorative. Striking the balance is hard, but if you follow the above steps you'll strike it right. Plus, some vintage lighting like the Anglepoise is a perfect balance of both.
Image: Anglepoise Lamp. Vinterior Seller: Whisper & Echo
Is vintage lighting safe?
Vintage lighting is like a jewel. Its power to make heads turn is immense, but before switching the lights on and letting them brighten up your home, check it for safety. 
Vintage and antique lighting is generally much better made than most newly produced fixtures, but pieces that are a couple of decades old, or even older, need to be looked into for any frayed cables and other weak spots. Remember, prior to purchasing vintage lighting, always ask the dealer whether the fixture has been rewired.
What is your favourite vintage lighting style? And how are you planning to curate a characterful lighting scheme with timeless style? Let us know us know in the comments section below.
Feature image: @mortilmernee
Discover our Lighting Collection
More than 200,000 products to choose from
Shop now