Furniture Guides: Armoire vs Wardrobe, what's the difference?
Sourcing characterful bedroom storage can be confusing. From dressers to sideboards, closets to cabinets, and drawers to dressers, it can be hard to know what's right for your space—and even what the difference is.
A simple wardrobe may seem like the obvious choice for storing your clothes and it might be the right option for you,  however often a more decorative choice like an armoire can add some additional depth and personality to your home.
So what actually is the difference between these two pieces of furniture? And how should you set about choosing one or the other? Our furniture guide below demystifies the divide between armoire and wardrobe to help you find your perfect bedroom storage.
Armoire sold by Vinterior seller Louisa Grace Interiors
What is the difference between a wardrobe and an armoire?
At first glance, a wardrobe and an armoire can appear to be almost identical. However, there are some differences between the two styles, especially when it comes to antique and vintage designs.
Mid-century wardrobe sold by Vinterior seller Your 20th
What is a wardrobe?
Featuring only internal hanging rails, antique wardrobes were typically built for garments that needed to be hung. This set-up is what traditionally separates them from armoires. However, over the years, drawers and pigeonholes have been added to wardrobe designs to maximise storage space.
What is an armoire?
In general, an armoire is more decorative than a wardrobe. Usually larger in size, they are often adorned with carved reliefs and detailed crowns. Antique armoires sometimes feature slightly curved, short legs, raising the base of the armoire off the floor. However, more modern designs have removed them.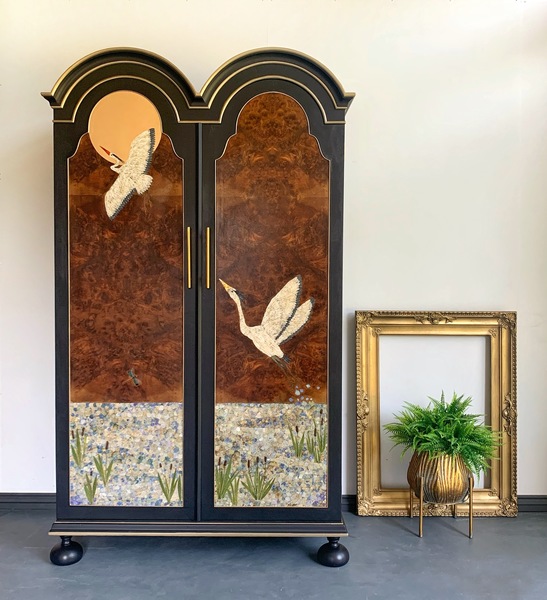 Art Deco walnut burr armoire sold by Vinterior seller Rubar and Scandi 
The key difference between wardrobes and armoires
Aside from their different form, the most obvious difference between wardrobes and armoires is the way they've been used. Traditionally, armoires included shelving or drawers and therefore their use extends from a bedroom to a dining room or kitchen, whereas a classic wardrobe will generally only feature hanging rails.
Armoires were also often inspired by French design and the Baroque and Rococo styles, making them highly decorative compared to traditional wardrobes.
How to choose between a wardrobe and an armoire?
Essentially, the decision between the two is a personal one. You may want the functionality and clean lines that only a wardrobe can provide or you might be looking for a more decorative piece, making an armoire more suitable.
Below, we explore how to find the right wardrobe or armoire for your home:
Upcycled wardrobe decorated with floral design sold by Vinterior seller Cherubs Chalks Interiors
1. Find your style
As we've already covered, you'll find armoires in many decorative styles. Some are painted with glamorous murals, others ornately carved by artisans. Wardrobes provide utility and a simple design might suit if you have a more functional taste. Look at your current furniture and explore designs to find a unique and complementary piece that matches your taste and interior.
2. Measure your space
Before you buy a large piece of furniture like a wardrobe or armoire, it's important to measure your space. Measure the height, depth and width of the area you want to place the piece in. You also need to measure the doorways, stairs, and hallways that it'll move through on delivery to ensure you'll get it into your home.
3. Invest in antiques
Built to last and crafted with care, an antique or vintage armoire or wardrobe is often more characterful than a standard, flat-packed item. You'll end up with a one-of-a-kind piece and have something that will last for years and hopefully appreciate in value. 
4. Buy what you love
Finally, the best way to choose an armoire or a wardrobe for your home is to buy a piece you truly love. Ignore the trends and avoid the pitfalls of trying to copy someone else's style and find a piece you really love.
So what will it be for your home? A sturdy yet pared-back wardrobe? Or an armoire that inspires thoughts of grand French châteaux? Let us know your favourites below and explore our storage collection at Vinterior too.
Explore our vintage storage collection
Discover wardrobes and armoires to suit every home.
SHOP NOW