Inspired by Little Women: a home full of merriment
For some, Orchard House might not ring as many bells as the well-known novel Little Women. This quaint brown two-story in Concord, Massachusetts, was in fact the very home in which Louisa May Alcott penned the beloved tale of the March sisters. Nestled among the trees, Orchard House abounds with New England folk charm. The seat of the Alcott family, however, was not much to boast about at the time of writing – Alcott affectionately called it the 'apple slump', a nod to the surrounding orchard and apparently 'lopsided' appearance of the property. It inspired the somewhat rickety home of the fictional, yet semi-autobiographical, March family which sat in direct contrast to the more luxurious 19th century homes scattered throughout Massachusetts. When describing her vision for the March home in the latest film adaptation, director Greta Gerwig imagined the house as something akin to a mushroom, not particularly enticing from the outside but a treasure box within. Indeed the home, both original and in the novel, is brimming with wonderfully characterful finds that reflect the whimsical personalities of its occupants.
Image: lithub.com
The British country home is not far removed from that of the March family. Step into a rural abode and you may encounter a homely array of patterned furniture, trinket-laden and overcrowded bookcases, plates hung on the wall and a well worn rug. Someone's knitting endeavours trailing over a cosy armchair in the corner and jam jars full of wildflowers. A much lived in space, these things might also be found scattered throughout Orchard House. Such are the nicest homes, warmed by the bustle of every day life. Antique furniture is characterised by this quality, bearing a rich sense of having passed through generations. Built to withstand the demands of family life over centuries, many antiques are still going strong. A scattering of antiques will lend fresh, albeit weathered, charm to the modern home. Here are some that we think would not go amiss on the set of Little Women.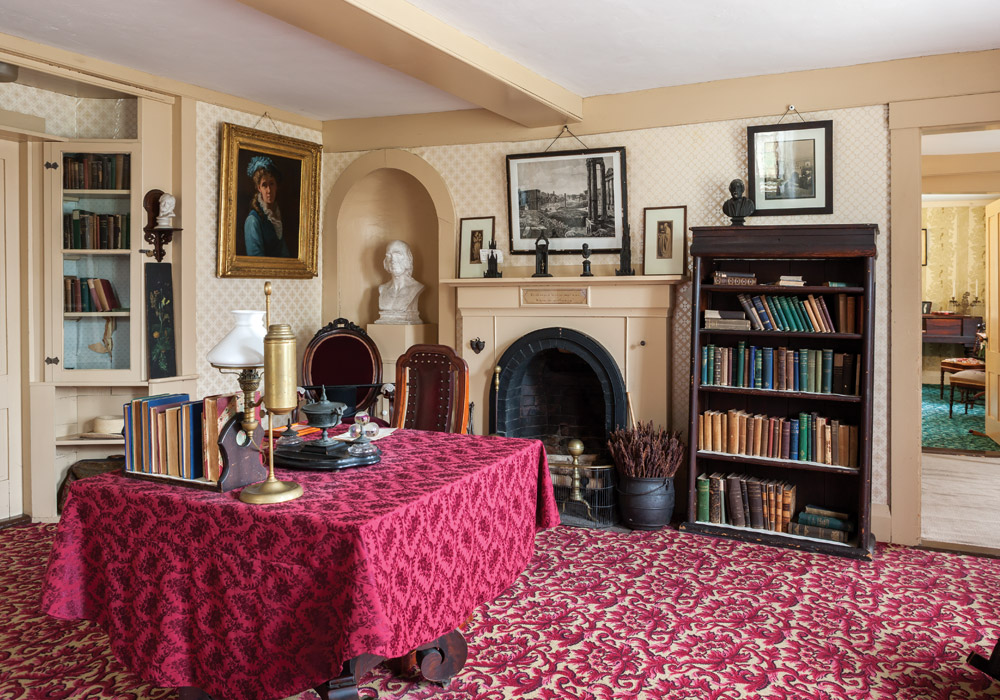 We can imagine the March family sitting around with tea in this parlour room in Orchard House. Image: victoriamag.com
The characters in Little Women are a busy bunch; their home is a constant hive of activity. Whether 'scribbling', sewing, painting or reading, it is useful to have somewhere to down tools. For the modern day homebody, this might look like a safe place to rest a Mac-book or that Etsy creative kit you got in your Christmas stocking. Instead of opting for something generic, find a pretty vintage or antique side table. Creative Amy would probably appreciate this lovely model below with its charming carved detail around the feet. It just needs a cup of tea and a pile of good books!
Find a charming antique side table here
Not every home is blessed with a fireplace, alas. For those that are, there are many antique fire surrounds with beautiful original tiles still intact. This Victorian model is made of cast iron and can be attached to an existing fireplace. The wonderful thing about fireplaces is that they can be enjoyed throughout every season. A crackling fire in winter (throw in apple or cedar wood for a particularly lovely scent – Meg might throw in spices for an extra luxurious touch) or place fresh blooms there during the summer.
Browse through antique fireplaces, and their accoutrements, here
A Victorian bed piled with quilts might make you think of a chilly country night huddled up with cold feet. In lieu of plain bedding, revel in a harmony of prints. It is so much more welcoming than a large blank space in the middle of the room. Quilts, which are often made using odd scraps of vintage fabric, will lend a lovely folk charm. This original sleigh bed in one of the bedrooms in Orchard House is a classic antique design, stocky and built out of solid wood. Like imaginative Jo, picture your bed as a ship that will transport you away to lands afar. Ideally the land of nod.
A cosy bedroom with a beautiful quilt in Orchard House. Image: victoriamag.com
Discover characterful vintage and antique bed frames here
The old adage about rugs rings true: they are a one step way to add texture, warmth and even colour to a space. No country-style home is complete without one. This rug below is woven through with stunning subdued colours which both catch the eye yet evoke a welcoming, homely feel. The pale coral set against dark teal and cinnamon create a warm spicy palette. Look for rug colours that will lift the space without distracting too much from the wider scheme. Don't be afraid to set them off against some pretty patterned wallpaper!
Unearth a richly coloured antique rug here
The dining room at Orchard House. Image: victoriamag.com
Finally, in a home that celebrates the nooks and crannies, one piece of furniture plays a great role. The humble armchair! A variety of chairs – whether wooden or upholstered – will bring life to these quieter corners of home. A good chair creates the space to stow away with a book and watch the rest of the world pass by. Antique Windsor chairs, with their pretty spindly frames, would fit right into the March home – although they would probably have the American Shaker equivalent. We can imagine Beth's dolls sitting happily in this one.
Find your perfect Windsor chair here
When chosen with care, antiques are a great way to inject soul into even a very modern home. For inspiration on mixing modern finds with antiques, have a nosy through this Pinterest board. We're excited for the next, very modern, take on Little Women hitting cinemas!
Title image: arthousehotelliverpool.co.uk
Discover our Vintage Curated Collection
More than 200,000 products to choose from
Shop now