Iconic chair styles and legendary designers
From out of this world design, to sleek and understated functionality, there is a long and exciting history in modern chair design. We've chosen a few of the most stand out and instantly recognisable iconic chair designs to celebrate, and also inform you of unique and iconic chair styles you may want to add to your interior spaces to evoke some luxury and design focused comfort.
Eames Lounge Chair and Ottoman (1956)
Titans of modern chair design, husband and wife team of Charles and Ray Eames remain a constant name of inspiration when looking into iconic chair styles. One of their most famous chairs, the Lounge chair and ottoman is unmistakeable in its design and remains a timeless and iconic chair design classic. Made of molded plywood with leather upholstery, the lounge chair and ottoman was seating meant to evoke a sense of luxury like that of a good club chair, whilst providing respite from the stressors of modern living.
Diamond chair (1952)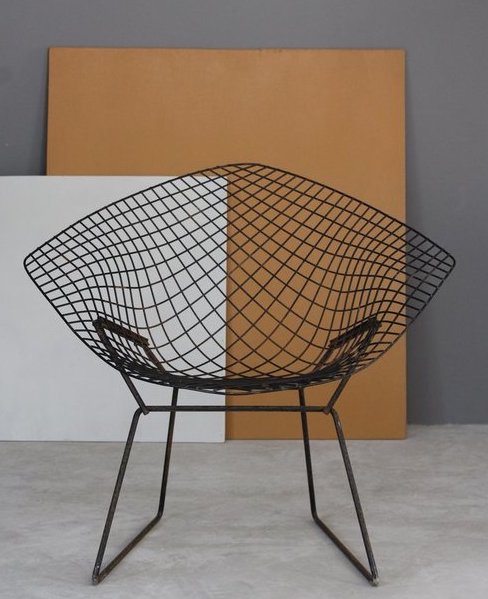 Harry Bertoia was an Italian-Amerian sculptor and designer who worked predominantly with printmaking and furniture design. To quote Bertoia, "If you look at these (diamond) chairs, they are mainly made of air, like sculpture. Space passes right through them". Bertoia's iconic diamond shaped chair still sparks inspiration today as a feat in modern chair design. Unique features to this chair are its wire frame juxtaposed with a fluid design.
No. 14 Chair (1859)
The iconic curved back and woven seat of Michael Thonet's most iconic piece of furniture was a practical design. With useful drainage for spills it was a popular choice in bistros and cafes at the time, and even so still to this day. Without doubt, we have all seen this style of chair at some point in our lives. The No.14 chair also became one of the first pieces of furniture made through mass production.
Arne Jacobsen
Danish designer Arne Jacobsen's prolific works are mainstays as chair design classics. Not only known for his furniture design, Jacobsen was also revered for his architectural prowess and building design. Here are some of his most iconic chair designs.
Egg Chair (1958)
Jacobsen was to design all aspects of the SAS Hotel in Copenhagen in 1960. During this time, the strictly vertical and horizontal structures of the hotel's architecture would prompt Jacobsen to create a chair that was the polar opposite. Evidently, the curved edges and rounded design of the Egg Chair resembles a smooth egg shell, and its shape is a feat in modern chair design, combining the seat, arms and back into one solid shape formed of cloth covered plastic.
Series 7 (1955)
The series 7 chair is a variation of the equally iconic Ant Chair. Due to sales for the Ant beginning to wane, Jacobsen redesigned it, resulting in the series 7. The 7 itself had many variations, some with armrests, and some without. As a result, the success of this chair was boundless, and made the iconic chair quite possibly one of the most sold chairs in furniture history.
Hans J. Wegner
Hans J Wegner is one of the most world renown designers of modern chair design, and he also enjoyed creating functional furniture with a playful design. Undoubtedly, the Danish designer was prolific, as there are many classic chairs that we attribute to his unmatched prowess.
Wishbone Chair (1949)
The CH24 chair or Wishbone chair is now known as an iconic chair amongst Danish design, and often seen as encapsulating the essence of Danish design. The chair design combines the arms and back, with a hand woven seat, and its characteristic Y shaped spine, of which it gets the name Wishbone.
Papa Bear Chair (1951)
The Papa Bear Chair was in production until 1969. This iconic chair boasts a more playful design from Wegner. It has an instantly recognisable design, referred to as 'great bear paws embracing you from behind'. Designed to be extremely comfortable and totally envelop you, the Papa bear chair combines total luxury with a modernist sensibility in design.
Shell Chair (1963)
The shell chair's initial run was met with some hesitation by the general public, although it was loved by design critics at the time. Later, in 1998 the chair was met with a warmer reception by a more modern generation. Undeniably a chair truly ahead of its time. The avant-garde wing style seat and arched legs are a display of Wegner's belief that a chair should be beautiful from every direction.
Marcel Breuer 
Hungarian-American designer and sculptor Marcel Breuer specialised in the Bauhaus and Modernist movements in design. He was also a pioneer of the International style of design that featured heavy use of materials such as steel and glass.
B3/Wassily chair (1925-1926)
Whilst working as an apprentice at the Bauhaus, seeing the handlebars on a bicycle inspired Breuer to create a chair with bent tubular frames in a similar fashion. Concurrently, the first chair born of this curiosity was the Wassily. Using the latest innovations in metalworking, the chair became an instant classic, and an iconic work from the Bauhaus movement.
B32/Cesca chair (1928)
Th Cesca chair's design created the illusion of resting on air due to its unique 'S' shaped design made of tubular steel and woven cane back and seat. The Cesca is a style of cantilever chair, and is also born from the same spark of inspiration from bicycle handlebars as the Wassily.
Louis Ghost Chair (2000s)
The silhouette of the Ghost chair is an echo of the Louis XVI armchair. Quite literal to its name, the translucent body blends into its environment effortlessly and makes for an interesting optical illusion. Philippe Starck unveiled this chair in 2002. Its body is made from a single mould of polycarbonate and is among the most iconic chair styles in contemporary homes.
Platner Armchair (1966)
Interior designer and architect Warren Platner worked amongst the likes of Eero Saarinen, and created furniture most recognised amongst the modernist movement of design in the 1960s. Perhaps, it is possible to say that Platner's arm chair has one of the most graceful and iconic chair silhouettes of modern furniture design, owing to its unique design of metal spokes and shell-like upholstered seat. For Platner, design and practicality went hand in hand. He "felt there was room for the kind of decorative, gentle, graceful kind of design that appeared in period style like Louis XV, but it could have a more rational base instead of being applied decoration. I thought why separate support from the object. Just make it all one thing." And thus was born the Platner arm chair.
Panton Stacking Chair (1960s) 
Verner Panton's moulded plastic chair was born out of a desire to break the trend of Scandinavian teak furniture. Quite significantly, it was the first chair to be manufactured entirely out of a sheet of plastic. The curvaceous Panton chair has become quite the celebrity amongst iconic chair styles. Owing to its birth during the Pop Art period, many versions of the chair appear in bold and bright colours.
Tulip" (1957)
The tulip chair boasts a space age look with smooth outer. Significantly, Eero Saarinen said of the chairs design, "the undercarriage of chairs and tables in a typical interior makes an ugly, confusing, unrestful world. I wanted to clear up the slum of legs. I wanted to make the chair all one thing again". Designed to accompany the Tulip table accordingly, it is an instantly recognisable classic chair design and a favourite among iconic chair styles.
Les arcs chair (1967)
Point often overlooked, is that Charlotte Perriand's design project surrounding the Les Arcs ski resort in Saovie, France, gave the eponymous chair its fame. Although we often attribute this chair to Perriand, the chair design predates this instance that brought it to fame. Many believe that the designer sourced the Les Arcs chairs in bulk for the purpose of furnishing the ski resort. As a result, the original designer remains unknown.
Butterfly chair (1938)
The butterfly chair, also known as the B.K.F chair, gets its initials from Antonio Bonet, Juan Kurchan and Jorge Ferrari Hardoy, a trio of Argentinian architects who designed the chair in 1938. It was developed as a means of furnishing the interiors of an apartment building in Buenos Aires. With this purpose in mind, the designers took inspiration from a folding chair used in the military called the Tripolina, thus the butterfly adopted a similar portable and practical design.
The history of modern chair design holds a vast array of iconic chair styles, and some of the best and most famous chair designs from iconic designers. What are you favourite chair design classics?
Discover our Seating Collection
Immerse yourself in our wide range of iconic chairs
Shop now