A guide to G Plan furniture
Collectors always have their eyes on particular brands and these days they seem to be looking for G Plan furniture. A benchmark for British mid-midcentury design, G Plan helped define the post-war interior aesthetics and empowered people to satisfy their need for a more modern expression at home.
Characterised by a perfect mix of remarkable design and fine craftsmanship, G Plan is respected for allowing home crafters of all budgets to choose quality furniture that stays relevant for decades.
The story behind the innovative British brand, G plan is shaped by vision and pioneering ideas that forever changed the furniture industry.
What is G Plan?
Launched back in 1953, G Plan was a brainchild of a visionary furniture manufacturer Donald Gomme. After years of post-war austerity and rationing, there was a shortage of striking, well-made furniture. Donald Gomme saw this as an opportunity for mid-century design solutions and perspectives to emerge. 
With an extensive range of household designs covering everything from sideboards to nest tables, G Plan was set to empower people to buy into a better way of life at home. 
Ebenezer Gomme and G Plan furniture
But these pioneering marketing and business ideas that rebuilt Britain didn't come out of the blue. Donald Gomme was a grandson of Ebenezer Gomme, a well-respected senior in the furniture industry. 
In 1898 Ebenezer Gomme founded a prosperous fine woodworking atelier, E. Gomme Ltd., focused on producing handmade chairs. What started as a small workshop in High Wycombe, Buckinghamshire soon grew into a larger factory facility. Riding on the wave of the voracious demand for furniture, the business continued to evolve as his son took over in 1911. Among the many successful ranges of sideboards, cabinets and tables, the biggest achievement for E. Gomme Ltd. was their pioneering concept of matching dining room sets.
G Plan furniture in the years of rationing
The company was on a fast track until World War II when the entire economy took a strike. Being one of the largest furniture manufacturers in the country at the time, E. Gomme Ltd. played a key role in the production of the Mosquito aircraft.
Facing a timber shortage in the post-war years, the government was pressed to reinforce the Utility Scheme – a strict program invented to reduce costs in the years of struggle to help a wounded economy cope with a deficit of raw materials and labour. 
As a result, the factories were provided with a limited set of simple utilitarian furniture designs meant to populate the homes devastated during the war. A new, strictly regulated homeware market offered furniture produced using mostly oak veneers. Despite the fact that these pieces indeed served their function, they left homemakers craving for elevating, more personalised solutions.
Why is G plan so popular?
Organised in 1946, the exhibition Britain Can Make It was the landmark event for the radical change that was about to sweep the furniture industry. Although many have reverted to traditional tastes, the following years showed that the younger generations were starting to warm up to the idea of the minimalist aesthetic of mid-century designs.
When the years of rationing in production and consumption came to an end in 1952, Donald Gomme was determined to jump to the opportunity and meet the pent-up demand for more modern aesthetics. He started G Plan in 1953 as an offshoot of his family business, E. Gomme Ltd., forever changing the image of the British mid-century design scene.
When did G Plan furniture start?
G Plan was a revolutionary concept that offered high-quality, modernist furniture with a distinctively British touch. By celebrating machine production and streamlined finishes, G Plan furniture spoke to a progressive audience navigating the perplexing task of homemaking in the rapidly changing world.
G Plan pioneering ideas
Revolutionary promotion practices played a key part in the G Plan success story. G Plan was the first furniture brand to tap into the endless possibilities of magazine and cinema advertising. Investing heavily in marketing got many curious eyes on the brand, while the showrooms displaying carefully styled room concepts in London and Manchester allowed prospecting buyers to envision life with G Plan furniture.
Another G Plan's pioneering idea was to break free of furniture suites. Allowing customers to purchase individual pieces rather than the whole sets forever changed the way people shop for furniture. It was now made possible to furnish a home slowly over time, which meant that even those with a tight budget were now considering G Plan furniture.
No matter how long it took them to furnish a room, the customers didn't have to worry about whether their pieces would complement each other. The designs were made available for many years, while the new lines were created to match the rest of the brand's offer.
These clever tactics created an insatiable demand for G Plan furniture leading to delivery times of a year or so at the peak. 
What is G Plan furniture famous for?
By the '60s, G Plan was already synonymous with mid-century design as people started to use its name as shorthand for the style. Aspirational aesthetics coupled with superb quality and reasonable pricing became the signature of G Plan.
Famous G Plan pieces 
From early mid-century designs of the '50s to streamlined Scandinavian-inspired premium ranges, here are some the pieces that stand for the G Plan's timeless signature aesthetics.
G Plan Brandon Chest Of Drawers
Designed in the early fifties, this chest of drawers was part of G Plan's first collection – the Brandon. Designed to appeal to the progressive eye, Brandon featured contemporary lines carved in light oak.
G Plan Fresco Dining Chairs By Ib Kofod Larsen 1969
Introduced back in 1966, the Fresco range grew to become the G Plan's wildest success. To create the Fresco design classics, G Plan used the omnipresent motif of the circle to marry the trendy sculptural look characteristic for Italian furniture with already famous Scandinavian style teak. 
G Plan chairs remain the epitome of exceptional mid-century furniture.
G Plan Drop Leaf Teak Table And 4 Chairs / Danish Style
Round or oblong, extending or drop leaf, G Plan tables and dining sets are ubiquitous examples of mid-century classics. Encompassing exceptional design, smart space-saving features and reasonable pricing, they soon became the industry's most wanted dining room solutions.
G Plan Sideboard, 1960s
The perfect representatives of the mid-century style, G Plan sideboards have a distinctive minimalist appeal and streamlined shape. A feast for the eyes, G Plan sideboards blend beautifully with pieces across most eras.
G Plan Astro Coffee Table By Victor Wilkins, 1960s
G Plan coffee tables also include some of the British mid-century classics. Legendary G Plan Astro coffee table is a design icon, famous for its circular plate of glass on a chunky teak frame, influenced heavily by the atomic age. 
G Plan "American" Mid Century Sofabed
Vintage G Plan sofas are a perfect blend of modernist functionality and style. The American is a collector's piece, praised for its practicality (it converts into a bed in seconds), exceptional comfort and a signature wooden frame.
G Plan Swivel Rocking Blofeld 6250 Chair And Footstool
However, the biggest star was probably the 6250 model, proclaimed by the company as "The World's Most Comfortable Chair". It made numerous appearances on TV, but the feature in the 1967 Bond film You Only Live Twice forever secured its spot in the furniture hall of fame.
The inspiration for this model probably came from Arne Jacobsen's Egg Chair which had similar "manly" features, but with a bit more minimalistic finish.
British mid-century design with a Danish touch
When Donald Gomme stepped down in 1958, the company was thriving. However, the 1960s brought a new challenge. Distinctively elegant, affordable and, above all, the reliable Scandinavian design was sweeping the furniture scene across the UK, creating stiff competition that heavily affected G Plan's sales.
To capture back some of its lost market share, once again, the brand made a clever move and partnered with a reputable Danish designer and architect Ib Kofod-Larsen. This brought the sleek, minimalist Scandinavian feel to G Plan's already vast offer, but also made the rest of the pieces feel dated. 
Kofod-Larsen's collections celebrated the natural beauty of raw wood and its unique grains. The pieces were mostly made using fine woods such as teak and rosewood.
The G Plan Danish label collections did manage to capture back some of the market shares, but this was only a partial success as the general public saw them as an expensive, yet lesser alternative to Scandinavian furniture ranges.
However, collectors' interest in Kofod-Larsen's signature pieces continues to grow as we speak.
Despite stiff competition, G Plan remained at the very top until the end of the '70s.
Recent years and Parker Knoll
With over 2000 employees, G Plan continued to operate under the Gomme family until 1987 when they sold the company to the board of directors. The following years brought significant downsizing, but the production never stopped.
Today G Plan operates as part of Sofa Brands International, a holding company that also acquired Parker Knoll and Duresta. The legacy lives on as G Plan is still in the business of creating outstanding sofas and chairs.
What is G Plan furniture made of?
G Plan furniture is typically made of teak wood. Praised for both its elegance and its durability, teak wood is one of the most popular materials for furniture.
Some G Plan ranges also include rosewood, oak and mahogany.
G Plan collections include both solid wood and veneer pieces.
Where in the home is G Plan furniture commonly found?
With such a diverse and wide offer, G Plan furniture was and remains today a go-to choice for living rooms, dining rooms, hallways, bedrooms, offices and kitchens.
Simple, timeless lines allow homemakers to write their own design rule books using G Plan furniture both as a stylish backdrop or as a statement piece.
Maintaining G plan furniture
Vintage teak G Plan furniture
With little upkeep, G Plan furniture made of teak wood will stand for generations. Thanks to high natural oil and silica content, teak is one of the strongest and most resilient types of hardwood. It's not susceptible to rot and can withstand prolonged exposure to elements.
It's also very easy to clean. All it needs is regular dusting and occasional wiping with a damp cloth.
Staining and sealing are not required.
G Plan wood veneer furniture
G Plan used quite thick veneers, mostly made of teak. The cleaning process looks the same as for teak wood, but to keep its lustre wood veneer will require regular polishing.
Since veneer is easily stained, always use coasters and be vary of placing potted plants on top of it. Minor repairs can be removed using No. 000 steel wool, just keep in mind to rub the surface in the direction of the wood grain.
G Plan Oak furniture
Oak furniture dries over time, so appling proper moisturising routines is crucial for preventing  cracks. To maintain oak furniture you will need to protect it from moisture, direct sun exposure and extreme temperature swings. It easily stains, so it should be treated with care.
Don't clean you G Plan oak furniture with household cleaners as many of them leave behind oil and harm the wood.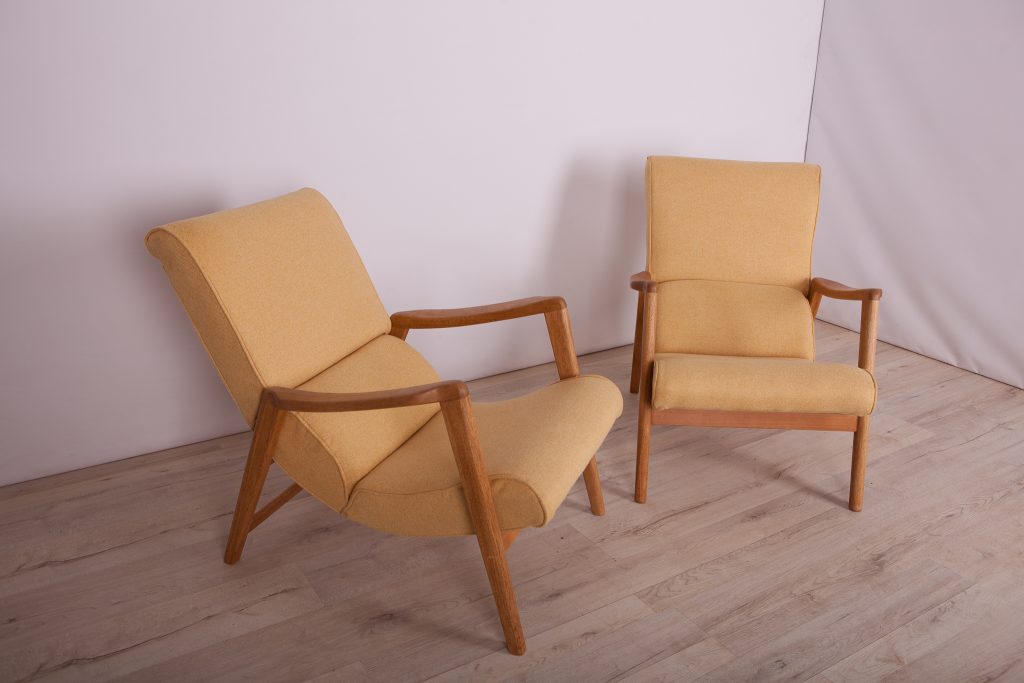 G Plan Mahogany furniture
To keep your G Plan mahogany furniture clean, use a soft, lint-free cloth and a mixture of warm water and vinegar. Wipe spills immediately and never use abrasive cleaners as they can cause severe damage to the wood. To protect the wood, you will need to apply a water-based sealant from time to time.
Once a generator of design innovation, G Plan furniture still continues to deliver and thrill. G Plan's solid bones and cutting edge designs promise us many more decades of this British mid-century love story.
Shop G-Plan Furniture on Vinterior 
Discover our curated collection
Shop now