Luxury interior design doesn't have to hurt the planet. Here's how.
Pioneers from the creative community are sending ripples through the world of interior design. About what, exactly? Don't groan: sustainability. Stay with us. Many cannot deny that sustainability has become a term so bandied around, it is a struggle not to grow numb towards it. Creating a greener interior conjures up daunting images of – at best – fiddly recycling schemes. At worst, the installation of solar panels and other complex eco friendly systems. All lofty measures and undeniably important. The unhealthy side portion of guilt, however, when we fail to meet these tall measures, can lead to apathy and frustration with the sustainable approach. 
Sustainability has also haunted the interior design industry for quite some time. In professional design, it has only gained real traction in recent years – months even. Increasingly aware of their role in aiding mass consumerism, a number of interior professionals are refreshing the conversation around what eco friendly interiors look like in practice. It is not just about cementing their green credentials. Rather than regarding sustainable design as a chore, or something else to tick off on the list, they argue that it presents a meaty intellectual and creative challenge. Speaking on a sustainability panel during Decorex last autumn, Adam Hills, co-founder of architectural salvage company Retrouvius, flagged the lack of a critical dialogue in design around the climate crisis. Despite being agents of lived-in spaces, he ventured that designers 'did not give enough consideration to the public health impact' [of their work].
Source: medium.com
So, what to do?
Rather than stick heads in the sand, the very real challenge posed by the climate situation is a call to action. Designers must brainstorm creative solutions that serve everyone involved. Unlike trends, the need for sustainable design will not fade in time. This is the generation of designers who are responsible for implementing new and long lasting practices. And it's not so dull as we might presume! So what was suggested as a pivotal change to the current approach? Whether a designer or home enthusiast looking for 'greenspiration', here are some tips from the experts at Decorex 2019.
Think about the end process
Using the 'moronic' example of the Millennium Dome, Adam Hills noted the importance of considering how a design scape should function at the end its life – not just its start. The Millennium Dome met with infamy as its maiden year drew to a close. Had anyone deeply considered its long term purpose and usability? Not really. It cost £1million to maintain the dome every month whilst the government struggled to find a buyer willing to repurpose the seemingly doomed project. Adam's advice was to consider not only the creation phase of a project but to ask how it might be deconstructed and repurposed. Most commercial design landscapes have a relatively short life expectancy of 5-30 years which makes this line of thinking essential. Nature presents a great example for doing this well. Once something dies, how does it decompose or regenerate to serve a different purpose? The life cycle of an interior should adopt a similar organic quality.
The product life cycle. Source: medium.com
One example of a innovative company which champions this approach is Elvis & Kresse. Horrified by the 40m tons of surplus materials filling landfills, the company brainstormed ways to repurpose waste generated by a variety of industries. They now manufacture high end fashion accessories using leftover Burberry items (which produces 9 tons of leather waste a month) and even decommissioned hose pipes from the London fire brigade. One long view suggestion is to contractually oblige buyers to return products for recycling when they eventually break down. In the meantime, designers can fuel similar initiatives by sourcing from repurposed items and materials.
Elvis & Kresse actively fights to reduce waste through repurposing materials. Source: elvisandkresse.com
A return to thrifty thinking
Nicola Harding, of Harding and Read, urges us to think more like our grandparents did. The 'thrifty mentality' of post war generations encouraged people to be resourceful even when there were serious constraints. Fortunately, we must no longer contend with the Utility Scheme of the late 1940s. However, if designers are to take sustainability seriously, they will inevitably face restrictions when it comes to sourcing from eco friendly suppliers. One way to get around this is to push boundaries when working with what is already available. Nicola gave the example of a recent hotel brief which originally sought to replace dozens of bed frames. Commercial projects which require high quantities of the same item can present a real challenge to sustainable designers. In this case, Nicola was able to circumvent the problem by finding a creative way to up-cycle the outdated bed frames already in place. Not only did this help the project to stay on budget but was in direct combat with throwaway culture.
A recent project by Harding & Read. Source: hardingandread.com
Holding onto belongings for a long time is no longer at the forefront of our thinking. Design journalist Roddy Clarke notes the change in public attitude towards the concept of the heirloom: 'In the 1950s, people would save very intentionally for that one special piece which would see you through a lifetime and likely be handed down to future generations.' Nowadays, we have stumbled into a microwave state of thinking: wanting items by yesterday and then quickly tiring of the space we have created and starting all over again. Both consumers and interior professionals are guilty of this. This is where circular living comes in. 'Circular economy' is a term coined to describe how we can move forward from fast consumption – buying and getting rid of things again – to minimising waste in order to make the most of our resources. Roddy has the following advice: 'Think about renting items if you are in a short term let. Secondly, always opt for restoration or repair before replacement. And thirdly, if making a purchase, adopt a long term view. How long will you need it for? Do you have a personal connection to it? If you do decide you won't need it at some point, can it be recycled, repurposed or reused? If you question yourself this much when making a purchase it will cut out a lot of unnecessary consumerism.'
Keep things moving
So if we avoid updating decor as much as current habit dictates, does it mean putting up with style mistakes made along the way? No-one wants to live with the modern day equivalent of avocado bathroom tiles and shag-pile carpet. Interior designer Octavia Dickinson understands the need to keep home fresh and advises having a good old fashioned re-org of the space: 'I think changing and moving things around keeps a house alive.' A sustainable home does not necessarily equate to the Marie Kondo approach of blitzing until nowt remains. Certainly in Britain, the favoured eclectic style leaves no space – literally – for overly minimalist thinking. People find immense pleasure in unearthing meaningful pieces for their homes. Deep satisfaction can be found however in tasks so simple as adjusting the way your belongings are displayed. Tinker with your shelves. Reorganise the kitchen counter tops. Move the rug into a new corner. Reupholster your favourite armchair. The key is to avoid mindless replacement at intervals of 3-10 years just because the space feels stagnant. Your home, and all its accoutrements, can be enjoyed afresh from many different angles.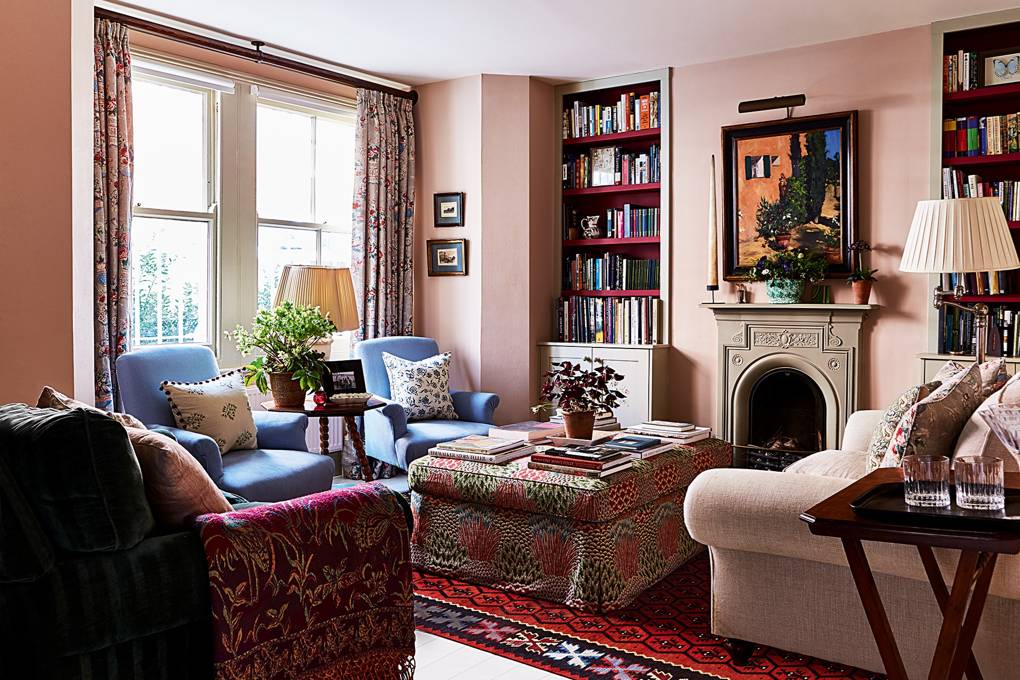 Image: Olivia Dickinson's London country-style living room. Source: houseandgarden.co.uk
Above all, attitude is key
Adopting sustainable practices presents a period of upheaval on the horizon. Run for the hills? Don't fret. Nicola Harding fosters a reassuring take, saying: 'It helps to realise that it doesn't have to be all or nothing. In fact, that approach isn't helpful because the fear of being seen to get something wrong gets in the way of doing anything at all. We intend to do the best job possible and learn lots along the way. There will be times when we can't do things as well as we want and we will get things wrong, but we absolutely have to give it a go.' The creative brainchild behind this year's Decorex VIP lounge, Nicola's approach was a living example of luxury design done greenly (quite literally, the walls were decked in eco-friendly Farrow and Ball's mossy Bancha hue). The lounge articulated ways in which greener design is accessible, embodying creative yet sustainable solutions which did not compromise on style or innovation. What did this look like? For starters, Nicola repurposed iconic secondhand furniture: 'Using antiques rather than buying new furniture, working with local artisans, and even choosing your delivery company carefully are all steps in the right direction.' This was also demonstrated by Howe, an antiques business which loaned chairs to the lounge and offsets the carbon footprint of their deliveries. Harding & Read also partnered with artisanal companies such as Douglas Watson, who breathes new life into previously rejected tiles. The beautiful Delft-style tiles made for a unique corner of the lounge, accompanied by a large kitchen island made from offcuts of ebonised wood by Matthew Cox. A series of handmade rugs were commissioned in collaboration with Vanderhurd who in turn provided the work to ethical local labour in India. Finally, the bespoke cabinetry which made up the stylish bar was brought to life by British Standard, sister company of celebrated kitchen brand Plain English. Their brand motto sums it up: buy well, buy once.
Delft-style tiles make for a stunning backdrop to the bar. Image: Paul Massey
Designers are, in a way, public health workers. Their work is a vessel to advocate greater environmental awareness – without losing out on style or function. The very best designers are highly skilled problem solvers – adept at brainstorming ingenious ways to improve on an existing landscape. Let 2020 commence the decade in which we see residential and commercial design coloured by sustainable innovation – may solutions be shared and a network of alternative green suppliers flourish.
Images of the Decorex lounge: Paul Massey
Discover our Vintage Curated Collection
More than 200,000 products to choose from
Shop now