Upholstery 101: How to Clean Your Leather Furniture
So, your dream vintage leather sofa is finally taking pride of place in your living room. The tan patina is perfect and the yielding leather has a glorious shellac sheen. You'd do anything to keep it in pristine condition. With our guide to cleaning leather upholstery, you can maintain the beauty of your couch, bring dull leather back to life, and quickly combat those unfortunate spillages.
How do you clean leather upholstery?
There's no one best way to clean leather upholstery. Aniline leather naturally looks better with age as shade variation develops over time. It's the most natural-looking leather and can absorb liquids easily. Alternatively, a leather armchair with pigmented leather upholstery is more durable and resilient to sun damage and spills.
Upholsterers have been using leather for centuries. From upholstering 19th century courier trunks to tawny brown Chesterfield sofas and everything in between, leather is a stalwart of the upholstered furniture we know and love today. Read on to discover how you can clean leather upholstery with Vinterior's simple tips.
Cleaning leather upholstery at home
Bauhaus crocodile leather dining chairs | Rudolf Black
If your sofa, armchair, footstool, or dining chairs are already in great condition, some weekly maintenance is all you need to showcase your leather in the best possible way. All you need to do is:
Use a dry microfibre-type cloth to remove all dust and particles from the leather.

Gently use a thin vacuum attachment to get into the creases and folds of the leather, removing larger bits of grime that can get trapped.

Wipe down your leather with a damp cloth. Try to use distilled water as the chlorine found in tap water can affect the pigment of tan, Oxblood red, or green leather.

Wait for the leather to dry completely before sitting, using, or putting your feet up.
What is the best way to clean a leather sofa?
Mid-century leather Chesterfield sofa | Robinson of England
A leather sofa can be the centrepiece of a living room. But it can take a bit of a bruising. This is the place you sit with your brood on movie nights, partake in a cheeky T.V. dinner now and then, and relax after a hard day's work. 
That rogue pasta sauce spillage, careless red wine stain, or dirt spot doesn't mean all is lost. A cotton bud dipped in rubbing alcohol is a simple way to lift a mark. Be careful and ensure that you only place the cotton bud on the stain. Move in slow circular motions until you have covered the stain. Once dry, the stain should be no more.
For larger stains that cover more surface area, a mix of equal parts warm water and white vinegar can work wonders. With a clean cloth, apply this solution carefully and allow to dry naturally.
What are the best home remedies to clean leather furniture?
Leather Louis Vuitton travel trunk | Pushkin Antiques
While you could source an expensive leather cleaner, ointment, or cream to preserve your furniture, you don't have to. There are plenty of household products that you probably already have in your cleaning cupboard that can help keep your leather upholstery in top-notch condition. 
Whenever you try out a cleaning solution, apply it to an unseen spot on your upholstery to test. And always remember to wipe down your sofa, dining chairs, cushions, or leather trunk so it's free from surface dust and grime particles. Take a look at the list of home remedies that you can try on both aniline and pigmented leather. 
– Saddle soap for a general clean.
– For ink stains, use rubbing alcohol on a cotton bud
– For protein-based stains, use a equal parts warm water and white vinegar solution.
– For food stains, try two parts cornflour and one part lemon juice mixture
– As a general spray, mix up two parts white vinegar and one part olive oil.
– For grease stains, use bicarbonate of soda.
What should you not use to clean leather upholstery?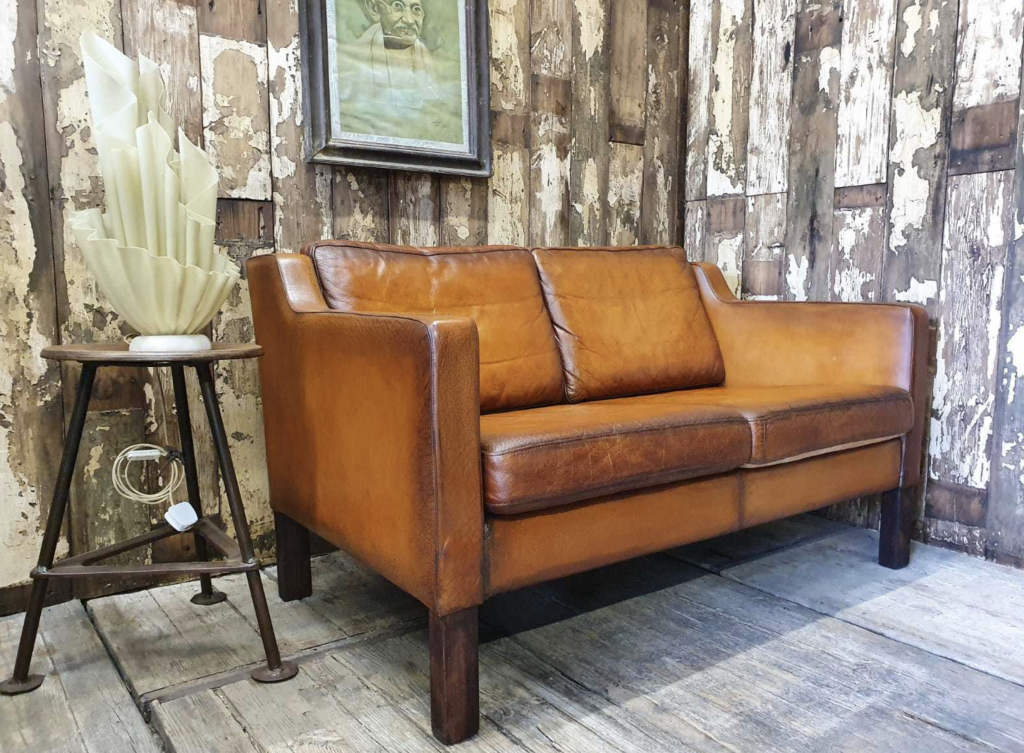 1970s Danish leather sofa | Reginald Ballum
While you might have an achingly cool leather jacket, leather shoes, and a handbag or two or twenty, they are made with different leather compounds. Furniture leather is more delicate and doesn't have a protective coating as standard.
As a general rule of thumb, you should never pour anything onto your leather furniture. And oil-based solutions need to be treated with care. Too much, and grease stains can develop. Everything should be applied with a cotton bud, sprayed, or carefully dabbed with a cloth. And never soak your leather. Remember, always spread or spray rather than pour.
How your care for your leather upholstery all depends on the condition of your leather and the type and size of any stain that develops. For example, you'd use a cotton bud and rubbing alcohol for a tiny ink spot but a cornflour and lemon juice mixture for a bolognese sauce spill. As you can see, there's no best way to clean your leather upholstery.
Do you adore your leather wingback armchairs? Are you keen to restore your Hans Wegner caramel leather papa bear chair? Or does your beloved leather togo need a refresh? Whatever your upholstery cleaning needs, keep your leather in tip-top condition by following our simple guide.
Discover the joy of leather seating
Explore the collection
Shop now