A Model Recommends: Ruth Crilly's Best Vinterior Buys
Ruth Crilly – international fashion model and beauty insider – made the bold decision a year ago to up sticks and move her young tribe to the heart of Somerset. Embracing life in the bucolic English countryside also meant relocating from her modernist house to a historical Georgian property. Thus began the challenge of merging Ruth's love of mid century modern design with other period pieces, all of which you can see developing over at @casacrilly. Here Ruth gives a spirited run through of her favourite finds so far…
Ruth: As my fourteenth Vinterior purchase awaits installation (it's another ceiling light, Doria Leuchten in case you're asking) I thought that it was about time I did a little Vinterior best buy recap. Because in doing up my new house, I think I've spent more time on the Vinterior website than any other and I've most certainly spent more money. It's addictive, buying second-hand – you don't quite know what's going to turn up, it's like a perpetual treasure trove of ever-changing delights. Check back in daily to a normal furniture or interiors store and you'll see pretty much the same thing unless there's a seasonal collection launching; go to Vinterior and the listings are different every day.
Follow Ruth @casacrilly and @modelrecommends to learn more about life gone rural.
Quite often I'm not sure what I'm even looking for – or I only have the loosest idea. Bedside tables, or table lamps, perhaps, and all I know is that nothing in the shops is quite floating my boat. I'll check for new items every night and it's sort of a labour of love – I don't like to miss a day in case something incredible passes me by! It only takes me a few minutes and – currently – I check for new chests of drawers (I'm looking for a huge oak or mahogany shop counter-style chest to go in the hallway), bedside tables and mid century chandeliers. Although I've now bought so many mid century chandeliers that I only have one ceiling left bare – I seem to have started a small museum of modernist lighting installations.
It's difficult to choose my five favourite pieces, but I know which is my ultimate best buy; a vintage French shop display with glass-fronted drawers and the most beautiful scallop-shell handles. It's small, unlike most vintage shop displays, and perfect for storing lingerie. The detailing is just exquisite – I don't think I'd ever have found something like this on the high street and definitely not for the sort of price I paid.
Then – as I mentioned – lights seem to be my chosen poison. I just can't resist a sculptural sort of statement light, whether it's a table lamp or chandelier. I found some incredible Doria Leuchten oversized lamps that have bulbs in the glass bases as well as under the shades. They weigh a tonne and possibly aren't the most practical of lights but again; you'd never find something made this way on the high street. I love that about vintage finds – that they're usually quite unique. Or at least you're not going to see the same thing in a million different places, like in the dentist's waiting room or at the local pub!
I actually bought two lights from Vinterior that were made to order by Inscapes Design. They're modern sputnik lights and there were loads of different metal finishes to choose from, which appealed to me because a lot of the original sputniks online were in chrome which didn't really appeal. There was something very nice about getting new, untarnished pieces that looked smart but had that vintage edge.
Another favourite seems like an odd favourite to have; it's a basket but one of the most beautiful baskets I've ever laid eyes on. The seventies shape is so unusual, really curvy and smooth so that it's almost like a vase. Scandalously, it's being used to carry logs which I have to say pains me a bit, but I didn't have another sensible use for it to argue against the log-carrying, so for now it lives next to one of the fireplaces. I may fill it with dried lavender sprigs for the summer and see how that goes down!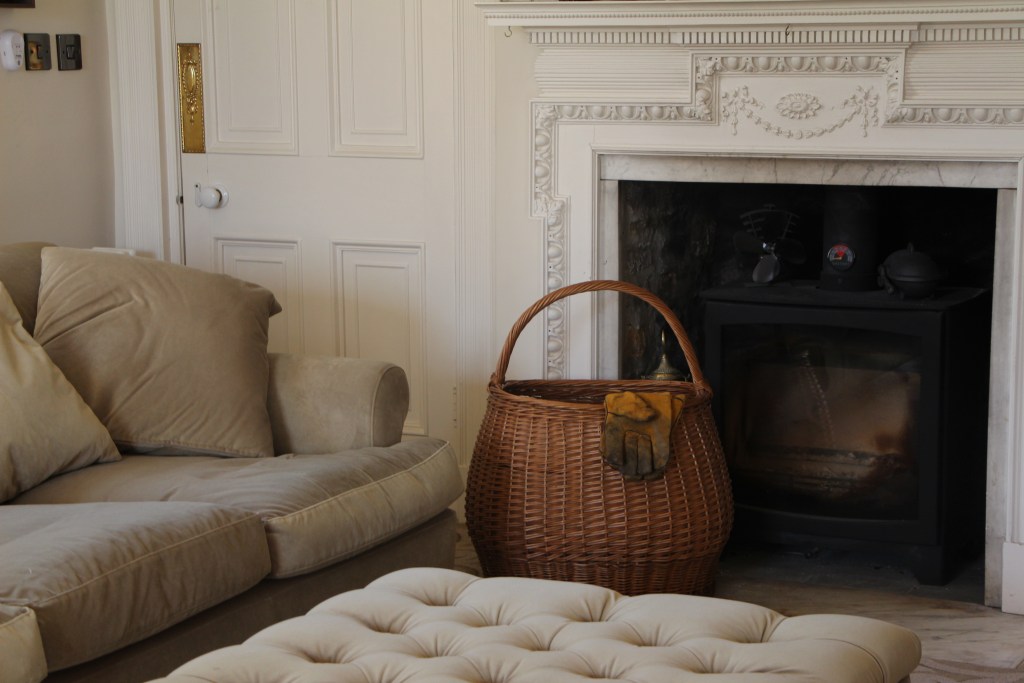 My final favourite is probably the gargantuan armoire in my little girl's bedroom. It looks like something from Beauty and the Beast. In all honesty, if I was doing her room now – a year on – I wouldn't have chosen it, because I think I went down the wrong route with her Provençal style room and should have stuck to my mid century style roots, but she loves it and it does provide an amazing focal point. I had a real challenge moving from a modernist house to a Georgian one – the interiors self-doubt was real – and so I made a few mistakes at first, but it's all starting to come together. If anyone wants a cherub mirror from a French chateau, hit me up…
If you'd like to find similar pieces, click right here to see a collection of wonderful vintage finds.