Furniture Guides: 14 Iconic Scandinavian Chairs to Know
What is the perfect chair? If you ask Scandinavian modern designers, it must be a marriage of form and function where both partners value each other as equals. This has to be the winning formula as some of the most iconic chairs hail from the glory days of Scandinavian Modern design when furniture makers such as Hans J. Wegner, Verner Panton and Arne Jacobsen (to name a few) conceptualised the majority of pieces we find irresistible today. Just take a close look at the most admired homes on Instagram, and you'll soon recognise many of the Scandinavian modern chairs we'll be guiding you through below.
Will Scandinavian chair icons ever go out of style? We doubt it. A timeless aesthetic and superior craftsmanship promise plenty more trips around the sun for these vintage, culture-shaping beauties, so let's do our homework and learn more about 14 of the most significant Scandinavian chair designs of all time.
1. Wishbone Chair By Hans J. Wegner
Image: A set of 6 Wishbone chairs by Hans J. Wegner. Vinterior Seller: Future Antiques
The Wishbone or Y chair is probably the most famous design of Hans J. Wegner. Created for Carl Hansen in 1949, the Wishbone Chair has been in continuous production for more than half a century.
The inspiration for the Wishbone Chair comes from classic portraits of Danish merchants sitting in Ming chairs. A fine example of Wegner's maxim that "a chair is to have no backside. It should be beautiful from all sides and angles", the Wishbone Chair is not only a pleasure to use but also pretty astonishing to look at. And a challenge to manufacture, too.
2. S Chair by Verner Panton
Image: Verner Paton S Chairs. Vinterior Seller: Antique Modern Mix
Sensual curves and a pioneering single-form single-material design pushed the Panton S Chair to become one of the most groundbreaking chairs of all time. Created back in the '60s, the futuristic Panton S Chair defined the vibrant colour scheme of the era and eventually found its place in almost all modern interior styles.
Perfect for a dining room or a study, the Panton S chair is engineered to be used anywhere, anytime. Light and stackable – just perfect for small space living.
3. Egg Chair by Arne Jacobsen
Image: An Egg chair by Arne Jacobsen for Fritz Hansen in bright blue. Vinterior Seller: Rob Vintage
Everyone knows this one, right? A modernist interpretation of a traditional armchair, the Egg is one of those pieces everyone finds irresistible. It was designed by the great architect Arne Jacobsen in 1958 as part of a large project for the Radisson SAS Royal Hotel in Copenhagen and has since become a star of Scandinavian furniture design.
A supreme study in simplicity and grace, the Egg Chair remains to be one of the sexiest armchairs ever produced. Its cocoon-like design offers privacy and makes it a perfect fit for open spaces like lofts and libraries.
4. Tulip Chair by Eero Saarinen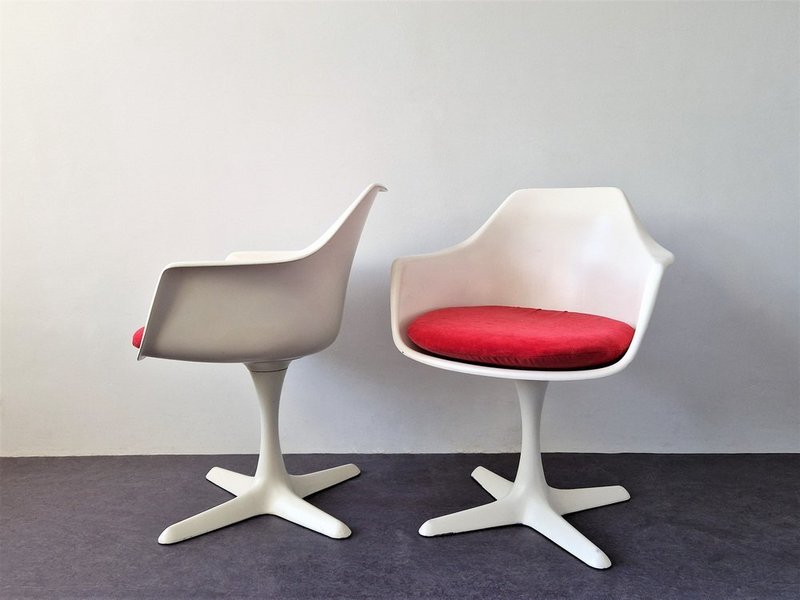 Image: Tulip Swivel chairs by Eero Saarinen. Vinterior Seller: Novac Vintage
One of the widely recognized symbols of the atomic age, Saarinen's Tulip chair made history as the first one-legged chair ever to be manufactured. This funky pedestal design dates back to 1956 and was meant to be used with a matching dining table. The Tulip Chair is every minimalist's dream and looks best next to a subtle match that allows it to take all the looks.
5. Model 60 Stool by Alvar Aalto
Image: Alvar Aalto's Model 60 stool. Vinterior Seller: Bom Design Furniture
One of the most cherished products in the history of furniture design, the Model 60 Stool by Alvar Aalto packs its superior practicality in the most simplistic of forms. This three-legged birch stool can serve as a seat, a side table, a storage or a display surface, and can easily be stacked in a spiralling structure to save space. Thanks to its well-thought L-legs, the Model 60 Stool goes away without a complicated supportive framework as the legs can be mounted directly to the underside of the seat.
6. Shell Chair by Hans J. Wegner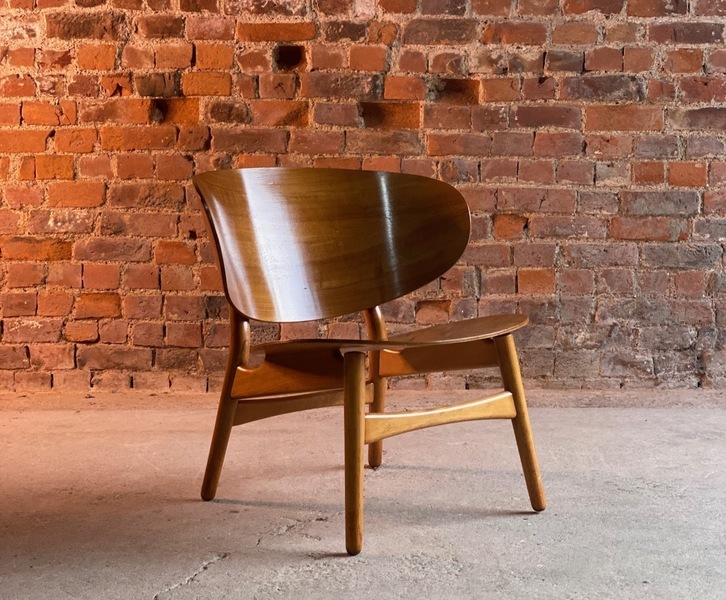 Image: Shell chair by Hans J. Wegner. Vinterior Seller: Splendid Antiques
This beautiful wing-like seat is an art piece designed to interact with its environment. It was created back in 1963, but since it was so ahead of its time, it wasn't before the end of the twentieth century that it finally got the recognition it deserves.
7. Swan Chair by Arne Jacobsen
Image: A pair of Swan chairs by Arne Jacobsen. Vinterior Seller: Stowaway London
Designed for the same hotel commission as the Egg Chair, the Swan shows an equally superb aesthetic without compromising on practicality. This modern Scandinavian goddess is over 60 years old and still feels as fresh as it was on the day when it was first introduced.
8. Model 42 Chair by Kai Kristiansen
Image: A set of Model 42 dining chairs by Kai Kristiansen. Vinterior Seller: House of Møbel
The Model 42 Chair is undoubtedly one of the most significant sculptural masterpieces of Scandinavian Modern. Refined enough to become a hero piece even in the most exquisite of interiors, the Model 42 Chair is designed to suit everyone's taste.
Find out more about Kai Kristiansen – one of the most talented Scandinavian furniture designers of all time.
9. "The Chair" by Hans J. Wegner
Image: A set of two "The Chairs" by Hans J. Wegner. Vinterior Seller: Future Antiques
Designed in 1949 by Hans Wegner, this masterpiece in solid teak became a furniture star after it appeared in the very first televised presidential debate in the history of the USA. Both J.F. Kennedy and Richard Nixon were sitting in The Chairs during the event which made this streamlined round chair not just a symbol of good taste, but power too.
10. The Globe Chair by Eero Aarnio
Image: The Globe chair by Eero Aarnio. Vinterior Seller: 1st Modern
The Globe or Ball Chair was invented in 1963 by Eero Aarnio. Even with half a century behind its back, this unconventional, playfully relaxed chair still feels a bit futuristic today. It is very cosy and snug, just perfect for isolating yourself from wondering eyes.
11. CH25 Lounge Chair by Hans J. Wegner
Image: CH25 lounge chair by Hans J. Wegner. Vinterior Seller: Galerie Mobler
The Wegner CH25 Easy Chair dates from 1950, yet it's still a sought-after collectable in many modern Scandinavian-style homes. Those who appreciate an organic aesthetic feel fond of this casual, but a very elegant chair. Made of solid ash and handmade paper rattan, the Easy Chair is just too pretty to fall out of grace.
12. Papa Bear Chair by Hans J. Wegner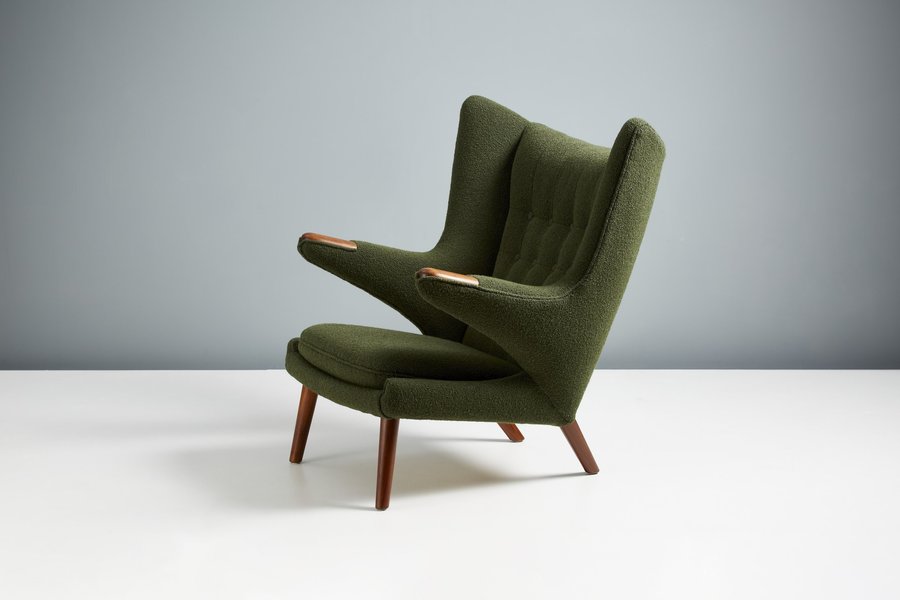 Image: Papa Bear armchair by Hans J. Wegner. Vinterior Seller: Dagmar
The Papa Bear Chair (also known as the Teddy Bear) got its name after its embracing form. The very look at its Mid-century curves gives off a feel of an ultimate lounge, but the real experience is just beyond explicable. It just begs to be sat in. 
13. Grand Prix Chair by Arne Jacobsen
Image: Set of Grand Prix chairs by Arne Jacobsen. Vinterior Seller: Antique Modern Mix
Designed back in 1957 as Model 3130 Chair, this ambitious design got its more catchy moniker after it won the Grand Prix at the Triennale in Milan. The unusual shape of the backrest is tailored to the human body, so the chair is not only interesting to look at but surprisingly comfortable too.
14. Series 7 Chair by Arne Jacobsen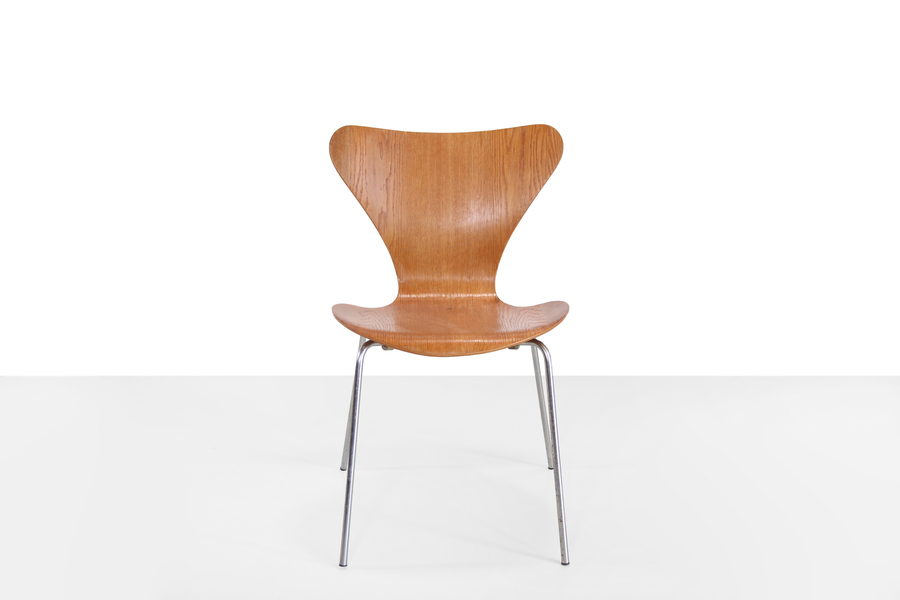 Image: Arne Jacobsen's Series 7 chair in oak wood. Vinterior Seller: Van Ons
The Arne Jacobsen Series 7 (sometimes referred to as the Butterfly Chair) wrote history as one of the all-time best-selling Scandinavian Modern chairs. Excellent design and fine craftsmanship teamed up to produce this stackable, pressure moulded sliced veneer piece of furniture heaven.
Which one is your favourite? Or have we missed an iconic design you adore? Reach out and let us know in the comments below.
Discover our Scandinavian Chair Collection
100s of pre-owned pieces to choose from
SHOP NOW