Why a full home is the best home: meet Cassie Nicholas, winner of BBC Interior Design Masters
If you are at all a fan of interiors, you probably tuned into BBC Two's hit series Interior Design Masters. We followed the trials and tribulations of 10 aspiring interior designers as they navigated a number of tantalising projects. From renovating restaurants to taking on chocolate-themed hotel rooms (quel horreur – but some pulled it off!), it was fascinating to watch former Elle Decor chief editor Michelle Ogundehin wisely guide the contestants through briefs which would have tattered the nerves of even highly experienced designers. Of course, somebody had to win and Vinterior fans were delighted to see the talented Cassie Nicholas, champion of all things vintage and antique, take the winning title. Cassie's skilled eye for weaving characterful vintage references into her design scapes – whether period or modern – was at play throughout the competition. Eager to learn more about how she tackled the winning commission, the impressive Jin Bar in Shepherd's Bush, we asked Cassie to unpack her vision and approach.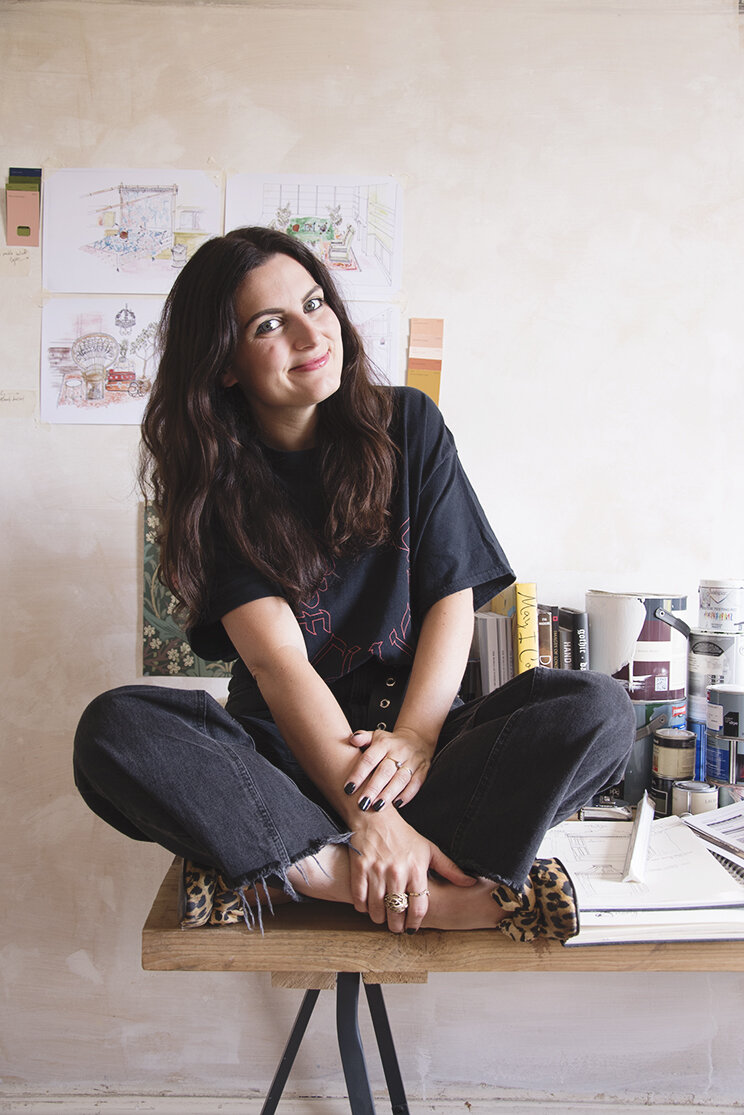 Cassie at home. Image: Edward Nicholas
Hi Cassie! Which week presented your favourite project during Interior Design Masters?
I really loved the final week. It was that feeling of knowing it was the last chance to get to do this and making sure I really enjoyed every minute. The team were fantastic and I had got to know everybody so well. So although as there was a lot of pressure, I had planned every detail of that final design down to a 't' and felt so prepared. Being prepared allowed time to just take it all in and to enjoy the whole experience. 
What was the most unexpected lesson you learned during the series?
To try and say 'yes' more, to push myself, to believe in my abilities a little more. 
What design rule would you never break, and which design rule would you just ignore?
I never really think about the rules or breaking them either. I focus more on just doing what feels right for each space and client. 
Can you tell us about the Jin Bar commission? What was your vision for the design?
The Jin Bar is set in the beautiful building of the Dorsett Hotel in Shepherds Bush. The building was originally a cinema and has nods to Art Deco styling in the architecture. There was also an abundance of art in the lobby revolving around classic Hollywood stars, so essentially I just wanted to enhance the essence of classic Hollywood glamour. The starting point was a nod to the "emerald city" of the Wizard of Oz alongside classic Art Deco styling with a touch of sparkle from the bespoke contemporary Tiffany lampshades. 
Seating area in the Jin Bar, Dorsett Hotel. Image: Cassie Nicholas
How did the design process and eventual delivery go?
It was a great experience to work with such a large company, both pitching to and working alongside different people within it. The process was a huge learning curve and I was really happy with the final outcome that fulfilled my original vision and also managed to have a touch of Wes Anderson vibes, which I was really chuffed about.
A fusion of Art Deco references with earthy olive green makes for distinctive seating. Image: Cassie Nicholas
What would the next dream project look like?
The dream project would always start with an amazing old building. 
Could you describe your perfect home?
I think the perfect home comes in two brackets for me – the dream and the reality. The dream being a beautiful Georgian double fronted country house that has almost been locked away for a hundred years. That would be the dream renovation. 
The reality – and what I hope we may able to do one day – is to build something ourselves, possibly a wooden house with classic American styling with a large porch. The building would be entirely off grid and self sufficient. Who am I kidding… they are both dreams!
How do you go about deciding what to put in your current home?
We are very lucky because our job as antique dealers allows us to keep hunting and finding beautiful pieces to bring into our home. Buying antique and vintage pieces is always one of our favourite things to do. We have to make sure we have enough space to keep bringing in and selling stock but our own personal possessions are often kept for both practicality and beauty. I'm a huge advocate of creating a home slowly. I think buying pieces you love when you find them rather than needing to finish one space then move on will allow for a much more authentic and loved home. Also if you buy or find something that really calls to you you are more likely to enjoy it for longer and not feel the need to change your pieces according to trends. It is also much more sustainable and means you will end up buying less in the long run. Antique and vintage pieces are always going to make a home more unique as they will not be seen so often and  that is part of what makes them so exciting for me.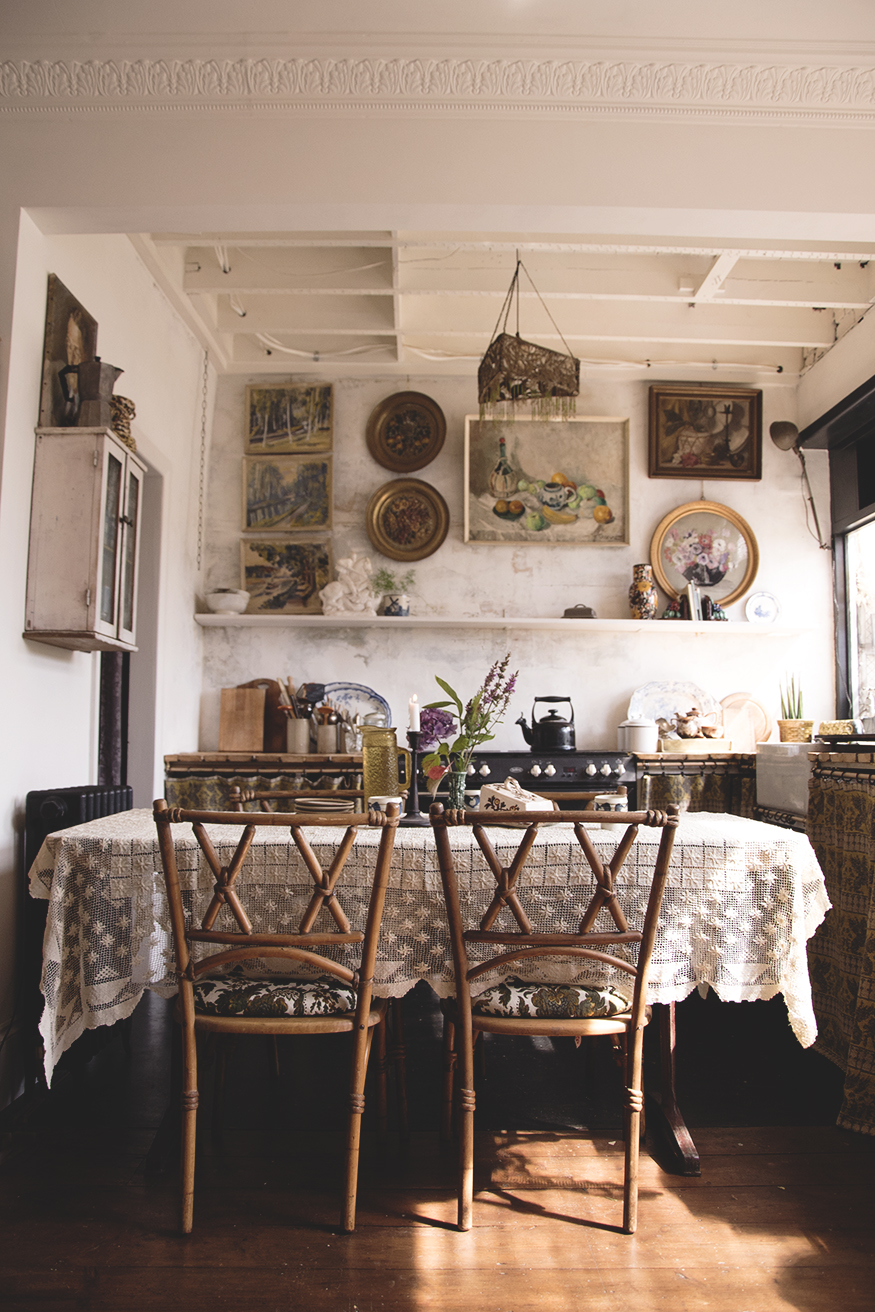 Cassie's wonderfully eclectic kitchen full of vintage finds. Image: Cassie Nicholas
Do you have any pieces of special meaning to you?
So many pieces have special meaning. We have wonderful artworks by our friend Becky Johnson that always take pride of place. There are a few pieces of lighting that I just could not part with – including a 1920's French lamp that is pure Miss Haversham with split silks and cotton tassels. It's just perfect. 
How have your feelings around the concept of home evolved over time?
I think weirdly, because of what my Edd and I do, we have come to embrace minimalism over the past few years. Not in the respect of the actual look but really making sure that every item we bring into our home we truly need or love. This approach has allowed us to need so much less kitchen and clothes storage and also has seeped into our whole way of buying. It has also changed our business too. As we no longer have a bricks and mortar store for Dig Haüshizzle, we no longer have a huge space to fill out. We have become so much more picky and we can go much longer without finding something we love to bring into our collection. I think buying less has made us better dealers and really hone what it is that we like. 
Does your childhood home impact your approach to decor now?
Yes, my childhood home always will. My parents always had things that belonged to my grandparents and to their own grandparents or anyone else in the family. They all seemed to be in our house for a reason and came with a story and I have always liked that. 
What's something about your approach to home design now which is unexpected?
As much as I love a dramatic interior I also love a bit of crisp white too and two rooms in our home start with a very simple white and wood palette. 
Have you set any rhythms to maintaining a healthy home?
I would love to say something like "keeping things tidies and ordered" but I am a messy soul and sometimes I look at the messy areas in our house as vaguely charming… my husband Edd would not agree! A healthy home for me is a welcoming home. I love a full house, I love people using it and people feeling comfortable here. Sharing our home has made so many memories and filling it with family and friends as much as possible I'm sure must make it healthier. 
What inspires you the most to create a home you love?
The pieces we find, art, the need for projects and creativity but mostly the way we want to live. 
Are there any vintage finds in your Vinterior wishlist?
I currently really like a few pieces on Vinterior… I always have so much love for a classic bentwood chair; these were made in the former Thonet factory.
A set of Thonet's celebrated bistro chairs
I am a sucker for a still life and love hunting through vintage and antique paintings and its always the best place to just buy with your initial feeling.
A antique French still life oil painting
I love mid century embroidery and the the colours in this wall tapestry are great.
Large colour 1960s wall tapestry
I just love this table lamp!
1970s Bronze table lamp by Esa Fedrigolli
And finally, what's next for you?
As I said earlier I learned from the show to be more of a 'yes' person. I love doing creative projects in many different forms and so I am just being open to ideas and opportunities.