379688
large-mid-century-extendable-teak-dining-room-table-circa-1960-s
Large, Mid Century, Extendable, Teak Dining Room Table, Circa 1960's

Cours de pile, France
Sold and dispatched by
Cours de pile, France
Vinterior since 2019 • 24 sales
Delivery fee
Not available
£149
Estimated
Based upon front-door delivery. Final rates vary by destination and complexity. For an accurate delivery fee or special requests please contact the seller.
Sorry, we're unable to provide an estimate. For this location, please request a delivery quote from the seller.
Free collection available
Yes
Shopping at Vinterior
14 days return guarantee
Free cancellations
100% secure payment
Direct communication with sellers
Top customer service
This extendable, large, modern, Scandinavian-style teak dining table is from the 60s/ 70s.
It is made of solid teakwood, covered with teak veneer with tapered legs.
Each leg has its original tips/metal pads.
~ The table comes with two additional extensions (leaves) which are 36 cm each.
~ Unopened, it has a round shape measuring 114 cm and comfortably seats 4 people.
~ With the additional leaves in place, it extends to an oval shape of 186 cm, to comfortably seat up to 8 people, potentially more.
~ One can either use a singular leaf or both leaves at the same time, depending on one's needs.
~ Because of their length, the extendable leaves take up minimal storage space.
~ To open the table, simply unscrew the two screws under the top, tilt the screws and slide the top, to place the desired amount of leaves required.
~ The legs (feet) are removable and will be dismantled for easy transport.
Table is in excellent original condition, with minimal traces of use and light wear, consistent for its age.
Light marks on the feet and tabletop.
It has been polished to preserve the original patina.
Price per item
It is being sold as a singular item.
Additional Dimensions:
- Height: 76 cm
- Unopened table Diameter: 114 x 114 cm
- Open with 1 extension: L: 150 cm / D: 114 cm
- Open with 2 extensions: L: 186 cm / D: 114 cm
Learn More
Wear condition
Revive

Wear & Tear

Average

Good

Excellent
Width
186.0 cm
Height
76.0 cm
Depth
114.0 cm
Date of manufacture
Period
Mid 20th Century
Condition
Used
Place of origin
France
Item location
Cours de pile, France
SKU
53130022
Seller
CkomcaKreations
Seller VAT status
Seller is VAT registered. VAT number: FR35837611433
Wear conditions
Excellent
Shows little to no signs of wear and tear.
Good
May show slight traces of use in keeping with age. Most vintage and antique items fit into this condition.
Average
Likely to show signs of some light scratching and ageing but still remains in a fair condition.
Apparent Wear and Tear
Visible signs of previous use including scratches, chips or stains.
Needs Restoration
Structurally sound but recommended for upcycling, re-upholstering or restoration before use.
Please refer to condition report, images or make a seller enquiry for additional information.
Cancellations
We offer free cancellations and full refund for orders cancelled before dispatching. View full policy.
Returns
We have a 14 days returns guarantee for orders within the European Union. View full policy.
Cancellations and Returns
Standard pieces:
- All items of less than 20 kgs and / or less than 200 cm size measurement overall (D x W x H), will be shipped via Colissimo.
- We will ship within 1 to 2 business days after we receive confirmation of purchase.
- When we ship via Colissimo, the said delivery price is for all zip codes in Mainland UK, inclusive of insurance.
- If your place of residence is outside of Mainland UK, please inquire for an accurate delivery quote. We ship worldwide.
- When placing your order, please provide us with your shipping information a best contact #, as it is now required per the post office when shipping internationally.
- Per Colissimo, shipping estimated to of arrival for delivery to mainland UK between 3 and 5 business days.
_____________________________________________________________________________________________________________________
For larger, oversized, heavy pieces: Deliveries can take anywhere between 2-4 weeks.
Please contact us prior to placing your order, in order for us to provide you with an accurate shipping cost and estimated time of delivery, based on your place of residency. Please also allow us a few days maximum, to respond to you, with the requested quote.
Delivery Options: Shipping from France
Front Door Delivery:
~ A skilled driver will unload the item(s) from the delivery truck and bring it to your building's doorstep. You will be responsible for further transport beyond that point. We recommend asking a family member or friend for an extra hand; alternatively, you may upgrade to In-Home Delivery (see below.)
~ The delivery partner will email and /or call you at least one day in advance, to arrange a delivery time.
~ Item will be left in its packaging after delivery.
~ A signature will be required upon delivery.
~ All drivers speak English and all vehicles are tracked, so we can see where they are located at all times.
~ The standard all risk insurance will be included for items up to 1000 Euros.
In-Home Delivery:
~ For in-home delivery service, additional fees apply. Please get in touch.
~ A skilled driver or a team of two will bring your item(s) inside your home and place it in the immediate entryway.
~ For unusually large or heavy items, we recommend asking a family member or friend for an extra hand, as we cannot
send more than 2 drivers.
~ The delivery partner will email and/or call you one day in advance to arrange a delivery time.
~ A wooden crate may be used for intercontinental shipments for maximum protection.
~ Item will be left in its packaging after delivery.
~ A signature will be required upon delivery.
*Important Note:
Please examine every order upon delivery. In the event that there are visible signs of damage or missing or incorrect pieces, please indicate the problem on the Delivery Note and contact us within 48 hours of delivery. A signed delivery receipt without notations of missing, damaged, or incorrect item(s) represents your acceptance of the complete order in perfect condition.
Estimated delivery time
Less than one week
Free collection available
Yes
More from this seller
More Dining Tables
Choose a Wish List
You can add this item to an existing wish list or create a new wish list
Create Wish List
Give your wish list a memorable name such as "remarkable sideboards"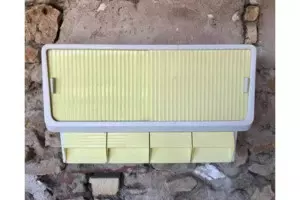 Located in Cours de pile, France
Selling at Vinterior since 2019
24 sales
Ships from Cours de pile, France
Seller Reviews
Successfully added to cart
0 items
---
Log in or register to continue
---
Validate your offer
In order for your offer to be valid, you need to create an account to track the responses
Make an offer
Current price: £640